West Ham United 2                        Wimbledon 1
Di Canio 9, Kanoute 59                   Hughes 76
Sunday 26 March 2000, Premiership
West Ham United: Forrest, Lomas, R.Ferdinand, Stimac, Minto, Sinclair, Foe, Lampard, Moncur (Keller 90), Di Canio, Kanoute
Subs not used: Feuer, J.Cole, Ruddock, Wanchope
Wimbledon: Sullivan, Cunningham, Andersen, Willmott (Blackwell 72), Kimble, Ardley (Leaburn 78), Earle (Francis 65), Euell, Hughes, Gayle, Lund
Subs not used: Heald, Andresen
 
In truth, it may not have been one of the greatest matches in the history of the Boleyn Ground, but Paolo Di Canio's scissor-kick volley against Wimbledon was undoubtedly one of the historic stadium's greatest moments.

Few goals scored here have captured the essence of everything that makes being a West Ham United fan so special – skill, flair and audacity.

A decade and a half on, the Italian's goal is still shown at the very top of any Premier League greatest goals montage, and rightly so.

It was bold, it was brilliant, it was special, it was Paolo Di Canio summed up in one breath-taking, fluid movement.

Prior to the No10's magic moment, which arrived at just after 4pm on Sunday 26 March 2000, the Hammers were enjoying an impressive, if not spectacular, Premier League season.

Harry Redknapp's attractive, flamboyant and cosmopolitan side were a force to be reckoned with on home turf, where they had won eight and lost just two of their 14 league matches prior to the Dons' visit.

West Ham had begun the 1999/00 campaign by winning the UEFA Intertoto Cup, beating Tottenham Hotspur in their opening home league game and sat third in the table come mid-September.

However, indifferent away form, in the main, had seen the Hammers slip down the Premier League table, while Redknapp's side had been eliminated on their travels from the UEFA Cup and League Cup.

An administrative error had also cost West Ham their place in the League Cup in December 1999, meaning that by the time the Wombles came to town, Redknapp's side could concentrate 100 per cent of their energies on chasing a European place via their league position.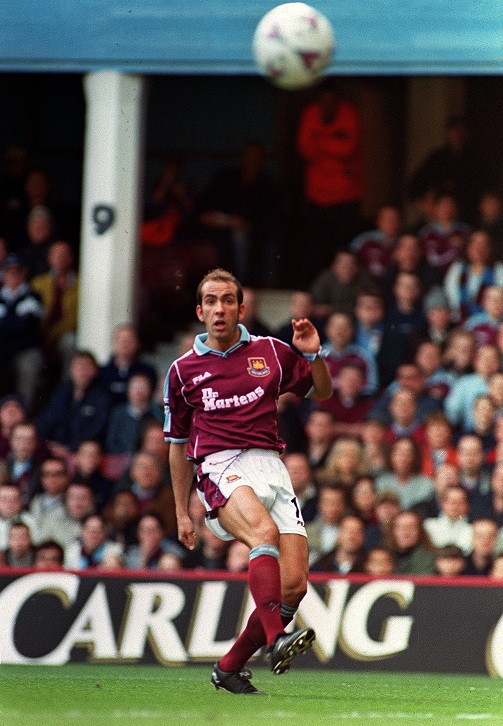 A goalless draw at Chelsea eight days previously had lifted West Ham up to ninth in the table.
Wimbledon, meanwhile, arrived in east London anxiously looking over their shoulders at the relegation zone following a 4-1 thrashing at title-chasing Leeds United.

Under Norwegian Egil Olsen – the man who had led the unheralded Scandinavians to No2 in the FIFA world rankings and the Round of 16 of the 1998 FIFA World Cup – the Dons were something of a soft touch away from their adopted Selhurst Park home.

Since being appointed by the club's Norwegian owners the previous summer, Olsen had brought in a number of his fellow countrymen, including international defender Trond Andersen, midfielder Martin Andresen and centre forward Andreas Lund.

The trio bolstered a squad which had struggled to 16th the previous season, but there were few signs of improvement under the man nicknamed 'Drillo'.

In 14 away league matches, the Dons had won just once and conceded 35 goals.

And so it came as no surprise that West Ham took control of the game from the kick-off, ripping into their struggling opponents.

It took just eight minutes for Di Canio's big moment to arrive.

The previous afternoon, Paul Scholes had belted home an impressive volley of his own from David Beckham's corner to cement Manchester United's 4-0 win at Bradford City.

However, the diminutive midfielder's effort would spend just 24 hours at the top of the Goal of the Season nominations.

The Times reporter Nick Szczepanik described the Italian's effort as follows: "The Italian had obviously seen Scholes's effort for Manchester United away to Bradford City and decided he had better try to improve on it.

"Credit goes to Trevor Sinclair for a cross that out-Beckhamed Beckham, travelling from near the right touchline and beyond Kenny Cunningham, the right-back, but the glory belonged to Di Canio, who took off and struck the ball back across Sullivan with the outside of his right foot."

In truth, words do not really do justice to the sheer quality of Di Canio's strike. To volley a cross coming across his body with such accuracy would have been stupendous, but to do so with a ball dropping from his favoured right side and plant it back past the goalkeeper and into the corner was scarcely believable.

It was a goal the like of which had rarely, if ever, been seen within the confines of this famous stadium.
Di Canio himself dismissed the strike as 'lucky', but it was nothing of the sort. He tried it, he meant it and he pulled it off.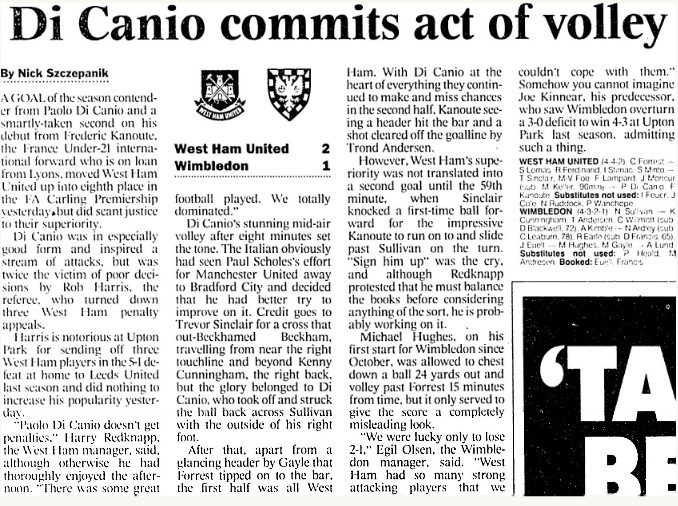 Di Canio's goal was not the only highlight of a memorable afternoon in east London.

Playing alongside him in attack was a tall, 22-year-old France U21 international forward who had joined West Ham on loan from French side Olympique Lyonnais.

A smooth mover and technically excellent for his size, the new boy immediately formed a potent partnership with the smaller, more mobile Di Canio.

While the latter had struggled to link up effectively with Costa Rican Paulo Wanchope – an enigmatic front man who thrived on creating chances for himself, rather than others – Di Canio seemingly had no trouble dove-tailing with Kanoute.

After just two days of training at Chadwell Heath, the pair hit it off straight away and, while Di Canio's goal took the headlines, the all-round performance of his strike partner was almost as impressive.

Having passed up three first-half chances, seen a goal disallowed and crashed a header against the crossbar, the new boy finally got his goal 14 minutes after half-time, controlling inside the box, swivelling and planting his shot past Neil Sullivan.

Kanoute continued to threaten and was denied a second goal by the Dons stopper eight minutes later.
Wimbledon had barely registered an effort on Craig Forrest's goal themselves, but they pulled a goal back when former Hammer Michael Hughes volleyed home on 74 minutes.

Rather than set up a nervous finish, the goal simply spurred West Ham on again and Kanoute was denied yet again by Andersen's goal-line clearance, while referee Rob Harris turned down a convincing penalty appeal when Sinclair was hacked down by Alan Kimble.

The game ended 2-1, but the scoreline was nowhere near being a fair reflection of West Ham's supremacy, nor of the potency of their new-found forward pairing.

As journalist Frank Praverman wrote afterwards: "When the final whistle went, Di Canio and Kanoute strolled off in tandem, a £1.5million partnership that looks to be worth its weight in gold."

As it happened, Di Canio's volley and Kanoute's debut performance proved to be something of a false dawn.

In their next match, the Hammers travelled to Old Trafford to face leaders Manchester United without Di Canio. Wanchope was restored to the starting XI and scored, but the Red Devils won 7-1.

West Ham won their next three matches, including a 5-0 home thrashing of Coventry City, only for a four-game winless run to see them finish ninth in the table and miss out on European football for the second consecutive season.

Di Canio and Kanoute would remain at the Boleyn Ground for a further three seasons, with both departing following relegation in May 2003.

As for Wimbledon, Olsen would depart just five weeks after defeat in east London, while the club itself relocated to Milton Keynes in 2003 and was re-launched as MK Dons the following year.

Neal Ardley, who lined up in the Dons' midfield against the Hammers that afternoon, later became manager of the club founded by supporters in reaction to the relocation, AFC Wimbledon.