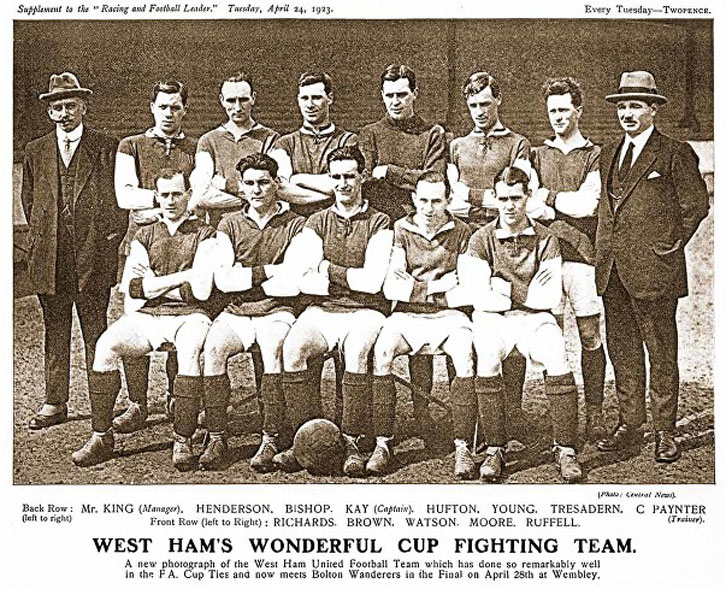 West Ham United 5         Derby County 2
Brown 2                            Henderson (og)
B.Moore 2                         J.Moore
Ruffell
FA Cup semi-final, Stamford Bridge, 24 March 1923
West Ham United: Hufton, Henderson, Young, Bishop, Kay (c), Tresadern, Richards, Brown, Watson, B.Moore, Ruffell
Derby County: Olney, Chandler, Crilly, McIntyre, Thomas, Plackett, Murphy, Thornewell, Galloway, Lyons, J.Moore
In West Ham United's 125-year history, few seasons have featured as many highs as the historic 1922/23 campaign.
Inspired by the goals of new-found striking sensation Vic Watson, the outstanding goalkeeping of Ted Hufton, and the inspirational leadership of captain George Kay, the Hammers won promotion to the First Division for the first time and reached their first FA Cup final.
There was little sign of the success to come when West Ham, who had missed out on a top-flight place in dramatic style by losing their final three matches of the previous season, won just three of their opening 14 Second Division matches to drop to 18th in the table by mid-November.
Back-to-back victories over local rivals Clapton Orient changed the course of the season and, amazingly, the Irons would lose just one of their next 32 matches in all competitions.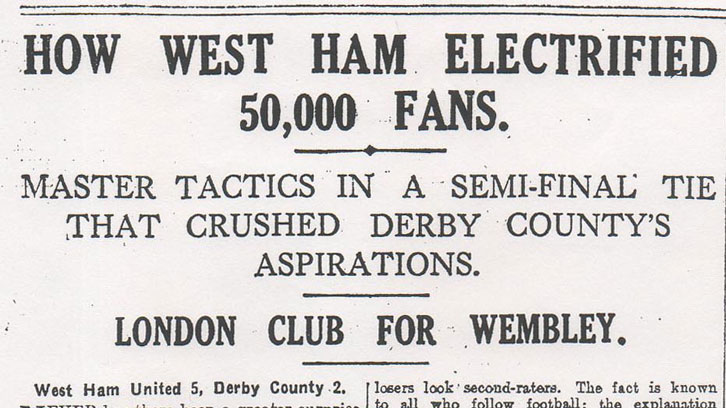 At the time, clubs secured the majority of their points from home matches, but West Ham were different, winning eleven of their 21 away games, compared to just nine at the Boleyn Ground.
Wolverhampton Wanderers (4-1), Coventry City (3-1), Port Vale (3-1) and Leicester City (6-0) were all humbled on their own respective home patches in the Second Division, while the Hammers' FA Cup run kicked-off with a 3-2 first-round win at Hull City.
Sticking with the FA Cup, Syd King's side overcame Third Division South pair Brighton & Hove Albion and Plymouth Argyle before needing two replays to defeat Second Division rivals Southampton and set up a semi-final clash with yet another second-tier side, Derby County.
As such, high-flying, in-form West Ham were favourites to reach the final.
"It is safe to say that they have never had such a good team as the one which now represents them," said a preview in The Times newspaper. "The forwards are clever and fast, and the half-backs give them excellent support, while there is no flaw in the defence. As a team they are unquestionably better than Derby County."
And so it proved…
By midway through the second half, King's men were four goals clear and cruising towards a first-ever FA Cup final through two goals each from the two Billys, inside-right Brown and inside-left Moore.
Derby briefly threatened a comeback with two goals of their own midway through the second half, but the contest was ended once and for all when winger Jimmy Ruffell collected a pass from captain Kay and slammed the ball past Rams goalkeeper Ben Olney.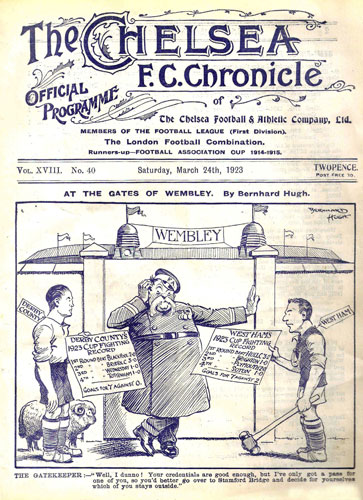 "West Ham gave a superb display," The Times match report purred. "Semi-final ties are usually stubborn and long drawn-out contests, but on this occasion the London team scored twice in the first eight minutes and practically won the match before Derby County had a chance to settle down.
"West Ham have never been in the final tie before, and many people have since been looking at maps and asking tramcar conductors where West Ham is. They have learned that it is near East Ham and are satisfied!"
Long before the days of live television coverage or the internet, West Ham's stars were little-known outside of east London, but that situation was about to change.
For the first time in their history, West Ham United were on their way to Wembley, where 250,000 supporters - and a famous white horse - would be there to welcome them. But that is another story...