West Ham United 2        Premiership XI 1
C.Allen 26, Boere 74        Cottee 15
Bobby Moore Memorial Match, Monday 7 March 1994, Boleyn Ground
West Ham United: Miklosko (Kelly 46), Gordon (Butler 46), Potts, Martin, Bishop (M.Allen 50), Holmes, Brown (Gale 46), C.Allen, Morley (Boere 46), Rowland, Williamson
Premiership XI: (First half XI) Gunn (Norwich City), Venison (Newcastle United), Dorigo (Leeds United), Wark (Ipswich Town), Bould (Arsenal), Jobson (Oldham Athletic), Hoddle (Chelsea), Yorke (Aston Villa), Wilcox (Blackburn Rovers), McClair (Manchester United), Cottee (Everton)
(Second half XI) Pressman (Sheffield Wednesday), Summerbee (Swindon Town), Dicks (Liverpool), Monkou (Southampton), Calderwood (Tottenham Hotspur), Ndlovu (Coventry City), Barker (Queens Park Rangers), Hodges (Sheffield United), Rocastle (Manchester City), Holdsworth (Wimbledon), Brady (Brighton & Hove Albion)
 
West Ham United mourned as one following the tragic death of Bobby Moore OBE in February 1993.

The Hammers and England great passed away at the age of 51 following a dignified battle with bowel cancer, leaving a gaping hole in the West Ham world.

Moore's legacy continues to live on, both in memories of his outstanding centre-half play and in the charity founded in his honour by his wife Stephanie, the Bobby Moore Fund.

The Fund, which has raised more than £20m to raise awareness and fund research into the disease, was formed in the months following Moore's death and continues to do invaluable work in partnership with Cancer Research UK.

More than £200,000 was raised in a special Bobby Moore Memorial Match, which was held at the Boleyn Ground on 7 March 1994, with the money split between the Bobby Moore Family Trust and the Fund.

The game itself, which also marked the opening of the newly-built Bobby Moore Stand by Stephanie, saw West Ham take on a Premier League XI consisting of players from each of the 21 other top-flight clubs.

A crowd of 20,311, including Moore's fellow 1965 European Cup Winners' Cup and 1966 FIFA World Cup winners Geoff Hurst and Martin Peters, were there to pay tribute to their late teammate and friend.

Indeed, the stands were filled with recognisable faces from the most glorious period in West Ham's history – the late-1950s to mid-1960s.

Fellow cup winners Jim Standen, Johnny 'Budgie' Byrne and John Sissons, who had flown in from the United States and South Africa respectively, also turned out to honour Moore.

Ken Brown, Peter Brabrook, Jack Burkett, Brian Dear, Ronnie Boyce, Joe Kirkup and Eddie Bovington were also on hand, as were Alan Sealey and John Bond – both of whom have since passed away.

Also present was Malcolm Allison, whose illness had given Moore the opportunity to make his West Ham debut against Manchester United in September 1958.

After Stephanie had unveiled a stunning bronze bust in the reception area of the new stand named after her late husband Allison, who had overseen Moore's development at the Academy of Football, inspected the sculpture with the fitting words 'Golden boy'.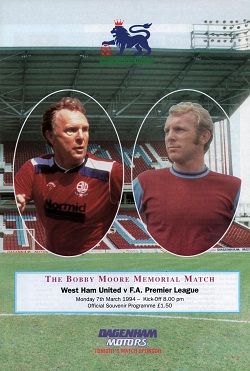 The illustrious group watched an emotional yet entertaining match which would no doubt have made their late friend and colleague proud.

As expected the minute's silence held before kick-off was immaculately observed by all present.

"The depth of feeling was genuinely touching," wrote the Daily Mail's Gerry Cox. "The minute's silence before kick-off was exactly that – 60 seconds during which the only sound to be heard wwas the driving rain."

When play began, the Premiership XI – managed by Arsenal's George Graham – took a 15th-minute lead, fittingly in the circumstances, through Everton's former West Ham striker Tony Cottee.

"Moore would have approved of the way the Premiership side stroked the ball around, prompted by Glenn Hoddle," Cox observed.

West Ham battled back and were level on 26 minutes when Clive Allen robbed Newcastle United's Barry Venison before finishing past Norwich City goalkeeper Bryan Gunn.

Former and future Hammer Julian Dicks, then with Liverpool, was introduced at half-time, as was Brighton & Hove Albion's ex-West Ham and Republic of Ireland midfielder Liam Brady.

An entertaining and emotional evening was climaxed with 13 minutes remaining when Dutch striker Jeroen Boere headed past Sheffield Wednesday stopper Kevin Pressman to clinch a victory that Moore would no doubt have cheered.

In truth, however, the result was not important. Saying a fitting goodbye to West Ham and England's finest-ever captain was.

"The Memorial Match was a special night and I'm sure all who were there will forever cherish the memory and be proud that they participated," said Hammers centre-back Alvin Martin, who had joined the Club in 1974, just a few months after Moore's departure to Fulham after 16 years and 646 first-team appearances.
Nobody would have been happier at this ground the other night than Bobby himself

Stephanie Moore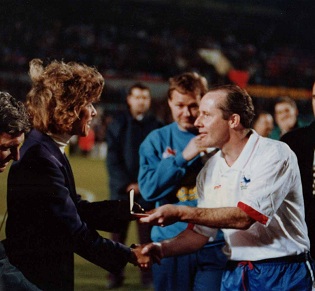 The night also saw a specially-embroidered No6 shirt, which was not worn during the Memorial Match and has since been retired by the Club, was presented to managing director Peter Storrie and continues to be displayed in the Bobby Moore Stand.

Stephanie wrote to thank West Ham supporters personally for turning out to pay tribute to Bobby in the Club's programme for the next home match against Newcastle United.

"Nobody would have been happier at this ground the other night than Bobby himself," she wrote. "To have been the reason for so many famous names of West Ham's past gathering together with such a multitude of supporters of the West Ham of today would have given him a tremendous sense of satisfaction.

"Bobby's roots were here. Also, this was the birthplace of his kind of football. Nowhere else could have done such a generous justice to his memory, nor offered up such a heartfelt tribute to the marvellous man, as well as the great footballer.

"It was overwhelming for me to realise how deep the affection for my husband still sits in the hearts of so many people a full year after his passing.

"For so many well-wishers to venture out through the rain was the most extraordinary salute to Bobby – in every way – on his Memorial Night. I cannot thank you all enough."