West Ham United 1        Manchester United 0
Brown 66
Football League Division One, Wednesday 22 April 1992
West Ham United: Miklosko, Potts, Dicks, Gale, Martin, Thomas, Bishop, Keen, Small, Brown, Slater
Subs not used: Morley, Livett
Manchester United: Schmeichel, Irwin, Donaghy (Ferguson), Bruce, Pallister, Phelan, Blackmore (Kanchelskis), Giggs, Sharpe, McClair, Hughes
 
While many younger fans may not be aware of this fact, English football did in fact exist before the introduction of the Barclays Premier League in the summer of 1992!

The 'old' Division One, as it is now known, was this country's top-flight from the Football League's inception in 1888 for the next 104 years.

West Ham United joined in 1919, entering what was then the Second of two divisions, before gaining promotion to Division One for the first time in 1923.

In all, the Hammers spent 38 seasons in the 'old' Division One, being relegated in 1932, 1978 and 1989 and promoted again in 1958 and 1991.

West Ham's final season in the original Football League Division One was 1991/92, but it is one that most Hammers supporters would quite happily forget – save for a few brief but notable highlights.

A miserable campaign saw the Hammers win just nine of their 42 league matches – the top-flight comprised 22 teams in those days – and score just 37 goals.

Billy Bonds' side never featured in the top half of the table after the end of August, with the tenth place achieved after a 3-1 home win over Aston Villa in their fourth fixture raising them to that pinnacle.

Indeed, the opening four games provided false hope for Hammers supporters as West Ham drew at home with Luton Town and away at Sheffield United before recovering from a 2-0 defeat at Wimbledon to beat Villa.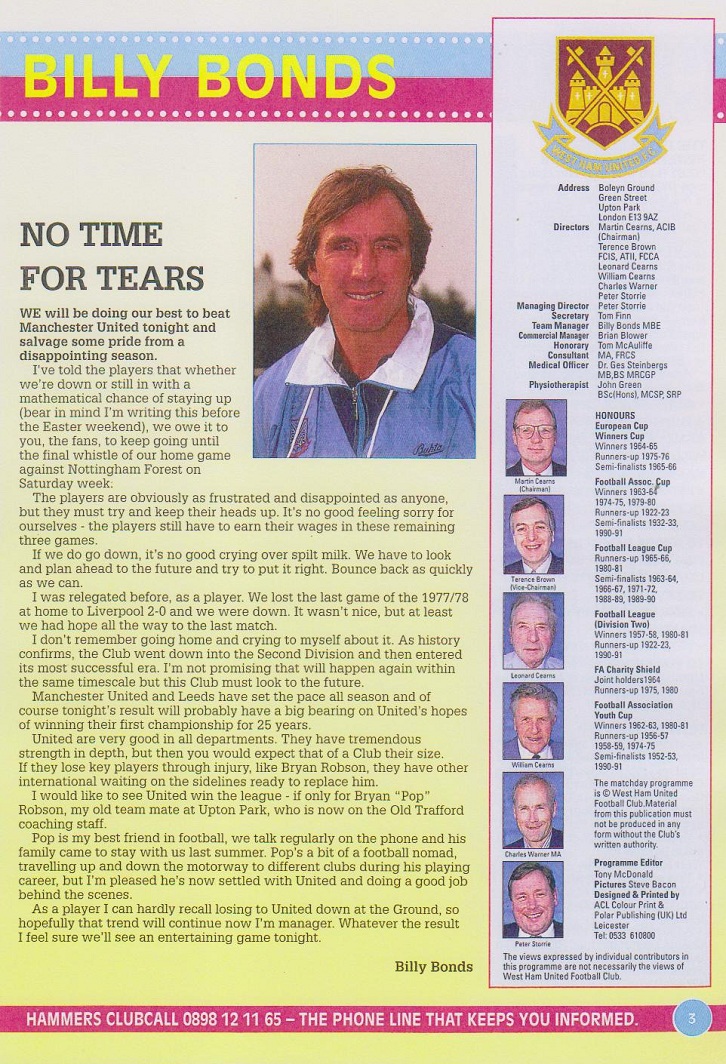 While subsequent victories were few and far between, Bonds' Hammers did chalk up some fine results in what was an otherwise horrendous nine months – a 2-1 home win over Tottenham Hotspur on 26 October, a 1-0 victory at Arsenal the following weekend and a 4-0 thrashing of Norwich City at the Boleyn Ground on 11 April 1992.

By then, however, the Hammers were nine points adrift of safety with just four matches remaining and all but consigned to relegation.

The same weekend as West Ham's downing of the Canaries, Manchester United were beating Nottingham Forest 1-0 in the Rumbelows Cup final at Wembley, with the winner being scored by Scotland striker Brian McClair. Amazingly, the win secured the Football League Cup for Manchester United for the first time in their history.

Alex Ferguson's side had also won the European Super Cup the previous November, with leading scorer McClair again on target in a 1-0 success against European Cup holders Red Star Belgrade.
In Division One, the Red Devils found themselves a point behind leaders Leeds United with six games to play – two more than their title rivals.

Ferguson's men had already knocked Howard Wilkinson's Leeds out of both domestic cup competitions, while both league meetings between the cross-Pennines rivals had ended in 1-1 draws.

Manchester United should have been confident of ending their 25-year title drought, with the likes of new signing Peter Schmeichel in goal, England stars Bryan Robson and Neil Webb in midfield, CIS international Andrei Kanchelskis and a teenage Ryan Giggs flying down the wings and McClair and Mark Hughes up front.

Kanchelskis' goal secured a 1-0 win over Luton which took them above Leeds with a game in-hand.
However, fixture congestion ahead of the 1992 UEFA European Championship finals meant the Red Devils had to play four games in seven days, culminating in a trip to face the doomed Hammers on Wednesday 22 April.

In between Ferguson's men stumbled, drawing 1-1 at Luton Town before relinquishing top spot by losing 2-1 at Nottingham Forest.

At the same time, West Ham had failed to score in three straight defeats and were, barring a mathematical miracle, condemned to Division Two.

For Ferguson and his tired side, a visit to the Boleyn Ground was just the tonic they needed to rekindle their faltering title challenge.
We owe to you, the fans, to keep going until the final whistle of our final game. The players still have to earn their wages in these remaining games
Billy Bonds
While the Red Devils travelled south full of expectation that they would grab the win they so badly needed, Bonds insisted that his players would not roll over, despite their near-hopeless predicament.

"We will be doing our best to beat Manchester United and salvage some pride from a disappointing season," wrote Bonds.

"We owe to you, the fans, to keep going until the final whistle of our final game. The players still have to earn their wages in these remaining games.

"If we do go down, it's no good crying over spilt milk. We have to look and plan ahead to the future and try to put it right and bounce back as quickly as we can."

Despite their recent defeats, Manchester United still arguably had the upper hand in the title race, sitting a point behind Leeds with a game in-hand on their Yorkshire rivals.

A victory at the same stadium where they had secured the title in 1967 would make them odds-on favourites to lift the trophy again.

The Manchester United of George Best, Bobby Charlton and Denis Law thrashed West Ham 6-1 a quarter of a century earlier, but would things be as easy for them this time around?

In a word, no.

Without the injured England trio of Robson, Paul Parker and Paul Ince, Ferguson left out Webb and Kanchelskis in opting for a defensive side that included Mike Phelan and Clayton Blackmore in central midfield.

While the nervous visitors played with hesitancy, the home side produced a more fluent performance no doubt aided by the pressure of their lost relegation battle having all but disappeared.

Schmeichel, who would win Euro 92 with Denmark later that summer, produced first-half saves from Mike Small and Kevin Keen to keep the game scoreless, while Ferguson's men could not muster a single shot on goal.

Into the second half and being roared on by the bumper 24,917-strong crowd, the Hammers continued to hold the upper hand.

Stuart Slater hit a post before West Ham's enterprise was finally rewarded on 66 minutes through the unlikely figure of Kenny Brown.

Slater's cross was diverted into the path of the 24-year-old son of West Ham legend Ken – who was watching on from the stand – by Gary Pallister and Brown drove his volley unerringly past Schmeichel.

On the same evening that Jimmy 'The Whirlwind' White compiled a maximum 147 break at the World Snooker Championship, Brown had produced his own moment of sporting greatness.

Manchester United attempted a late comeback through Hughes and Giggs, but neither they nor McClair nor substitute Kanchelskis could find a way past Ludek Miklosko and his determined defenders.

Even now, the first question Brown is asked by West Ham fans is about that goal.