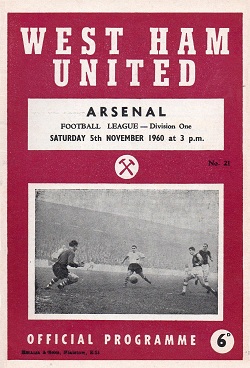 West Ham United 6 Arsenal 0
Woosnam, Dick,
Malcolm,
Dunmore 3
Football League Division One, Boleyn Ground, Saturday 5 November 196
West Ham United: Rhodes, Moore, Bond, Lyall, Brown, Malcolm, Dunmore, Woodley, Grice, Dick, Woosnam
Arsenal: Kelsey, Wills, McCullough, Snedden, Barnwell, Docherty, Haverty, Herd, Charles, Strong, Groves
The late 1950s saw West Ham United end their long and unwanted stay in Football League Division Two with the title and promotion in 1958.

The following season, the Hammers finished sixth in Division One, three places behind London rivals Arsenal.

The Gunners were seven-times champions of England, winning their most-recent title in 1953, while West Ham had never finished higher than the sixth-place they achieved in 1959.

While the 1960/61 season was far from the most vintage in Arsenal's history, in prolific Scotland forward David Herd the Gunners still possessed one of the best strikers in the English top-flight.
Herd, who would score 30 goals that season, was in the Arsenal line-up when the north Londoners made the short trip to the Boleyn Ground on Guy Fawkes' Day 1960.

Alongside him was another Scot who would go on to reach great heights as a manager, right half Tommy Docherty, Wales captain Mel Charles and his long-serving compatriot and goalkeeper Jack Kelsey.

West Ham's starting XI included a number of players who would go on to become household names – Bobby Moore and Ken Brown in defence, John Dick in attack and left-back John Lyall, who would go on to manage the Hammers from 1974 until 1989.

The man who took centre-stage against George Swindlin's Arsenal was a Cumberland-born former York City forward signed from the Gunners' great rivals Tottenham Hotspur in March 1960.
Dave Dunmore was born in the footballing outpost of Whitehaven, a town on the coast overlooking the wild Irish Sea, before joining York as a teenager.

After scoring 25 goals in just 48 league appearances, Dunmore was signed by Spurs for a club-record £10,500 fee in February 1954 – the same month he celebrated his 20th birthday.

Over the next six years, Dunmore would find his opportunities at White Hart Lane somewhat limited, mainly due to the presence of the outstanding Bobby Smith, but he did manage to score 23 times in 75 league games for the Lillywhites.

While Smith and company were busy putting together a season that would ultimately end in them becoming the first side in the 20th century to do the 'Double', Dunmore set about scoring goals for West Ham.

After netting twice at the tail-end of the 1959/60 campaign, the 26-year-old enjoyed a fine 1960/61 campaign, scoring 16 times in 30 matches in all competitions – including a run of eleven goals in eight successive games between 24 October and 17 December 1960.

The third match of that run was the aforementioned visit of Arsenal to the Boleyn Ground – undoubtedly Dunmore's finest hour in a Claret and Blue shirt.
Woosnam was living in a dimension Arsenal could not fathom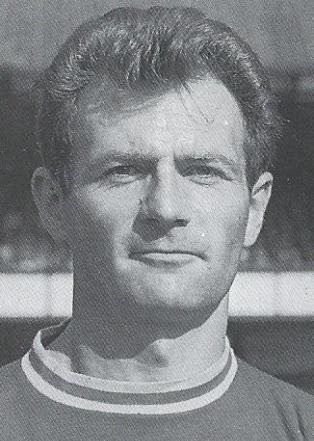 While Dunmore was the star of the show, however, he was far from the only player to produce fireworks on 5 November.

As a subsequent matchday programme reported, Arsenal were subjected to a 'burning up' to the tune of a 6-0 thrashing, with Dunmore helping himself to a hat-trick.

Lined-up in a 4-2-4 formation by manager Ted Fenton, West Ham launched into the Gunners like a rocket from start to finish, playing outstanding football on an uneven playing surface.
Dunmore was the first to get his name on the scoresheet, tapping past Kelsey after left-back Billy McCullough had failed to deal with Moore's free-kick into the Arsenal penalty area.

The visitors briefly threatened to make a game of it as Geoff Strong unleashed a volley that cannoned back off Brian Rhodes' crossbar to safety.

Having avoided the inconvenience of an equaliser, West Ham went on the attack again and it would not be long before Dunmore had doubled his own, and the Hammers' tally with a well-struck shot that smashed into the back stanchion of Kelsey's goal.

Two-nil up at the break, West Ham had another narrow escape just after half-time when Charles inexplicably missed an open goal. It was to prove Arsenal's final chance of avoiding a mauling.
Mike Grice missed one chance from Phil Woosnam's pass before the latter set up Dick, who made no mistake for 3-0. When Woosnam found Grice again, the winger again missed, but the Welshman was on hand to hook in himself to make it four.

"Woosnam was living in a dimension Arsenal could not fathom," wrote the Guardian's John Arlott, a journalist who was better known for his poetic coverage of cricket than football reporting. "Next, he worked out to the right and measured a through pass in meticulous anticipation of an inward rush by [Andy] Malcolm who, at cost to his shin, smashed a shot through McCullough's tackle into the back of the goal."

Malcolm was forced off momentarily, but in those days before substitutes, the brave Scot returned to the action in time to see Dunmore complete his hat-trick.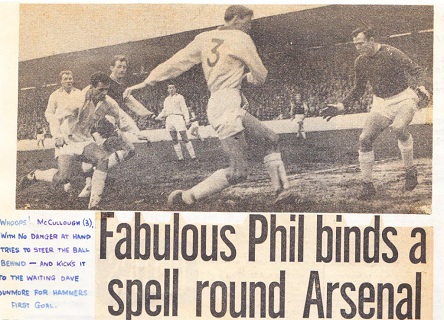 The subsequent programme report was naturally purring over West Ham's biggest home win over Arsenal in 33 years.

Indeed, had it not been for the heroics of Kelsey in the visitors' goal, it is claimed that the Hammers could have overhauled the 7-0 thumping they gave the Gunners in October 1927.

"This was one goal short of our record First Division victory against them in 1927, but we could well have set a new mark but for the great work of Jack Kelsey; he had no chance with any of our half-dozen successful shots, but pulled off saves and cut out cross-balls which could have led to many more.

"It was a sad reflection on the Gunners' line-up that Kelsey was their sole star, for even in defeat most teams have more than one player worthy of mention. However, the all-round superiority of our XI more than overshadowed the North Londoners and we had stars in plenty in this game.

"Our rearguard gained full marks, but it should be borne in mind that the covering of the other four members afforded our wing-halves the opportunity to take a very large part in attack; this was finally underlined by Andy Malcolm's grand goal (his first in Division One)."

While the defence earned plaudits for keeping Arsenal's attackers at bay, the final words of praise were saved for hat-trick hero Dunmore.

"Of the forwards the scoring honours undoubtedly went to Dave Dunmore who notched his initial hat-trick in the claret-and-blue. His first was a 'gift' set up by a defensive error, but he took the other two in grand style and was a constant threat. Sometimes less spectacular but nevertheless most effective was Phil Woosnam (who 'made' goals before getting one of his own), while John Dick's goal was also the reward for a lot of hard work.

"A grand win, and well worthy of the applause which greeted our team as it left the field."