West Ham United 2        Tottenham Hotspur 1
Fletcher, Benayoun        Defoe
Premier League, Sunday 7 May 2006, Premiership
West Ham United: Hislop, Scaloni, Ferdinand, Gabbidon, Konchesky, Newton, Fletcher, Reo-Coker, Benayoun (Reid 85), Sheringham (Harewood 67), Zamora
Subs not used: Walker, Dailly, Collins
Tottenham Hotspur: Robinson, Kelly, Dawson, Gardner, Lee (Barnard 78), Lennon, Carrick (Reid 63), Davids, Tainio (Davenport 87), Keane, Defoe
Subs not used: Cerny, Murphy
 
Sunday 7 May 2006 is a day no West Ham United – nor Tottenham Hotspur – supporter will ever forget.

The final afternoon of the season saw Spurs make the short trip to the Boleyn Ground knowing victory would secure a UEFA Champions League place for the first time.

A few miles away, Arsenal hosted Wigan Athletic in their final game at their famous Highbury stadium, hoping to cap an emotional afternoon by pipping their greatest rivals to fourth place.

West Ham, meanwhile, were completing a fine first season back in the Premiership – one which saw them finish in ninth place – and preparing for the following weekend's FA Cup final showdown with Liverpool.

Alan Pardew's players could have been forgiven for saving themselves for the Millennium Stadium showpiece, but to their credit they gave absolutely everything to prevent Spurs from achieving their European dream.

The drama began well before kick-off, however, as rumours spread of the Tottenham squad being struck down with food poisoning from a 'dodgy lasagne' served by a Hammers-supporting chef at their team hotel the previous evening.

While the latter part of that story has since been dismissed as folklore, what is undisputed is the fact that around ten Tottenham players were violently sick during the night before the game.

A request was put to the Premier League to have the game postponed, but this was rejected, and Spurs manager Martin Jol was left to decide which of his players were well enough to play in the club's biggest league fixture for many years.

Starters Edgar Davids, Teemu Tainio, Michael Dawson, Aaron Lennon and Robbie Keane were all struck by the bug, but the worst affected was former West Ham player Michael Carrick, who manfully battled on for an hour before having to be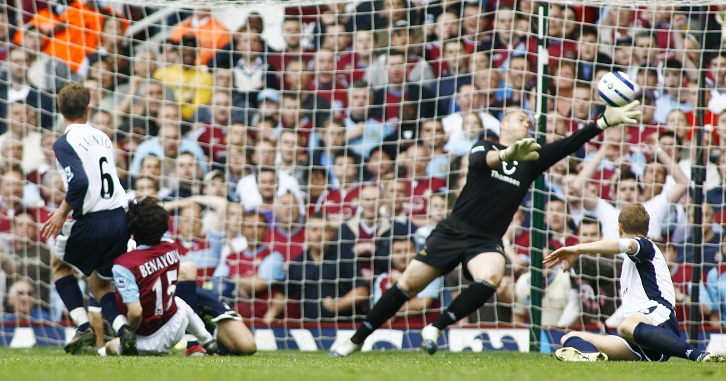 With news of the illness having spread to journalists and supporters alike, the Tottenham team coach arrived at the Boleyn Ground at 1.30pm, with a second request for a four-hour delay until kick-off also having been rejected.

Ninety minutes later, referee Chris Foy blew his whistle and the game began amid a raucous east London atmosphere.

Within eight minutes, Arsenal added insult to illness when Robert Pires put the Gunners ahead against Wigan – a fact the Tottenham supporters were reminded of loudly by their West Ham counterparts.

Spurs themselves fell behind after ten minutes when Hammers midfielder Carl Fletcher let fly with a well-struck shot from all of 30 yards that bounced off the turf and flew past Paul Robinson for his first Premiership goal.

A breathless game ebbed and flowed early on, with Teddy Sheringham curling wide against his former club for the hosts, while Tainio headed wide from a Tottenham corner.

To their credit, the Latics did their bit and actually got themselves in front just after the half-hour mark, giving Tottenham's fans reason for optimism.

That optimism grew still further ten minutes before half-time when ex-Hammer Jermain Defoe lost Danny Gabbidon and fired past Shaka Hislop.

Within seconds, Arsenal too had equalised through Thierry Henry. At half-time, with both north London sides drawing, it was all to play for.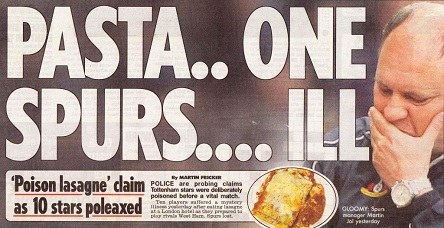 West Ham were desperate to spoil Tottenham's day, though, and were given a golden opportunity to do so when Finland midfielder Tainio fouled Bobby Zamora inside the penalty area.

Up stepped Sheringham, but the veteran forward could not beat Robinson from the spot, keeping Spurs' Champions League hopes very much alive.

Minutes later, Henry got his second and put Arsenal ahead for good, completing his hat-trick with 14 minutes remaining as the Gunners won 4-2.

In east London, both teams created and wasted a succession of chances. Zamora was denied by a last-ditch tackle before Keane put one shot wide and saw another well saved by Hislop.

With Spurs knowing only a win would do and getting increasingly desperate, visiting manager Jol threw on young striker Lee Barnard for full-back Lee Young-pyo with 12 minutes remaining.

Two minutes later a goal arrived, but in the wrong net as far as the Dutchman was concerned.
Almost in slow motion, Shaun Newton cut in from the right, Nigel Reo-Coker backheeled the ball to Yossi Benayoun and the Israeli showed outstanding composure to sidestep Michael Dawson and fire a left-foot shot high into Robinson's top right-hand corner.

While Tottenham's shattered players fell to the turf, sick to the stomach that their Champions League ambitions had been shattered, Benayoun wheeled away, while the Claret and Blue erupted in the stands all around him.
It was their biggest day of the season but it was difficult for them and, unfortunately, the Champions League place went against them

Alan Pardew
Speaking after the game, manager Pardew was justifiably proud of his players' efforts in a game played seven days before the FA Cup final.

"Thank God we've got no injuries!" he smiled. "I firmly believed that we couldn't go into this match with a makeshift side, hoping that it's going to happen for us in the FA Cup final itself.

"We needed to take something positive into the final and we were absolutely superb. Even if Tottenham hadn't have been under the weather, I still think that they would've had difficulties because we were in good shape.

"We owed it to everyone in the league to be at our best and we were great today. In fact, both sides were a credit to the Premier League.

"You have to give credit to Spurs because they were not at full strength or ability and you could see that one or two were struggling. It was their biggest day of the season but it was difficult for them and, unfortunately, the Champions League place went against them."

Subsequently, environmental health officers at Tower Hamlets Council found that Tottenham's hotel had no case to answer and was absolved of any wrongdoing.