West Ham United 3                                                                                 FC Den Haag – A.D.O 1
A.Taylor 28, Lampard 33, Bonds 38 (pen)                                               Schoenmaker 59
Wednesday 17 March 1976, European Cup Winners' Cup quarter-final second leg
West Ham United: Day, Coleman, Lampard, Bonds, T.Taylor (McGiven), Lock, A.Taylor, Paddon (Curbishley), Jennings, Brooking, Robson
FC Den Haag – A.D.O: Thie, Mansveld, Ouwehand, van Vliet, Korevaar, Kila (Jol), Perazic, Schoenmaker, Bres, van Leeuwen, Albertsen (Swanenburg)
 
"There have been many great occasions in the 72 years that soccer has been played on the Boleyn Ground, and it is only expected that the glories of some have faded in the memory as the years have passed.

"In that context, it is not easy for the 'old-timers' among us to decide which really were the greatest and which had less to commend them than others.

"However, last week's match against Den Haag was a worthy contender to be placed among the brightest memories, and is still so fresh in our minds to be strongly savoured – not only for the older but for the younger members of our following."

The programme editorial entitled 'Onward in Europe…' perfectly summed up what was a truly dramatic and, for those in attendance, unforgettable night of action at the Boleyn Ground on 17 March 1976.

To put matters into context, West Ham had been 4-0 down at half-time in the first leg, played at the Zuiderpark in Holland's capital two weeks earlier – yes, four goals down!

Dutch international Aad Mansveld had scored a 26-minute hat-trick, including two controversial penalties awarded for handballs by Kevin Lock and Mick McGiven, before Lex Schoenmaker added a fourth just before the break.

With manager John Lyall absent with the flu and Ron Greenwood standing in and Trevor Brooking unavailable due to injury, West Ham's European conquest looked all but over. However, two second-half goals from Billy Jennings – both from Graham Paddon crosses – breathed new life into their challenge.

The two teams headed back to east London for a second meeting, with Lyall fit to resume his duties in the dugout and a 29,829-strong crowd packed into the Boleyn Ground.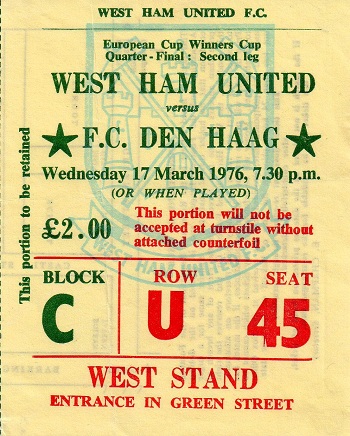 The equation was as follows – West Ham needed to win by two clear goals to go through on away goals, so long as the second leg finished 2-0 or 3-1 in their favour. A 4-2 win would mean extra-time, while any one-goal victory or draw would mean elimination.

While the task was simple to explain, it was far harder to achieve against a Den Haag side managed by the legendary Serb Vujadin Boskov, who would go on to win the same competition with Italian side Sampdoria 14 years later.

What West Ham needed was a fast start and early goal, but the Dutch, playing a high line to catch the Hammers' speedy attackers offside, held out their hosts in the early going.

It took 28 minutes for Lyall's men to break the deadlock, doing so when Brooking's low shot came back off goalkeeper Tom Thie and Alan Taylor poked the loose ball through the mud and into the net.

Five minutes later and West Ham were level. Brooking was again the catalyst, rolling the ball to his left for full-back Frank Lampard – who had earlier been ordered to pull up his trademark rolled-down socks by Hungarian referee Karoly Palotai.

Lampard latched onto Brooking's pass and thumped an unstoppable 30-yard shot past Thie and into the top right-hand corner.

With noise levels inside the Boleyn Ground growing with every passing second, West Ham won a throw-in down the right flank. The ball was hurled into the penalty area and Taylor got goal-side of left-back Joop Korevaar, and Palotai pointed to the spot.

Billy Bonds stepped up and sent Thie the wrong way from 12 yards to make it 3-0 on the night and, amazingly, 5-4 to West Ham on aggregate.
I'm proud of all my players. I could not have asked more from them. Those Dutchmen were certainly tough boys, but my lads steadied themselves superbly after they equalised [on aggregate]

John Lyall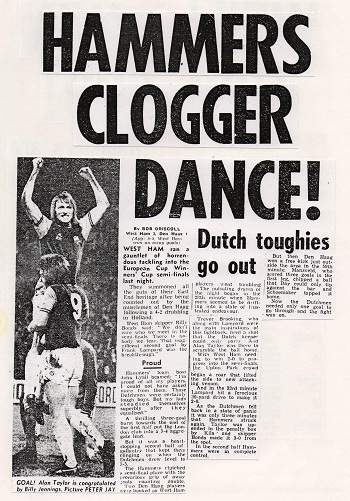 The Hammers lost some of their fluency after the half-time break when Paddon and Tommy Taylor had to be replaced following shin and groin injuries respectively, and Den Haag sensed a chance to produce a comeback of their own.

Fourteen minutes into the second half, Mervyn Day parried Mansveld's free-kick and Schoenmaker expertly steered the ball into the net from six yards, levelling the tie again.

Boskov's men had half-an-hour to find a goal that would send them through, while the wounded Hammers had to hold out to ensure their passage to the last four.

The game became increasingly fraught, with three players – Mansveld, Jennings and Aad Kila – being booked by Palotai as the challenges continued to fly in on both sides.

With just a few minutes to go, Den Haag had the ball in the net for a second time, only for the 'goal' to be ruled out for offside.

The final whistle was greeted with a mixture of joy and relief by the home fans, who had watched on nervously as their heroes battled to a victory that was barely believable a fortnight previously.

Manager Lyall was rightly praiseworthy of his players' achievement in setting up a semi-final clash with West German Cup holders Eintracht Frankfurt.

"I'm proud of all my players," he said. "I could not have asked more from them. Those Dutchmen were certainly tough boys, but my lads steadied themselves superbly after they equalised [on aggregate].

"It is brilliant, terrific, tremendous. You can say anything you like about it! It's not easy to pull back two goals against a side as good as this one. You want all your players to hit form at the same time, and tonight they did."

West Ham would go on to pull off another stirring comeback win over Eintracht in the last four, winning the second leg 3-1 at the Boleyn Ground following a 2-1 defeat in West Germany.

Unfortunately, though, the final would prove a step too far for Lyall's men, who went ahead and later equalised before going down 4-2 to Belgian Cup holders Anderlecht at the Heysel Stadium in Brussels.