Interviews
How and why I joined West Ham United – Teddy Sheringham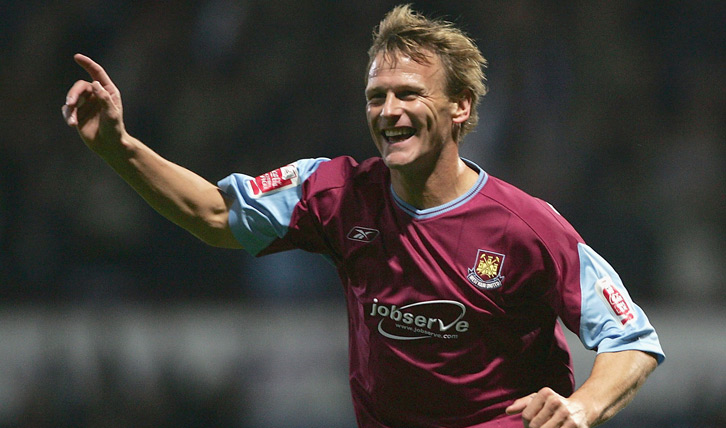 In the latest in a series of features looking at how Club legends and fan favourites signed for West Ham United, boyhood Hammer Teddy Sheringham looks at how his illustrious career brought him to the Boleyn Ground in 2004...
Not many players can boast having such an impact in their first season with West Ham United as Teddy Sheringham. 
Signed on a free transfer from Portsmouth in 2004, the experienced striker would become a crucial cog in the side that achieved promotion back to the Premier League, winning the Championship Player of the Season in the process. 
That Sheringham would enjoy such success in Claret and Blue should have been of no surprise to anyone. Scoring goals is what the former England international had done throughout his whole career. 
Prior to his move to east London, Sheringham spent a season with Portsmouth in the Premier League. A strong bond with boss Harry Redknapp helped to manage Sheringham's workload, with the-then 37-year-old looking to maximize his playing time by any means possible. 
"I enjoyed my year down at Portsmouth," Sheringham recalled to whufc.com. "Harry was very good to me. He told me I could train as and when I wanted as long as I was ready to play, and I think that's something he has always done with his players. He has always made them feel comfortable and he was great with me. 
"I probably played too many games at the start of the season, in truth. He asked me if I wanted to play in the League Cup, when we were playing against lower league teams, and I probably should have left myself out and played in the Premier League games. 
"I think I probably ended up playing a few too many. I wouldn't say I got too tired, but the goals dried up after Christmas. But it was a very exciting period for Portsmouth and I really enjoyed my time down there." 
While Sheringham managed ten goals in all competitions for Portsmouth throughout the 2003/04 season, only three of those came in the second half of the campaign and, following his disappointing 2004, the striker was informed he would be let go at the end of his one-year contract. 
The experienced forward admitted he knew the decision was coming after his struggles to find the net, but Sheringham did not hold any concerns that this could spell the end of his career.
"I wouldn't say it was disappointing to not get a contract offer, because I didn't have the best of end of seasons," he continued. "It was as if I'd dried up a little bit and played too many games early on. But I had felt good early on. 
"Looking back, perhaps I shouldn't have played so many games and just played in the big ones, but I knew the writing was on the wall by the time the end of that season came about.
"There wasn't any concern in regard to not playing any more though. I was coming up to 38 and if that was going to be it, then so be it. But I was still enjoying playing football, being a footballer and training every day. I felt good still within myself and I still felt fit."
Sheringham went on his summer holidays in 2004 uncertain of where his playing future lay. It was during that vacation that the forward would get a phone call from West Ham United manager Alan Pardew. East London was calling.
Pardew had been appointed West Ham boss the previous November, joining the Irons from Reading. The Hammers had come within a whisker of returning to the Premier League at the first attempt, only to lose the 2003/04 Play-Off Final to Crystal Palace. Reinforcements were needed for another push.
The Hammers boss set out his vision for Sheringham, and for his Claret and Blue team. Promotion was the target, and the experienced attacker was sold.
"The first time I learned of any interest from West Ham was when I was sitting around the pool in the summer and Alan Pardew called me," he said. "It was getting a bit late in the summer because, when I came back, the side had already gone on pre-season. 
"I was delighted to hear him say 'come and join West Ham and play for a season with us.' Even though the club was in the Championship, there was a real desire to get back to the Premier League. That ambition was exciting for me. You could be playing in a tough set-up and struggling down the relegation end of the table, but I knew that the Club wanted to get promoted. I was very excited to join that.
"Alan was very persuasive. He didn't have to be, to be honest. I didn't take much persuading. I wanted to play for West Ham, and the fact he was talking about getting promoted too. He wanted that older head to come in and be around the younger players at the club at the time and help them. I was delighted to be of help."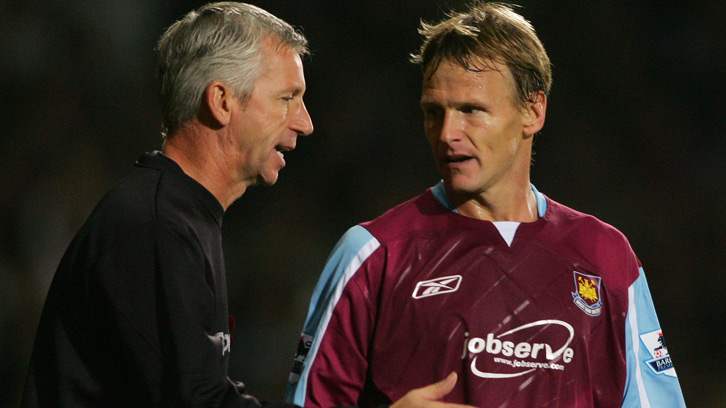 Born in Highams Park and having played for Leytonstone & Ilford as a youngster, Sheringham grew up a West Ham United supporter. The forward who would make 51 England appearances and win three Premier League titles was inspired by the Hammers of the 1970s and 1980s. 
He recalled: "I was a West Ham United supporter as a kid, and I used to stand on the North Bank as a young man. 
"I looked up to Trevor Brooking, Alan Devonshire, David Cross was the main centre-forward at the time. There was also Graham Paddon and Frank Lampard. Phil Parkes was in goal around that time. Alan Curbishley had just come into the team as a youngster as well, and those were the players I wanted to emulate. 
"To have the chance to play for my boyhood club, years later, even though I was probably past my best, I was very pleased to do that."
With Pardew's idea for the 2004/05 season with West Ham firmly in Sheringham's mind, the decision to join his boyhood club was an easy one. Interest from a fellow Championship side would not be enough to dissuade the striker.
"I don't think there was lots of interest, but I think Reading might have been in for me as well. But I had the chance to stay in London and to play for West Ham. 
"When you've supported a club as a boy, you get excited about playing for that same team. It doesn't always work out for everybody when you play for the club you supported as a kid, but I was delighted it did for me."
Joining West Ham would mean dropping down a division, to a league that Sheringham had not played in since the early years of his illustrious career. But the attacker was not fazed. Instead, Sheringham relished the new challenge. 
The new Hammer would also enjoy his role within the squad. Now 38-years-old, Pardew looked to Sheringham to provide a cool, mature head for the younger players to look to. 
He said: "It was all kind of perfect for me at the time, at the age that I was. I had played in the Premier League, so I had that experience, and I had obviously played in the Championship before as well with Millwall many years before, so I knew what the league was all about. 
"It all fitted perfect really, at that time. I had no problems with dropping down a league, particularly at the age I was. It felt ideal for me.
"I was coming in as a slightly older head. That is the case where you have to be that type of player. I think Alan had heard about my character, what I was like in the dressing room, and I think he knew I would be a good help around the place. Sometimes older players aren't that way inclined, but I think Alan had heard that I was, so I was very pleased to be of help."
Having put pen to paper on his deal in east London, Sheringham began to prepare for the new season. A first showing for the new forward came away to Leicester City, before a home match – and a Boleyn Ground debut – for Sheringham followed just a few days later, against Reading.
Sheringham's first match as a West Ham player, at the home of West Ham United, under the lights, could not have gone any better. 
With less than ten minutes on the clock, Luke Chadwick's cross caused chaos among the Royals defence and Sheringham showed the knack he had shown throughout his whole career, coolly finishing to score his first West Ham goal and give the Irons the three points. 
It was a performance that earned Sheringham praise from both Hammers manager Pardew and Reading boss Steve Coppell, and one that fondly remains in the former player's mind.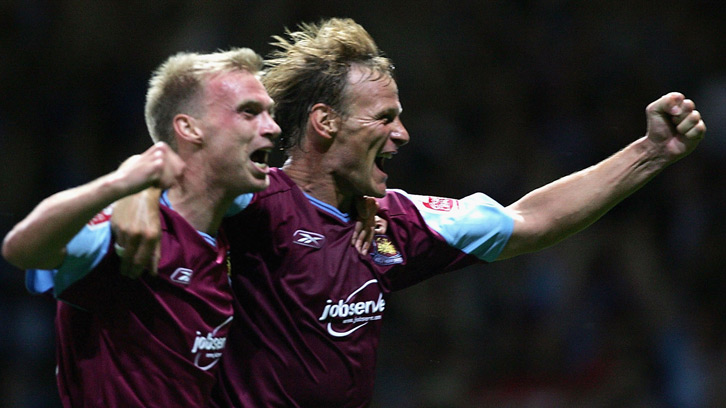 "Going into that first home game, of course, there are a few nerves," he reminisced. "You worry about not being up to it anymore, but I still felt good and it was exciting for me. I was like a little kid in a sweetshop because I was playing or the Club I supported as a boy. 
"Scoring on my home debut, that was great. When you're a striker, you want to get off to a quick start. Scoring in front of your home fans is very important to do. The last thing you want to do is go two or three games without scoring because otherwise people start asking a few questions. It is always important for a striker to get off the mark, so I was delighted.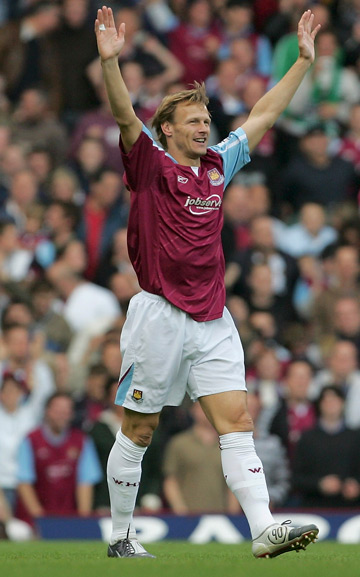 "It was a nice little goal as well. I remember Chaddy going down the right and pulling it back. I made a nice little movement in the box and got my half-a-yard before whipping it across the 'keeper. It was a nice goal."
That first goal kick-started what would prove to be one of the best individual campaign in Sheringham's illustrious career. The striker would go on to net 20 Championship goals and be named the 2004/05 Championship Player of the Season at 39-years-old.
The campaign would culminate in West Ham and Sheringham achieving their ambitions too, as the side returned to the Premier League after a Play-off final win over Preston North End.
For Sheringham, he has more than proven worthy of his one-year deal, with Pardew asking the forward to sign on at West Ham again, and help the side re-establish themselves in the Premier League.
Sheringham said: "It was a very good season. I'd dropped down a league, having played at the top, and you're expected to go back up. You're optimistic of course, that you're going to, and I was playing in a very good team. I was delighted to finish it off in the way I did, with the goals and the award. 
"Pardew asked me to sign on again and I was delighted to do that and go back into the Premier League with West Ham. I was getting older as well and, of course, you worry a bit about whether you can still do it at that level, but it was nice to go in and score a few more goal in the Premier League."
Back in the top flight, Sheringham would go on to reach another FA Cup Final and become both the Premier League's oldest goalscorer and oldest outfield player, two records that still stand to this day. 
Those things may not have happened for one of England's finest ever forwards had he not joined the Hammers, but for Sheringham, the opportunity to play for the team he once watched from the stands as a kid was more than reward enough.
"'Bubbles' is a top song in my family, and it is embedded in my upbringing," Sheringham added. "My brother, who is three years older than me, was the first person to take me to a West Ham game as a young boy. So, to play for your boyhood club as a player, it's what you dream of as a kid. 
"That's what it's all about. Reliving those dreams later on in life, it's just awesome to be able to do that as a footballer. Not everyone gets the chance to do that and I was very privileged to."
Read the first-hand, honest accounts of how and why other West Ham United icons and legends came to play in Claret and Blue at the links below: