Interviews
How and why I joined West Ham United: Matt Jarvis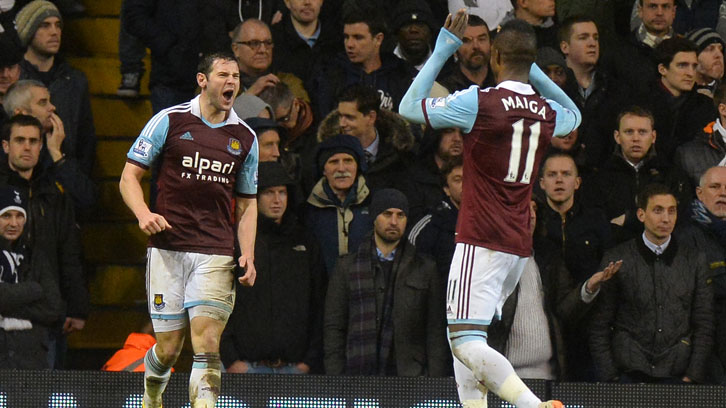 In the latest in a series of features looking at how Club legends and fan favourites signed for West Ham United, Matt Jarvis gives the full account of his then-Club record transfer from Wolverhampton Wanderers in 2012...
West Ham United were back in the big time and determined to ensure they stayed there.
Just 12 months after suffering the pain of relegation from the Premier League, the Hammers tasted the joy of Play-Off final victory at Wembley to earn their place back at the top table.
With the challenge of top-flight football to tackle head on once more, Sam Allardyce set about adding to his squad that summer, bringing the likes of Andy Carroll, James Collins, Mohamed Diame and Jussi Jaaskelainen to the club.
One player the boss trailed all summer but had to wait until late in the transfer window to land was Matt Jarvis, who had been one of the shining lights for Wolverhampton Wanderers as they battled against the drop, ultimately passing the Hammers on their way up.
Despite initially being rebuffed early in their chase, West Ham maintained their interest and Jarvis was only too happy to eventually put pen-to-paper a week before the window was due to slam shut.
The winger, capped by England during his time at Molineux, takes up the story.
My agent at the time spoke to me and said West Ham were interested, so as soon as I saw West Ham won the Play-Offs, it was a no brainer to go there for me

Matt Jarvis
"I absolutely loved my time at Wolves, but we had been relegated and I just felt for me it was time to move on," he explains. "I wanted to continue to play in the Premier League - I'd got in the England squad at a time when there was a lot of quality in the wide areas with players like Theo Walcott, Aaron Lennon, Steward Downing and Ashley Young there, and I'd been in the provisional squad for the Euros that summer too
"I was obviously seeing what my options were and my agent at the time spoke to me and said West Ham were interested, so as soon as I saw West Ham won the Play-Offs, it was a no brainer to go there for me.
"I came back for pre-season at Wolves and did everything possible there to continue to be as professional as I could. I played in all the games, there were a couple of bids rejected from West Ham and then it just got to the point right towards the end where it was now or never for me. 
"Obviously, West Ham then came up again with another final offer and that was accepted by Jez Moxey and Wolves. I was delighted and went straight away to sign. 
"In football it's the only industry where you're signed at one place one day, you then leave and then the next day you're a completely different squad, a completely different place in the country. There's no month's notice in football, it's immediate. Load up car, drive from the Midlands to London and sign for West Ham."
Big Sam had already made his mark in east London by the time Jarvis arrived at the Boleyn Ground, leading the club to promotion at the first attempt, and although the boss' nickname gave Jarvis an inkling as to his standing, he was still struck by his stature when they met at Chadwell Heath for the first time.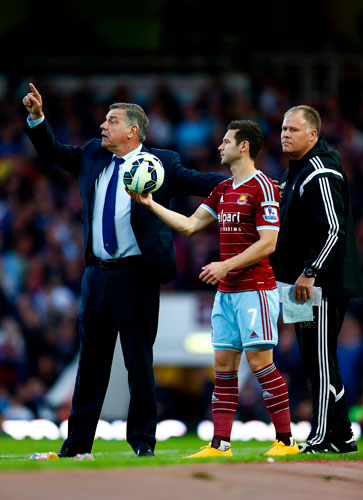 Jarvis continued: "Meeting Big Sam for the first time you don't realise how big he is! First meeting, I remember I came down to the training ground, I signed and he was doing a team meeting. 
"He came out of a low door and stepped out and just stood up and I was like, 'Wow he's massive!' I shook his hand and said it's all done, brilliant. He said he was delighted to have me on board, and there we go.
"He's [thought of as] an old school manager, but he's so big on the statistics and was really in that new generation of manager that brought everything in with sports science, the statistics and the analysts. 
"Everything was incredible and all his team meetings were my biggest eye openers. He was so on it with where you need to score, where's the best place to be on the pitch, where the ball needs to be, how any goals you need to score to get a certain position in the league and all that.
"In our first season in the Premier League our aim was to finish tenth, which we did. It was incredible really for a team which had just been promoted and he had every single stat from the seven, eight, nine years before: 'This is how many points, how many goals, clean sheets you need to finish tenth'. Every single thing, 
"For every eight games he had a little section and I think that mentally was a massive help for a lot of players because in the Premier League it's very difficult as you can go on a three or four game run where you don't pick up anything, which starts getting to you.
"But if you look at is as two in one of the eight games blocks it keeps you fresh. He was really positive on that side of things."
Alongside the manager's impact, another huge part of West Ham's success in that 2012/13 campaign in Jarvis' eyes was the close-knit nature of the squad.
With Kevin Nolan at the helm as skipper, and a whole host of big characters around him, including Mark Noble, Jarvis had no problems settling in with his new club.
"It was a fantastic squad," he explained. "To go into something like that, not really knowing many of them, they were an incredible group of players and lads.
"The team bonding, the togetherness was great. We used to go out for meals, we used to hang around, it was a real close-knit group and that was the biggest thing that helped us out in the first few years.
"Kev Nolan was an unbelievable captain and a help to me when I first arrived. Obviously there was Nobes, Tonks. Joey O'Brien I used to spend many a time towards the end of my time at West Ham running up and down after games with him, keeping fit. He's a real nice guy. Jack Collison, a great lad who I still speak to, there's so many. Ginge, brilliant, amazing guy. Joe Cole, Stewart Downing, the list is endless.
"Mark Noble is obviously still going strong and he is West Ham, he is the football club. When I was there he's involved in everything whether it's the banter with the lads, whether it's something to do with the manager, anything that needed to be sorted on that front, he's there and he's the one who's always working hard in training.
"You could never fault his effort, he's the hardest worker, doing extra in the gym, he is a top, top pro.
"He would help you out and if you needed anything, he'd be the one. He'd been at West Ham his whole life, he knew the area and anything you needed he was the guy who'd help you sort anything out.
"I was very lucky to get a group of lads like that, they'd do anything for you and they were a really, really strong group. I loved it."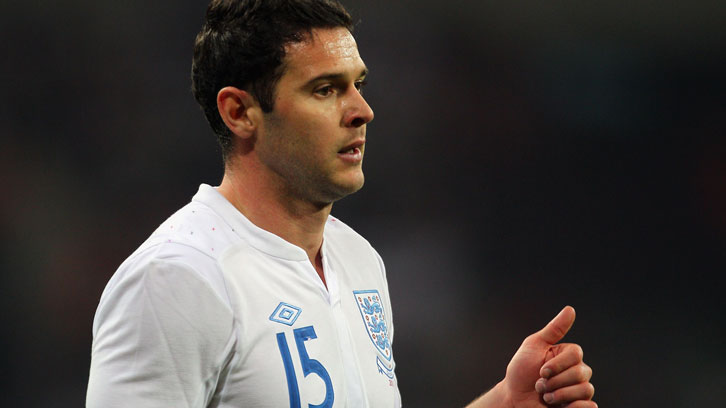 Jarvis would go on to play 90 times in Claret & Blue, scoring six times, but it was a certain rainy night at White Hart Lane that lays most vividly in his memory.
The Hammers made the short trip to north London in December 2013 for a League Cup quarter-final, and despite finding themselves a goal down to Emmanuel Adebayor in the second half, came roaring back to win with two late strikes – the equaliser coming from the boot of Jarvis.
"I think the biggest standout game is the White Hart Lane quarter-final," he confirmed. "It was just an incredible atmosphere, incredible game and to win in the fashion that we did as well, scoring the equaliser, was amazing. 
"I get goosepimples thinking about it - it was one of those unique moments to be involved in a game like that. The importance, rivalry, it's a cup game and to score and win the game away from home in front of the away fans was incredible.
"You look back and you think of that as unbelievable moment in my career and for the club.
"It was Modibo Maiga who did the flick on before Matty Taylor's pass for my goal, and then for the winner Mo Diame got it out on the right and put a great ball in for Maiga to get on the end of it. I was right behind him as well ready to pounce, but a fantastic header and you see in everyone's celebrations it was just a fantastic day."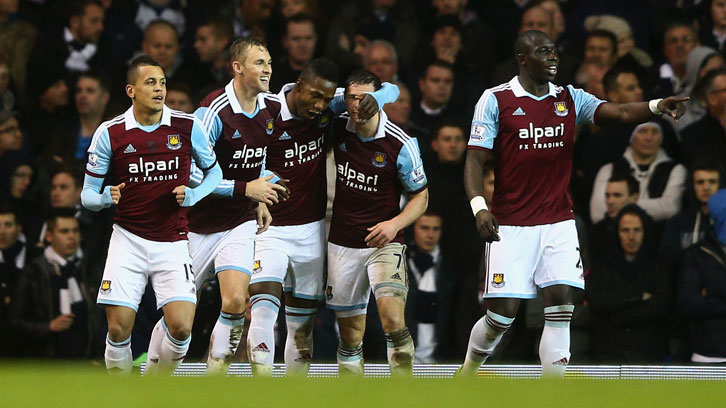 The latter stages of Jarvis' time at West Ham, which ended with an initial loan move to Norwich City in 2015, were disrupted by injury – a misfortune which followed him to Carrow Road after he joined the Canaries permanently.
After only being able to make 21 appearances across four seasons, he found himself without a club in the summer of 2019, an alien feeling for a player who had been in the thick of the action since coming through the ranks as a youngster at Gillingham 16 years before.
Having worked his way back to fitness, he linked up with National League side Woking in February, only for the season to be curtailed by the Coronavirus pandemic.  Understandably, the 34-year-old is itching for football to resume.
He added: "I've had a difficult time the last few years but I was delighted to get back out on the pitch and just play some football. 
"That's what I wanted to do, I've not wanted to stop and I've been delighted to go down and play at Woking. I only played 60 minutes and got a goal and two assists, then the season finished again! 
"It's another frustrating part but it was just great to get myself back out playing and obviously I'm in the same sort of position as I was before. Keeping myself fit by myself in lockdown.
"There's definitely a few more years in the tank. I feel good, I'm rejuvenated and ready to go. I want to play as long as I possibly can, and hopefully we can start again before too long."