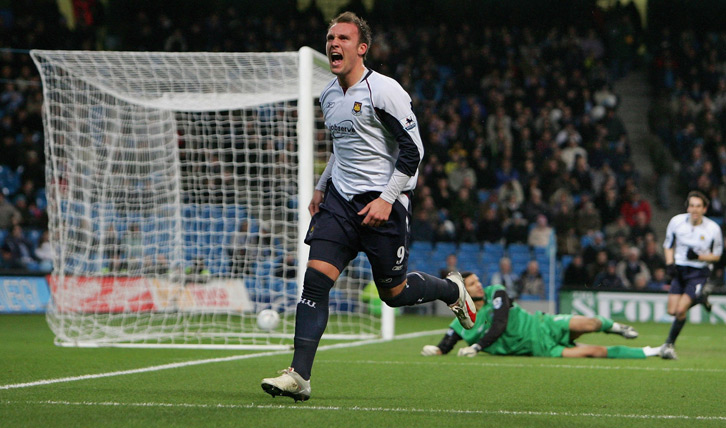 In the latest in a series of features looking at how Club legends and fan favourites signed for West Ham United, Dean Ashton goes in-depth into his departure from Norwich City in January 2006 to join the Hammers...
Dean Ashton's time in Claret and Blue may have been short, but there is no doubt that the former West Ham United No9 is one of the Club's most highly revered former players. 
Joining the Hammers in January 2006 from Norwich City, Ashton was an immediate hit. Despite his career's untimely end due to injury, the attacker's time with the Irons is still looked upon fondly – by both the player himself and supporters everywhere.
Ashton joined Norwich in January 2005 from Crewe Alexandra, immediately making an impact in the top flight of English football, scoring on his debut for the Canaries and netting seven times in 16 Premier League appearances. 
Despite the striker's best efforts, however, Ashton was unable to help keep Norwich in the Premier League, as the East Anglia side suffered relegation on the final day of the season, courtesy of a heart-breaking 6-0 defeat at Fulham. 
"It probably sounds a bit wrong, but I loved those first six months at Norwich," Ashton reflected to whufc.com. "I know we got relegated at the end, which was devastating but I loved being in the Premier League and being given that opportunity to play against the best players in the country. To be a part of that and to be doing well, I loved it. 
"It was only that last day, because we got ourselves into a position where it was in our own hands, and sadly on that last day we failed miserably. But everything leading up to that day had been brilliant and I loved every minute of it.
"There is such a big build-up to the last day of the season, especially when there were four teams still vying to stay up. To be in pole position, knowing that if we get something out of the game and stay up, after what we'd dug our way out of, was soul destroying when the game went the way it did.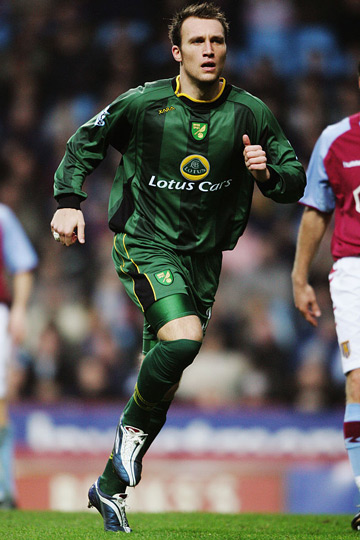 "We really felt like we could get a win or a draw at Fulham with the form we'd been in but to go there and get thumped and know half-way through the game that it's all over was a real horrible way to end the season."
Although Ashton's first spell in the Premier League had been but a brief flirtation, the forward had the top flight bug. With Norwich set for the Championship in 2005/06, Ashton's future was far from certain. 
By his own admission, Ashton had spent his entire career working to get to the Premier League so the prospect of returning to the second tier after just six months was a difficult one to swallow. However, a sense of obligation to the Canaries and a perceived lack of interest in signing the attacker meant he would start the new campaign at Carrow Road.
He continued: "I've got to admit that it was a tough summer. Obviously, I had spent all of my career, up to that previous January, with Crewe in the Championship and League One. To get that chance in the Premier League, I loved every single minute of it and achieved the dream of almost every player. So to then have the thought of having to go back to the Championship again was something I really struggled with. 
"At the same time though, I felt a real obligation to Norwich City, who had taken that chance on me. They had been the club that stumped up the money, bought me and gave me the chance in the Premier League, so I felt like I owed them.
"To be honest, I genuinely don't think there were many offers in either. You hear the rumours, of course. And I'd be lying if I said I didn't want a team to come in and make a proper bid that Norwich would accept, and I would go and play in the Premier League again. But that just wasn't forthcoming. There are always plenty of rumours and, even if a club is genuinely interested, that doesn't always equate to putting the money down to buy the player. That never materialised and the season was upon us before we really knew it. 
"I was happy to get my head down and help Norwich try to get back to the Premier League. Norwich were great with me and I signed a better deal with them, so I made the decision to stay and give it a real go to get the club back in the Premier League."
With Norwich in the Championship, Ashton continued to fire home the goals. The striker scored ten times in 28 showings in the first half of the season, and still rumours persisted over the attacker's future. 
Despite the forward's prolific nature in front of goal, Norwich were struggling to mount a bid to return to the top flight at the first time of asking. As December rolled around, and the January transfer window drew closer, manager Nigel Worthington admitted his team's star striker would be allowed to leave in the coming weeks – so long as the fee was right.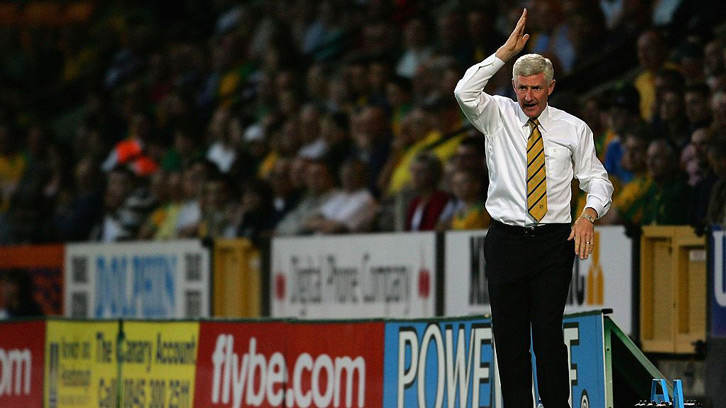 "It was news to me [when Nigel said that in the press]," Ashton admitted. "At the time there were lots of rumours leading up to January and the transfer window. We were midtable and not really threatening, and I was still reasonably high up in the goalscoring charts, so I believe there were a few rumours flying around at that stage. 
"The manager was constantly having to answer that question. It was a little bit of a surprise to hear the manager say it, but not a surprise in the sense that he was having to constantly answer that question about me. At that point I was pretty confident in terms of how good I was and where I could get to, so the reports didn't faze me too much."
With the public admission that Ashton's future could be away from Norwich City, the floor was open for clubs to register their interest in one of England's hottest young talents. Ashton had already proven his ability at the highest level just a few months prior, and three Premier League sides were quick to make contact.
He recalled: "This was leading up to the first FA Cup round for Premier League clubs – the FA Cup third round – and it can become a sticking point sometimes when clubs are buying players because they don't want them to become cup-tied. 
"Leading up to that round of games, my agent spoke to me and said 'I've heard that Manchester City, Newcastle and West Ham have been watching you.' They were all looking and sounded reasonably interested, without having actually put a bid in yet. 
"As far as I was concerned, neither Man City or Newcastle made a bid – certainly not one that was accepted. To me, that was all rumour and it was West Ham that put the money on the table and wanted to bring me in."
Under the guidance of Alan Pardew, West Ham United were enjoying their return to the Premier League. As Norwich City had been relegated, the Hammers had returned to the top flight courtesy of a Play-Off Final victory, and were enjoying a fantastic run of form. 
The side was sat in the top half of the division, and Ashton remembered being impressed with the team in Claret and Blue during a previous visit to the Boleyn Ground with his old side.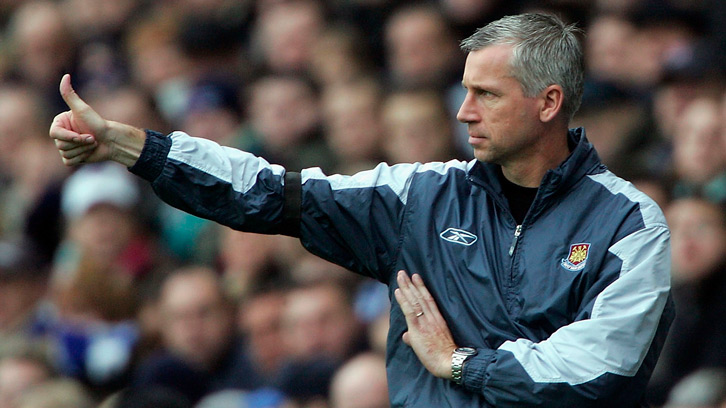 "I had played against West Ham the season before, in the season they got promoted back to the Premier League. I played for Crewe against them and they beat us 3-2, with Teddy Sheringham scoring two. I remember scoring two as well. 
"I remember thinking, at that point: 'Wow, what a squad they've got of talented players. The likes of Marlon Harewood, Matthew Etherington, Bobby Zamora. This is an impressive set-up.' And then when you go to play at West Ham, at the Boleyn Ground, it was a completely different level. 
"I didn't watch them that much in the Premier League because I was concentrating on Norwich and the Championship at that time, so I didn't really see just how well they'd been doing in the league, or the great, entertaining football they had been playing."
By a twist of fate, Norwich City were scheduled to face none other than West Ham United in the third round of the 2005/06 FA Cup, leading to a situation that Ashton is still asked about to this very day. 
The striker was ruled out of playing for the Canaries that day due to injury but, amidst constant speculation linking him to West Ham, a section of his then-home supporters believed their player had ruled himself out so as to not feature against his potential new team. 
Ashton, however, has put that rumour to bed, revealing he knew nothing certain about any West Ham interest until the day after that game, when the Hammers made their first offer for the attacker.
He continued: "The one thing that clouded Norwich fans' opinions of me a little bit was that the FA Cup third round game was against West Ham at Carrow Road. I was genuinely injured for that game and I didn't know at that point that West Ham were going to make an offer for me. I was dealing with a slight groin problem and couldn't play in that game. 
"Literally the day after, West Ham put a bid in for me that was accepted. It really looked like I had purposely missed the game because I already knew that West Ham were going to make that bid. 
"For the record, I didn't know. Until Norwich told me that the bid had come in and been accepted, I really didn't know that West Ham were going to make an offer. To some people, it will always look like I did it on purpose. It was a strange and surreal time. Even a couple of the Norwich players questioned my motives at that time."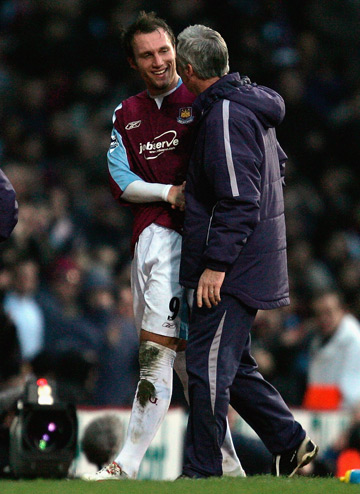 West Ham were prepared to make Dean Ashton the Club's then-record signing; a real show of intent from the Hammers as they looked to re-establish themselves in the Premier League. 
Having seen a £7m offer accepted – over double what Norwich had paid for Ashton just 12 months prior – it was time for the forward to meet his new manager. 
"I met Alan Pardew at the Hilton at Dartford Crossing," Ashton recalled. "Everyone who knows Alan knows how confident he is. He sat me down and did this presentation on how I was going to fit into his plans and fit into the way the team plays, and how the other players are going to help me. I walked out of that meeting feeling like Maradona! There was no doubt I was going to sign. 
"He's the most confident manager I've ever come across, but that was just his style. That was how he felt he was going to get the best out of players, by making you feel like you're really important. I think that was why we had such a great unity in our squad. There was rarely any angst between the players."
In joining West Ham, Ashton would become part of a strike force that already boasted Marlon Harewood, Bobby Zamora and Teddy Sheringham. Each of the trio had proven essential for the Hammers in the past 18 months, with Harewood in particular relishing life back in the Premier League. 
Ashton could not wait to begin working with his new strike colleagues. 
"I was joining a squad that had Marlon Harewood, Bobby Zamora, Teddy Sheringham. There was a lot of competition for places, but everyone got on great.
"I'd come up against Marlon and Bobby a few times and I knew what fantastic players they were. Bobby had come all the way through the leagues and Marlon had been tearing up the Championship with Nottingham Forest for years. So, I had a good idea of what each of them would bring and how great it would be for me to play with each of them, because of how athletic they were and how good at linking the play and holding the ball up they were. 
"Also, for me, to be able to learn off of someone like Teddy Sheringham, who I had grown up watching and admiring and wanting to be like, it was such a dream for me. I think that made such a difference to the player I was becoming, just by watching him every day and picking his brain when I had the chance."
Having agreed terms with the Irons, Ashton would be presented to the world at West Ham's home match with Fulham. Signing on the dotted line and paraded in front of the applauding fans at the Boleyn Ground, Ashton was treated to a wonderful West Ham performance. 
Wonder goals by Anton Ferdinand and Yossi Benayoun put the Cottagers to the sword, and Ashton knew he made the right decision.
"It was just a bit too quick of a turnaround to be involved in the Fulham game. I went along to be unveiled and I signed the contract before that match, and then proceeded to see a display of absolute quality from West Ham. Anton's volley and Yossi's chip, and it was Thomas Repka's last game as well. 
"The atmosphere was absolutely incredible, and I remember thinking I was going to struggle to get in the team."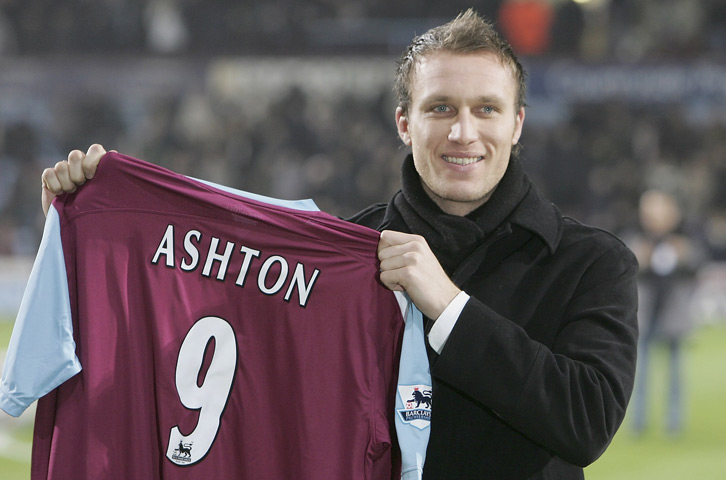 Ashton's own debut would come in a famous win at Arsenal, coming off the bench as West Ham became the last team to win away at Highbury. The new Irons' No9 would immediately establish himself in the team, scoring a number of key goals as the Hammers secured a top-half finish, and reached the FA Cup Final. 
"I don't think that six months could have gone any better, apart from winning the FA Cup. It was just a fairy-tale six months. We had great fun and I found it so easy to get integrated into the side. It was no surprise for me that I could play and express myself in some of the games as well as I did and make an impact and score goals. It didn't feel difficult. It felt easy to join in at what was a really buoyant place to play football. 
"For us to go on to the FA Cup quarterfinals, get past Manchester City away, get to the semi-finals and beat Middlesbrough. The semi-final was one of the best days I've ever had in football. To be part of that Cup Final was amazing. I can look but now with a lot of pride but, obviously at the time, it was gutting to not get our hands on the trophy. That would have been an unbelievable end to an incredible season for everybody. 
"Hopefully the West Ham fans could be proud of the performance we were giving in the FA Cup Final against the reigning European Champions. Every West Ham fan loves football and it was so hard to not love the football side of that FA Cup Final. It will go down as one of the best in history because of how exciting it was. It was just unfortunate we couldn't get it over the line because I felt we had deserved the victory. 
"It's lovely to think though that, even though you've lost a final, the supporters are still as proud of you as if we had won it because of the display we put on and the way we held ourselves."
Sadly, Ashton's football career was cruelly cut short due to an ankle injury, with the striker retiring in December 2009 after making his final appearance for the Club in September 2008. 
Although his time spent on the pitch in Claret and Blue was short, Ashton is held in the highest esteem by West Ham United fans across the world. The feeling of love from the Claret and Blue Army during his time with the Irons and, more importantly, during the difficult months and years that followed, will stay with him forever.
He added: It's hard to put it into words how much West Ham and the fans mean to me. When you're going through the hardest part of your life that you've ever been through, the most important thing is the people that are around you. 
"To have supporters that, despite you not being able to reward them or show them just what you're all about, show me all the love they have done, it makes me feel like I am really part of something. And that's so important. As a player, you can fall out of football and not have much response, but West Ham fans have always made me feel like I'm part of something special and I'm part of the West Ham family. 
"They've always made me feel special which, since I retired, has been so important to me. It's hard to really put into words just how thankful to them I am."
Read the first-hand, honest accounts of how and why other West Ham United icons and legends came to play in Claret and Blue at the links below: