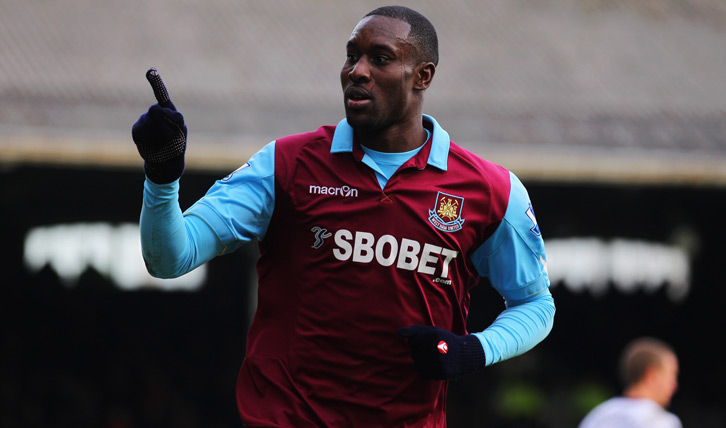 In the latest of a new series of features looking at how club legends and fan favourites signed for West Ham United, striker Carlton Cole reveals the circumstances that led to his move to the Club in 2006, and the unique context of his return in 2013...
An Irons career that spanned almost nine years, featured 293 appearances in Claret and Blue, and saw 68 goals scored in all competitions. 
There is no denying that Carlton Cole's determination, work-rate, loyalty and attitude make the former striker a cult hero and a modern icon at West Ham United. 
Having joined the Hammers at 22-years-old, back in the summer of 2006, Cole is still involved at West Ham to this day, coaching in the Club's world-renowned Academy of Football, passing on his years of experience and knowledge to the next generation of players. 
After coming through the youth ranks across London, at Chelsea, Cole found himself on the fringes of a Jose Mourinho-managed side that dominated English football in the mid-2000s. While the young forward spent the Blues' first Premier League-winning campaign on loan at Aston Villa, he was involved in the first team for their second.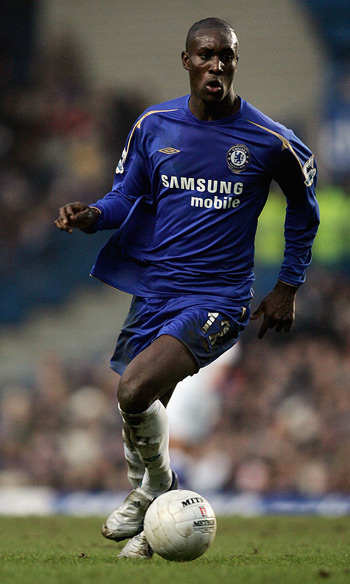 First-team football was at a premium for Cole, however. All of his nine Premier League outings came from the bench. His only start of the campaign was in the FA Cup, a third-round win over Huddersfield Town, in which he netted his solitary goal of the season.
With the likes of Didier Drogba, Hernan Crespo and Eidur Gudjohnsen ahead of him in the pecking order, Cole's decision to move on that summer was made.
"I made the choice towards the end of that season that is was time to move on," Cole recalled to whufc.com. "I wanted to play much more in that winning Chelsea team than I did, but it was hard to get regular games. I remember the other strikers were flying and I couldn't break the mould and get in.
"I know Mourinho liked me as a player and, to be fair, so did Roman Abramovich, but I opted to move on after that season so I could get more game time.
"Chelsea actually wanted me to go out on loan again, this time to a team in Russia. Abramovich told me that, after I got back from that season on loan in Russia, he would give me a new contract too, but I just really wanted to get out and play at that point."
As a young striker who had impressed during his brief outings for Chelsea, and while on duty with England U21s, Cole was far from short of suitors. Clubs from across England were ready to take the 22-year-old into their respective attacking forces. 
For Cole, there were two important elements to his next move. The forward wanted to remain in London and wanted to join a club that made him feel truly welcome. When his agent made him aware of interest from east London, memories of a trip to the Boleyn Ground that previous campaign showed Cole why a move to West Ham could be just what he was after.
West Ham was not the only London-based club keen on securing Cole's signature, however. 
He continued: "There were quite a few teams up and down the country interested. A few in the Premier League and a few in the Championship. There were a couple of teams from abroad too, but at that stage in my career I wanted to stay in London and try to grow at a team that really wanted me.
"My agent had told me there was interest from West Ham, and there was also interest from Tottenham Hotspur as well. At the time, Abramovich didn't do business with Tottenham, so he wasn't going to let them have one of his young players! He told me that I wasn't allowed to go there, but Tottenham wasn't really on the table for me personally anyway. 
"I knew that West Ham was a good team. We had played them the year before, at the Boleyn Ground, and I remember being in the travelling squad for the game. I saw the atmosphere at the Hammers, and I remember thinking that it was very different to what I was used to at Chelsea. 
"You saw a lot of people that passionately loved their Club. I was in the stands with a few big names and, at other clubs, the other fans might come over and try and get autographs, but no one tried to do that; they were all just focused on their own team. That's how I knew West Ham wasn't a small club, it was a big club. I really felt that when I came to West Ham."
With a deal agreed between the two Premier League sides, all that was left was for Cole to sign on the dotted line. A meeting between the forward, his agent, and then-West Ham United manager Alan Pardew was organised. 
Although Cole was away on holiday, there was no time to waste to get the transfer over the line. Pardew met his potential new signing at Stanstead Airport, determined to convince the young forward that his future was with the Hammers.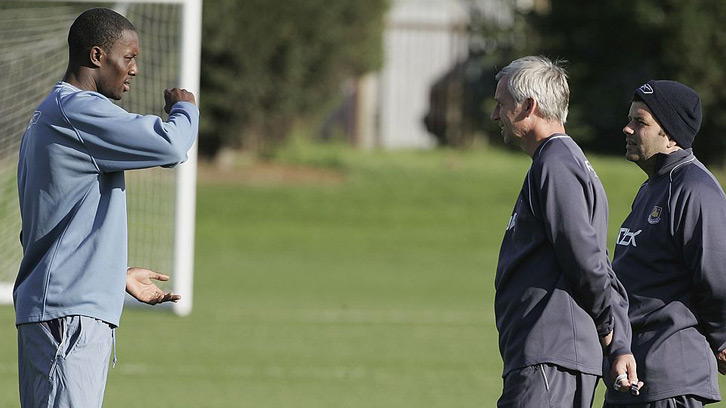 The 2005/06 season had been one of celebration for Pardew and his Irons. Back in the Premier League, the Club secured a more-than-respectable ninth-place finish in the top flight. Even more memorable was the run to the FA Cup Final, where the Hammers arguably outplayed a Liverpool team that, just 12 months prior, had won the UEFA Champions League. Only the cruel lottery of penalties – after a thrilling 3-3 draw – denied the Irons the iconic trophy. 
A plethora of striking options had been available to Pardew that campaign. Top scorer Marlon Harewood was joined by the experienced Teddy Sheringham and lethal Bobby Zamora, while January acquisition – and then Club-record signing - Dean Ashton had proved an instant hit.
Cole knew competition for places at West Ham would be fierce. What he did not anticipate, by his own admission, was it getting even fiercer. 
"I was met by Alan Pardew at Stanstead Airport," Cole continued. "I had been away, and I met him straight off the flight. The Club hired an office room for us to have a meeting there, and he sat down with my agent and I and sold West Ham to me. I ended up signing for West Ham at the airport!
"When I signed, West Ham had loads of strikers. There was Bobby Zamora, Marlon Harewood, Teddy Sheringham and Dean Ashton – who I knew very well from the England U21s – and then there was myself coming in. 
"To be completely honest, Pardew had explained to me that one or two of those strikers might be moving on, and I was one of the players he wanted to bring in. He told me that, but then that season ended up being really funny. 
"After I signed, instead of the Club getting rid of any strikers, we acquired Carlos Tevez and Javier Mascherano. Tevez was obviously a world-class striker who came in on the back of a World Cup, so that put me to sixth-choice striker!
"I was flabbergasted when Tevez walked in! I couldn't believe it. But I thought to myself: 'I've been around world-class strikers all of my career, so it's just another scenario to get through'."
Despite the competition for places, Cole's Premier League debut could not have gone any better. Having come off the bench, the Hammers' new 12 scored the third goal in the opening day victory at home to Charlton Athletic. 
The debut delight quickly faded, however, as a season filled with promise turned sour. West Ham struggled to build on the success of the 2005/06 campaign. Following a 4-0 defeat at the hands of Bolton Wanderers, which left the side flirting dangerously with the relegation zone, Pardew was replaced as West Ham manager. Former player Alan Curbishley, who had recently ended a 15-year spell as Charlton boss, was appointed his successor.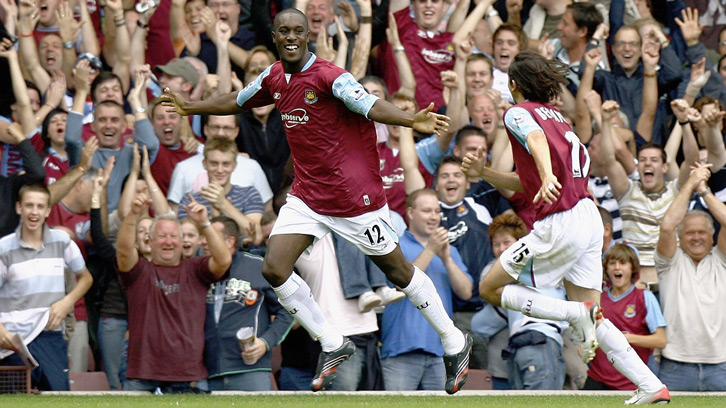 Cole knew Curbishley well, having played under him on loan at the Addicks for the 2003/04 season. The striker had heard rumours of issues between the two and, with an unexpected opportunity to end his West Ham career arising in January 2007, Cole had a tough decision to make. 
"When Pardew left the club, Alan Curbishley came in. I had worked with Curbs when I was on loan at Charlton, but I heard a rumour that Curbs wasn't happy with me.
"The story was that he had been upset with me because, when I was at Charlton, I had chosen not to renew my loan. He wanted me for a second year and, at the time, Scott Parker was going from Charlton to Chelsea. I was supposed to be part of the deal. I didn't agree to it though and ended up going to Aston Villa.
"My agent came to me not long after Curbishley joined West Ham and he told me that Derby County were waiting to sign me in January. I had the chance to leave less than six months after signing for the club. 
"That was a big moment for me. I was determined not to leave. I wanted to prove myself and show that I'm not a quitter and that I had what it took to play at the Premier League level.
"I think that was when I started to really find myself and started to become a man, in terms of taking responsibility for myself. I was 23, and I knew I had to take myself seriously. There was a lot of competition when I came in, and I wasn't an established first-team player. It takes young players time to learn, and I think I did. Then I started playing and started doing well and doing a job for the team."
Cole would be glad of his decision. What would follow would be a growing importance to the West Ham United team. Twenty-one appearances in all competitions in his maiden campaign was followed by 37 in his second. More regular starting berths led to more goals. 
For seven seasons, including the promotion-winning campaign in the 2011/12 Championship year, Cole was pivotal to the Hammers. That is why, when his contract expired in 2013, the forward found leaving a strange feeling.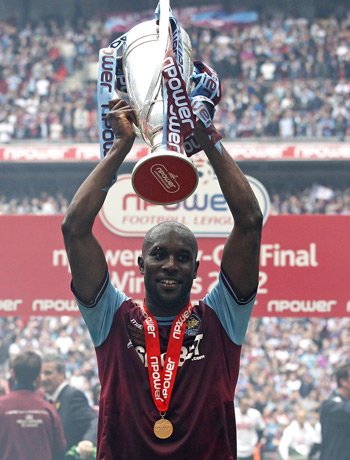 "To be very honest, I was a bit disappointed to be leaving," Cole admitted. "I knew the contract was coming up and then I found out it wasn't getting renewed. Andy Carroll was first choice at the time but there was space for both of us at the Club. 
"It felt premature to move on, but the Club felt it was the right time. I went out to Miami on holiday and spent a while out there, because I wanted to try and get a move to the MLS. It would have suited my family and I at that time. It didn't work out for me though."
The summer of 2013 was tough for Cole. Without a club, the striker found himself unwell with tonsillitis. While there were options on the table, it was important to find the right one. 
What was perhaps the most unlikely scenario ended up becoming a reality, however, as Cole found himself once again in Claret and Blue for the 2013/14 campaign. 
"West Ham called pretty much straight away after the transfer window and asked me if I would be interested in coming back," he reminisced. "It was a bit weird for me coming back, and I got the banter from the lads when I walked back in. I think they were happy to see me though. 
"The Club needed someone who could get straight into the season, but it was going to take me a month to be fit and ready, because I was overweight. I was allowed to come in and train with the Club and, in that time, Mladen Petric came in a well, who had been at Fulham. 
"We were both trying to get fit and then I played in a couple of games behind closed doors, and then I was back in the team. I signed a new contract and I was here again!"
Another two seasons with West Ham followed before Cole finally bid a permanent farewell to his playing days with the Irons in May 2015, at 31-years-old. 
As the experienced striker wrote at the time in an open letter, he had 'grown from a boy to a man here'. Almost five years on, and now working in the West Ham United Academy, Cole is proud of his years of service and his relationship with the West Ham faithful.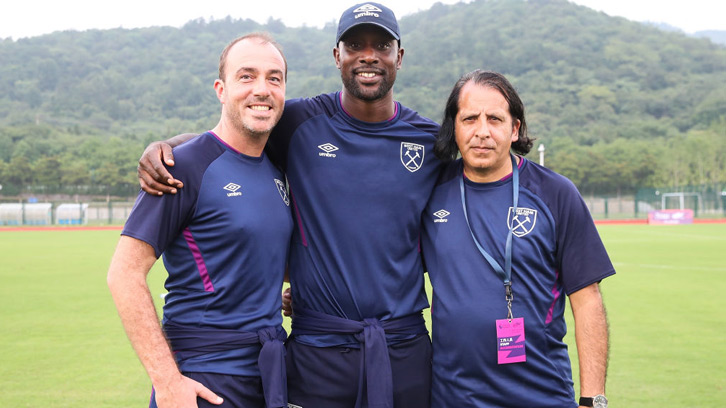 "I know I had to prove myself to West Ham fans," he added. "It wasn't easy in the beginning due to a number of things and I had to get on with it and fight and show my worth. I think people started to see that and, when I was given the chance, I was playing well. My confidence went up as I got into the team regularly. 
"When we got relegated [in 2011], I think that really cemented to the fans that I was loyal to them and the Club. There was a chance to move back to the Premier League with another club, but I felt a responsibility to help West Ham and get the club back where it belonged. It wasn't about the money. It was about my own motivation. I wanted to stay, I wanted to play for the West Ham fans, and the rest is history. 
"We got to the Play-off Final and it meant so much to all of us. I feel like, for me, that's when it all clicked and cemented it for me. I was West Ham through-and-through; the Club's adopted child from west London. I'll never forget that feeling."
Check out the honest accounts of how and why other West Ham United icons and legends came to play in Claret and Blue at the links below: