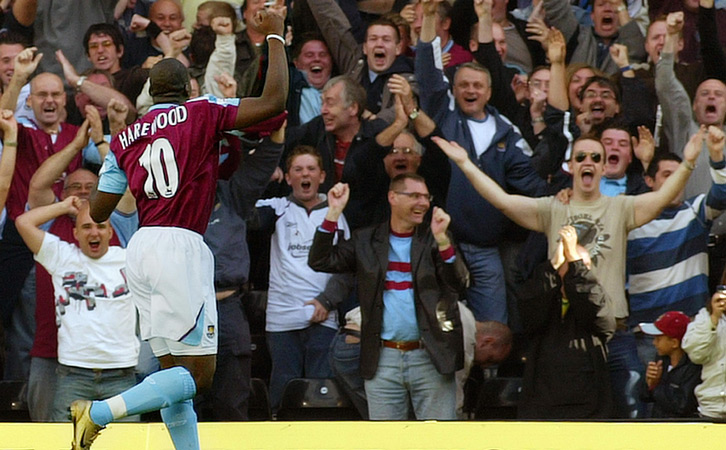 In the latest of a new series of features looking at how club legends and fan favourites signed for West Ham United, striker Marlon Harewood looks back at his November 2003 switch to the Hammers...
A Championship Play-Off winner, a Premier League hat-trick scorer, and the man who fired West Ham United into the 2006 FA Cup final. 
Marlon Harewood's four-year spell in Claret and Blue was filled with unforgettable goals and iconic, history-making moments. 
Joining the Irons in November 2003, Harewood would become the spearhead of the West Ham attack through the mid-2000s, netting 56 goals in 170 appearances. 
"I would say the four years I was at West Ham were the best years of my career," Harewood reflected. "It was truly special and that's why I'm honoured to be an ambassador for the Club now. I couldn't think of anything better to do. 
"It's a privilege to be a part of this Club."
As the summer of 2003 passed, a then 23-year-old Marlon Harewood was leading the line for Nottingham Forest in the old First Division. A product of the Forest Academy, the striker had established himself as one of a two-man attack that finished sixth – the final play-off berth - in the 2002/03 campaign. 
The striker was heading into the 2003/04 season on the back of a year that saw him score 21 goals in 49 competitive outings. His strike partner, David Johnson, netted 29 times. The duo was one of the most-feared in the division. Johnson, the slightly more experienced, and Harewood, the young, hungry apprentice.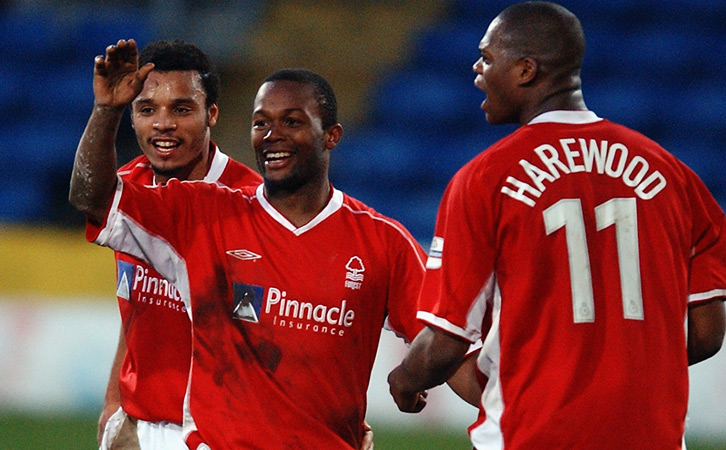 "It was nice to be looked at in that way, as a young but prolific striker in the First Division," Harewood reminisced. "I spent my time at Nottingham Forest, going through the Academy, and then playing in the first team. 
"When I was playing at that time, the manager Paul Hart had said to me that he wanted me to form a partnership with David Johnson and for us to do well in that division. We scored 50 goals between us, so that partnership was really good for us and the side. 
"We had a young, vibrant team that did very well. Playing with David at that time was a real help to me. It was a learning curve and I developed so much because of playing alongside him in that Nottingham Forest team."
The new campaign began, and Harewood continued where he had left off from the season prior. Nottingham Forest's first goal of the 2003/04 First Division season was scored by Harewood, in a 2-0 win at home to Sunderland. It was followed by a consolation effort in a home defeat to Cardiff City, before Harewood scored in four consecutive matches; wins over Norwich City, Sheffield United and Burnley, and then a defeat away to Crewe Alexandra. 
On the pitch, Harewood was soaring, but away from it, his future with Forest was uncertain. The striker's contract was due to expire in the summer of 2004. Reports began to emerge that Harewood's career could continue away from the City Ground. 
He continued. "I had been at Forest for six or seven years and I was at a time in my career where I wanted to see what I could do to better myself.
"If I remember correctly, Nottingham Forest offered me the chance to stay with a new contract, but I was coming to the end of my deal in the next summer and I was at the time where I wanted to have a change and a new challenge."
As a football fan throughout my entire life and career, you couldn't not know about West Ham, the history and the players at the Club

Marlon Harewood
A new challenge would emerge for Harewood, in a move back to London with West Ham United. 
"As a football fan throughout my entire life and career, you couldn't not know about West Ham, the history and the players at the Club. At that time, you're talking about the likes of Jermain Defoe, Michael Carrick, Joe Cole, Paolo Di Canio – these incredible players who, from the outside looking in, were top class footballers that anyone would want to play alongside."
The Hammers were hurting heading into the 2003/04 season. Relegation from the Premier League, despite achieving 42 points, meant a first season in the second tier of English football since the 1992/93 campaign. 
Manager Glenn Roeder had retained the backing of the Club, returning to work in July of that year following an absence due to a brain tumour. But, just three games into the season, following a 1-0 defeat at the hands of Rotherham United, Roeder was dismissed. 
Club legend Sir Trevor Brooking resumed caretaker control, having done so at the end of the 2002/03 campaign during Roeder's ill-health. But the hunt was on for a new permanent successor, and after a lengthy negotiation, West Ham got their man. Alan Pardew moved to east London from Reading.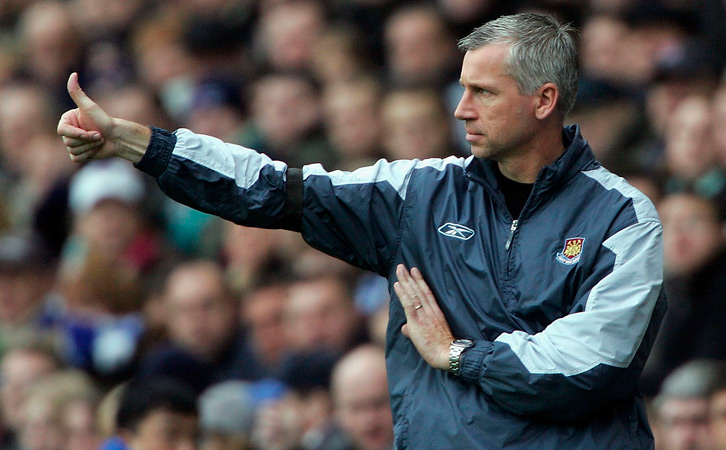 Pardew took charge of his first game at West Ham on October 22 2003 – a 1-1 draw against a Nottingham Forest side that, somewhat ironically, featured Harewood in the starting XI. What followed was a spell of six games without a win for the Irons. While the majority of those matches ended in draws, Pardew knew he needed reinforcements for his squad.
Harewood was at the top of Pardew's list of targets.
The forward said: "My agent phoned me and told me about West Ham being interested. Alan Pardew had contacted him and wanted to see if I fancied moving to West Ham to help him and the Club achieve promotion. 
"When my agent told me that, I was instantly asking him to try and make it happen. I couldn't think of any better club to go to at that time. Alan Pardew wanted me to come down there and, the things he wanted to do and wanted to achieve, I couldn't turn that down.
"The Club had some amazing players that I could learn from, it was a great place to try and further my career and it was a chance to come back down to London. Even though there were a couple of other clubs interested in me too, the West Ham move was a no-brainer."
With West Ham having only just suffered relegation, Harewood also recognised the importance of returning the Irons back to the Premier League. That challenge, and that desire to return to the top division after only really getting a brief taste during his Nottingham Forest days, further convinced him that the Boleyn Ground was the right place for the next stage of his career. 
"I had tasted the Premier League with Nottingham Forest and I really enjoyed it. Of course, it's always hard for clubs that go up to that division to stay there, and unfortunately, we couldn't stay up. 
"But from that campaign I knew that the Premier League was where I wanted to be and where I wanted to play my football. I wanted to be in that category. I wanted to help West Ham get back to the Premier League, back to where they belong. 
"When I joined West Ham, that became my obsession; to help West Ham get back to the Premier League and, when we got there, it then became our job to stay there."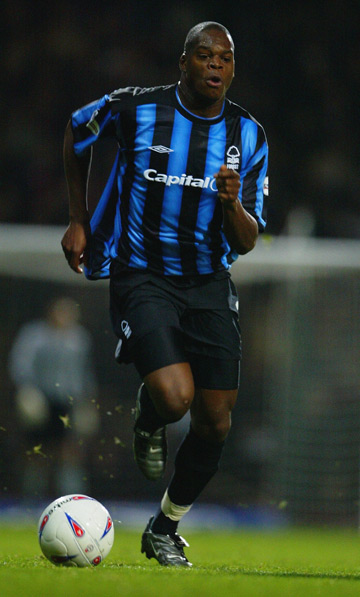 West Ham entered into negotiations with Nottingham Forest, eager to add the prolific Harewood to an already stacked and talented group of strikers. All Harewood could do was wait and hope that the Irons could convince Forest to part with the attacker.
Harewood reflected: "This was at the time before the January transfer window, so it was during the season that the deal was being negotiated. West Ham and Pards wanted the move to happen straight away. 
"I think, looking back, Pards wanted me to mix things up a bit, which is what new managers look to do. I think he wanted my signing to show the rest of the West Ham changing room that he meant business. I remember he told me that he wanted me to come in and make a statement straight away."
A deal was agreed, and Harewood and his agent were finally able to meet Pardew face-to-face. The chance to talk to his new manager would show the striker just how ambitious he, and West Ham, truly were. 
If Harewood has any slight concerns about the transfer, those evaporated during the course of that encounter. At a time when West Ham boasted the striking ability of David Connolly, Bobby Zamora and Jermain Defoe, it was Harewood that Pardew wanted at the top of his team.
"I remember meeting Alan at the hotel and having a chat and it all went from there. Pards is a very good talker and he filled me with so much confidence and sold me his vision of what he wanted to achieve with West Ham. He was so excited for the future with West Ham and it was hard not to be encompassed by that. 
"He had only joined West Ham in October so, for him to immediately want to bring me in, it was a massive shot of confidence. He made me feel so good about myself when I walked into West Ham. 
"Sometimes, as a player, when you're going into something new, that boost can make all the difference. He made me feel confident that I should be, and I belonged, in that dressing room.
"West Ham had some amazing strikers at this time. There was the likes of Jermain Defoe, David Connolly, Bobby Zamora and Brian Deane at the Club. For me personally, my confidence in my own ability at that time meant I wasn't too fazed about that. I just wanted to come in and do what I knew I could do. But there were some great strikers at West Ham. 
"At the same time though, Pards was telling me that I'm his first-choice striker. So, with that, even though I'm in the same team as these top-class strikers, I'm not thinking about them. When I was picked to play, I just wanted to do my thing and do it to the best of my ability."
With Harewood convinced that his future was with the Hammers, things moved very quickly. On 25 November 2003, the 24-year-old was confirmed as West Ham United's newest player.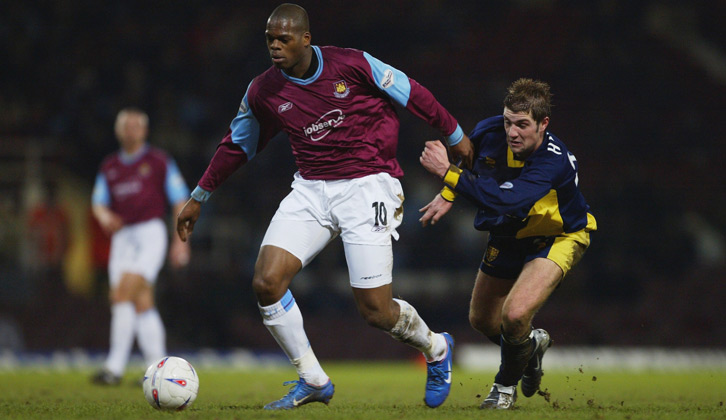 There would be no time for easing into his new environment, however, as the Irons travelled to Wimbledon for a First Division match that very night. It was time for Harewood to prove himself to his new fans. Pardew put his new signing straight into the starting XI. 
Harewood continued: "My first game was away at Wimbledon, and it came on the evening of the day my transfer was confirmed! I remember joining up with the lads and, to be fair, everyone was top with me. But I was in there with these top class players that I had only previously thought about playing alongside. 
"People like David James, Don Hutchinson and Steve Lomas are in the dressing room sat there with me, and I'm just thinking 'wow, this is real'. I knew at that point how important is was that I did well and got off to a really good start
"I walked in the dressing room and sat in my space, and I was sat next to Don Hutchinson. Michael Carrick was also there, and he looked after me. He was great during my first few days. He showed me around, showed me the ropes and made me feel so welcome at West Ham.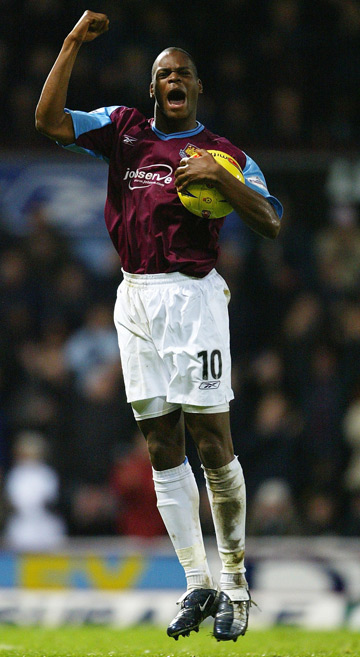 "Everyone in the squad was so welcoming as well though. The team was full of good lads and great characters."
Despite Brian Deane's opener, and Harewood going close in the second half, Pardew's Irons would only take a 1-1 draw from that game against a Wimbledon side that sat bottom of the First Division, stretching the Club's winless run to nine matches. 
Three points were desperately needed. The visit to the Boleyn Ground of Wigan Athletic five days later was even more crucial to the Club's season and hopes of pushing for promotion. 
Pardew would also retain his trust in his November recruit. Once again, Harewood was in the starting XI. The striker was to get his first taste of the Boleyn Ground as a West Ham United player. 
Home debuts arguably don't get any better than the one Harewood still reminisces about to this day. The attacker was crucial to a 4-0 win in front of his new supporters, causing Wigan's Jason Jarrett to put into his own net in the first half, before scoring twice in the second period. His first, from the penalty spot, was followed by a cool dink over goalkeeper John Filan. 
"That day was amazing. It was just the best. You hear about it and you talk about it, but actually doing it, walking out at the Boleyn Ground, all the bubbles and the fans singing, it's just unreal and it sends shivers through your body. It still does to this day, for me. 
"You grow up, trying to become a professional footballer, for those experiences. You yearn for them, so to do things like that is just mind-blowing. 
"Of course, making your home debut is nice, and it's even better to score! I didn't really think about it in that way. I just wanted to go out there and do the best I could in my very first game at home and getting those goals and showing the supporters what I was about was a massive bonus."
With two goals under his belt on his debut, Harewood would go from strength to strength. The attacker would score 14 goals in 35 appearances in his first season for the Irons, followed by 22 finishes in the 2004/05 campaign, as the side returned to the Premier League. 
Back in the top-flight, Harewood continued to fire. The striker would play all but one of West Ham's Premier League matches in the 2005/06 season, scoring 14 goals, including a hat-trick against Aston Villa. 
With two FA Cup goals that campaign, including the historic semi-final winner over Middlesbrough, Harewood's status as a modern West Ham hero is secured.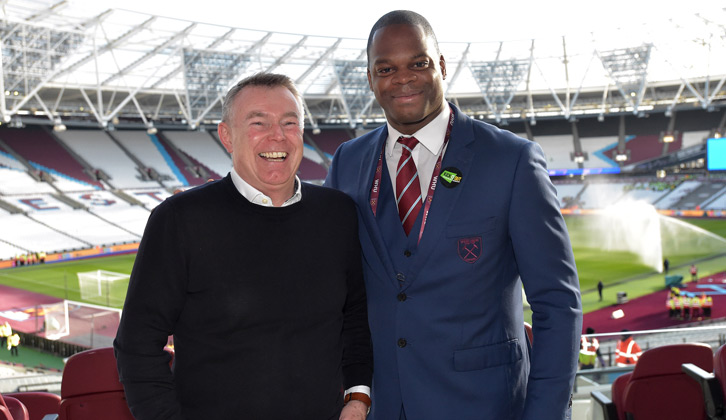 Although his time at West Ham came to an end in 2007, Harewood holds a deep, unrelenting love for the Club and its supporters. Now retired, he works matchdays as a Club ambassador, and still relishes meeting fans and talking about those unforgettable moments.
"West Ham United means so much to me," he added. "You don't really know about a Club until you're in it. I had heard so much about West Ham and about the fanbase, and once you're there, it's impossible to not love the Club. Everyone at the Club is brilliant; the players, the staff and, of course, the fans.
"When I'm at London Stadium doing my ambassador role, fans still love to come up and talk about those special moments, and I love talking about them too. I'm not ashamed to talk about them either; they're amazing moments from my footballing career and I enjoyed every single one of them.
"The fans are phenomenal and their love for the Club is infectious. Once you're in at West Ham, you can't help but become a fan too."
Read the first-hand, honest accounts of how and why other West Ham United icons and legends came to play in Claret and Blue at the links below: