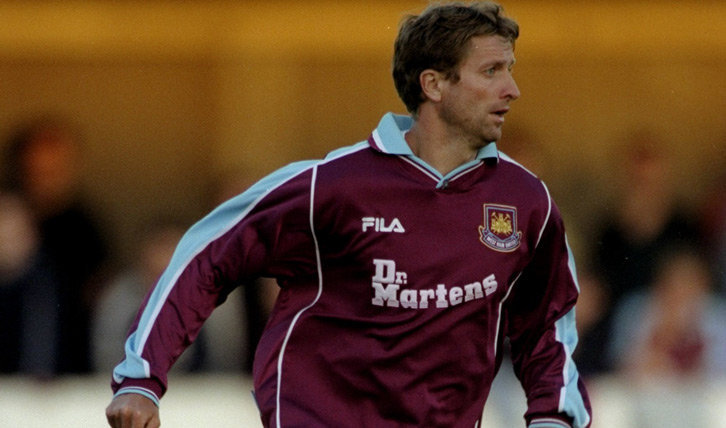 Iconic midfielder John Moncur celebrates his 54th birthday today! 
Take a look back at this feature with the former Hammer, as he goes in-depth into the circumstances surrounding his switch to the Hammers in 1994...
Joining the club of your childhood would be the dream for any footballer. To go and enjoy a nine-year career with that team is something special. 
Boyhood West Ham United supporter John Moncur grabbed the opportunity to move to his beloved Hammers in 1994, signing for the Premier League side from Swindon Town. 
The midfielder would go on to enjoy almost a decade in Claret and Blue, playing 203 times in all competitions, scoring nine goals. Only seven men in West Ham history have played more Premier League matches for the Irons. 
"When I joined in '94, there was no way I expected to have that length of West Ham career," Moncur told whufc.com. "To be with the Club for nine years, it was the greatest decision I ever made in football." 
The 1993/94 campaign had been, by Moncur's own admission, a personally very satisfying campaign. The then-27-year-old midfielder's place in Swindon's record books was secured, after he scored the team's first-ever Premier League goal. 
He featured in all but one of The Robins' top-flight matches but, despite his best efforts, Swindon were relegated at the first time of asking. 
"That last season with Swindon was probably one of the best seasons for me, in that I proved I could do it at the top level," he recalled. "We had got into the Premiership and I was playing regularly. 
"It was a good season for me personally, in terms of confidence, although we got relegated. But I found out that I could do it at the highest level. 
"With Swindon going down, I wanted to move. I had no doubt about it. I knew throughout the back end of that 1993/94 season that there were a couple of clubs interested."
It may have been West Ham where Moncur ended up playing his football, but the story could have been written so differently for the midfielder. Firm interest from the other side of London meant Moncur could have been competing on the other side of the capital. 
A fortnight's summer holiday in Italy, scheduled as a well-earned break, ended up becoming the setting for the biggest decision of Moncur's career.
 "Chelsea wanted me," he revealed. "And they were the first club to agree a fee with Swindon. Newcastle were also interested, but nothing came of that. 
"Funnily enough, I was just about to go on holiday. The season was finished, and I went to see the Swindon manager, John Gormon, and I told him I knew Chelsea was interested and I wanted to move on. 
"He told me then that same morning that West Ham had come in for me and the clubs were going to try and do a deal. It was both a bonus and a shock, because I had no inkling at all that West Ham might be interested. 
"I went to Italy for two weeks and while I was there, Swindon agreed deals with both clubs, and I had to speak to Chelsea and West Ham when I got back.
"It was great for me. I wanted to move back to London, and I had two London clubs to speak to. It was just a matter of where I was going to go."
Like Swindon Town, West Ham United's 1993-1994 season was a first in the Premier League. Billy Bonds' Irons had achieved promotion after finishing second in what was then known as the Football League First Division, before ensuring their place in the top-flight for a second campaign with a solid 13th-placed finish.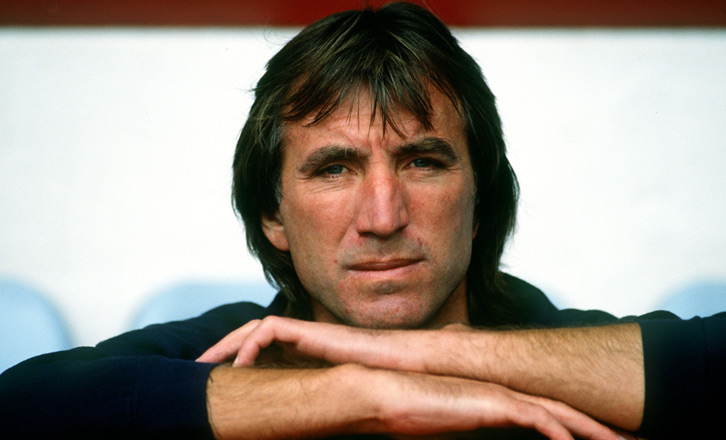 Looking to add experience and more quality to their side, manager Bonds and assistant manager Harry Redknapp met with Moncur and his agent to discuss terms. 
It was here that Eric Hall, Moncur's representative, both earned his cut and gave his player a memory that will last a lifetime.
"I sat down with Billy Bonds and Harry Redknapp in a hotel," he continued. "Bill wasn't too bothered about the figures, and I had hired an agent called Eric Hall. He always has a big cigar in his mouth. He had been in the music business and had been more of a showbiz agent, but he got a few footballers.
"Eric was doing the deal for me and we spoke to Chelsea first. Then we spoke to West Ham and met Billy and Harry. Being the agent he was, he ordered these steak sandwiches. Bill and Harry sat down and they start eating these steak sandwiches. 
"When the financial aspect went across the table from us to them, Billy turned around and said: 'lovely bit of bread this! Could I order another steak sandwich?'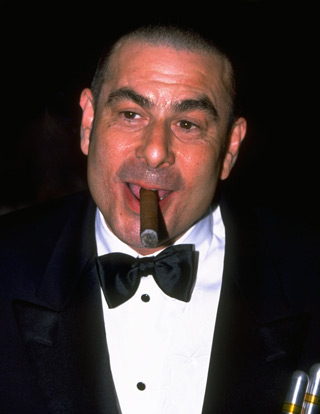 "Then, when they went away to talk about the deal alone, Eric ordered them another steak sandwich, turned to me and said: 'this will be the deal clincher!' 
"It was really funny. I loved that banter. It was really funny, and I will always remember it."
With offers on the table from both Chelsea and West Ham, Moncur had a choice to make. Despite the temptation of a switch to the west, his heart yearned for Claret and Blue. 
The boy born and raised in East London, in a family mad about the Irons, had to become a West Ham player. A recent tragedy, the passing of his grandfather, confirmed it.
Moncur admitted. "Chelsea was a real option. They obviously weren't as big as they would become a few years down the line. The two contracts on offer weren't far apart, but I just had a feeling. 
"Being at Tottenham's Academy, I was made to go there on Saturdays and watch their first team games. But every midweek game I would be with my mates, we would get on the Central Line and we would go to the Boleyn Ground. I would watch every midweek game at Upton Park when they were on.
"I can also remember being eleven or 12-years-old, and I played for a club in Romford. Our home games were on the field next to Chadwell Heath, and I can remember peering through the fence there. On the odd occasion West Ham would be out training, although it was about 300 meters away and you couldn't tell who was who. 
"I was born in Stepney and my family was from Bow. My parents had grown up in an area where West Ham was our home club. My grandad on my mum's side was West Ham mad too and, at the time, he had recently passed away, so maybe my heart ruled my head a bit.
"It was the place I always wanted to play and I had something deep down in me that always made me want to play for the Club. It was the Club I wanted to play for more than anyone."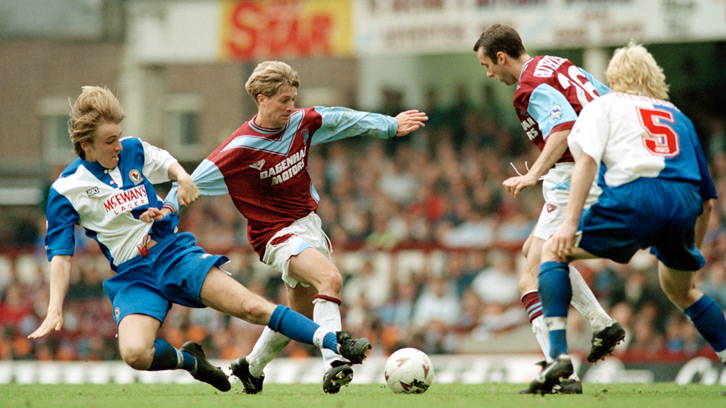 The chance to work under a true West Ham United legend in Billy Bonds could not be turned up either. But, just weeks later, there was a further twist.
Moncur would never get the opportunity to play for a Billy Bonds-led West Ham team, however. The midfielder joined the Hammers in June 1994. In August of the same year, Bonds resigned. Moncur was his final signing as West Ham United manager.
He continued: "I used to watch Billy Bonds play as a kid. When you're joining, you would always rather play for someone who is West Ham through-and-through and has played almost 800 times for the Club. Him being here was a major part of my decision, so it was a real shock when he left.
"We had gone down to Eastbourne for what I think was the first week of pre-season training, and Billy was beating all of the lads in the running. A couple of weeks later, he was gone.
"It was the biggest shock to the system ever. You worry so much at that point. If you're signing for a club, particularly in those days, the main reason you're signing is because the manager wants you and wants to put you in his team. I had just committed myself to four years and a new manager could come in and not like the way I play.
"It was a period where we, as players, didn't really know where we were. We were all in limbo, but thankfully it was sorted out before the season started. When Harry took the job, it helped calm me down. He had known me for years and he had told me what we thought of me as a player. Him taking the job was a real settler for me."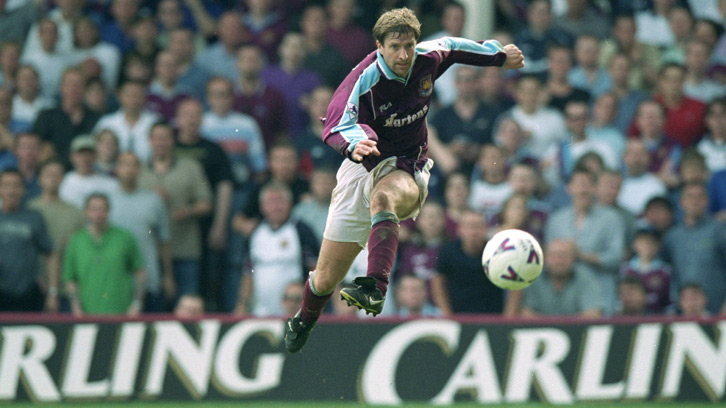 With the management situation sorted, Moncur could fully focus on finally making his West Ham debut – albeit after a brief injury sustained in pre-season.
While Moncur's home debut for the Irons was, by his own admittance, not the midfielder's finest hour, it gave the lifelong Hammer his first experience of walking out at the home of West Ham United as a player for the Club he loves.
It was the first of many treasured and special moments for Moncur.
"My first game was at the end of the August away to Norwich, and then I made my home debut in a midweek game against Newcastle.
"I can remember that Newcastle match wasn't a fantastic game for me. I did okay. But it was just fantastic to get back to playing, and playing at the Boleyn Ground, under the lights, where I used to watch West Ham play as a kid. It was my first taste of that special West Ham atmosphere that I was lucky enough to play in for nine years. 
"To have nine years at the club I loved, and to have such a good affinity with the supporters too, it was the right decision for me by a million miles"