Interviews
How and why I joined West Ham United – Martin Allen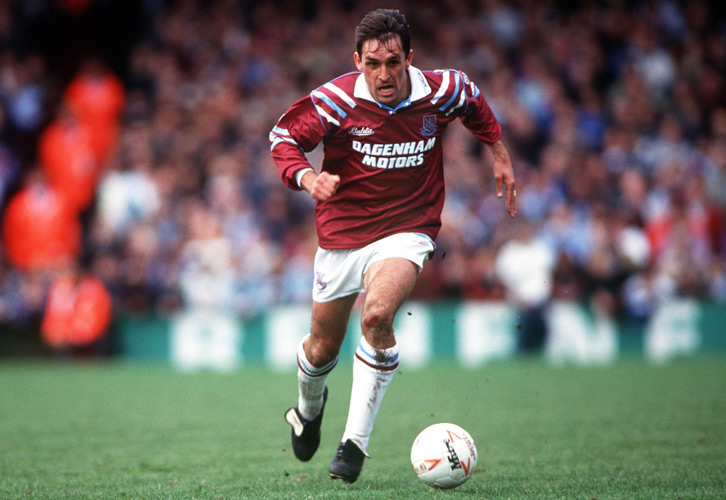 In the latest in a series of features looking at how Club legends and fan favourites signed for West Ham United, iconic midfielder Martin Allen gives the full account of his public departure from Queens Park Rangers and subsequent move to West Ham United in 1989...
When West Ham United supporters give you your own nickname, one that sticks even 25 years later, then it is clear the player was something special.
'Mad Dog' Martin Allen spent six years playing in Claret and Blue, endearing himself to the West Ham faithful with his passion, persistence, enthusiasm, and string of fantastic finishes. 
Born in Reading, Allen spent the formative years of his career in the youth system with Queens Park Rangers, breaking into the first team in the mid-1980s. 
The west London side had returned to the First Division in 1983, following promotion, and quickly established themselves as one of the capital's most talented teams. 
A fifth-place finish in their first campaign back in the top flight was followed by reaching the League Cup final in 1986. It was the perfect setting for a young Allen to learn and mature.
"I was with QPR for 12 years," he reflected. "I spent three years there as a schoolboy and then I was an apprentice for another two years. I lived out west of London in Reading and it was a club that was always special to me. 
"We were the top team in London. I can remember us even being top of the league in December one season. We were always there or thereabouts. We had the best players and it was unbelievable to be a part of.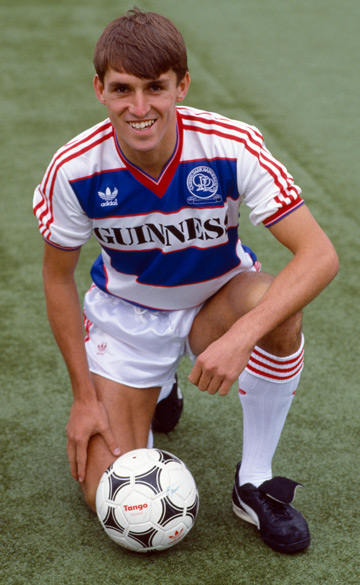 "Jim Smith was our manager and we had a team of good, young, honest, fit players. We had internationals and I was in amongst them daily. When I look back and talk about it now, it's hard to believe."
Smith would depart in December 1988, leaving to take the Newcastle United job. In his place, up would step a teammate of Allen's in Trevor Francis. The forward would take on dual responsibilities – as both player and manager. 
Allen, by his own admission, got on well with his new manager, but the midfielder's desire to be present at the birth of his son in March 1989 would ultimately lead to his departure from Loftus Road.  
He continued: "When Trevor took over at QPR, he had been a teammate of mine and a player that I got on particularly well with. But when my son George was born, Trevor wouldn't let me go to the birth. That really caused the rift at QPR and it was at that point onwards that I knew I wanted to move on. 
"There was no way I was going to miss it. He was born on the Saturday lunchtime and I was up in Newcastle for the game. I had told Trevor on the Thursday, when he let me know I was going to be in the team at Newcastle, that I was going to the birth.
"I got a phone call at two o'clock on Saturday morning that my wife had gone into labour. There was a flight from Newcastle to Heathrow at 7.30am, so I checked at 6am that she was still in labour and it hadn't been a false alarm. I got a taxi to the airport, got the flight and made it for the birth. But Trevor fined me two weeks' wages on the Monday.
"It was a massive story at the time. The News at Ten covered it. On the Monday night when it all came out in the public, the story about my son being born and me choosing to not play at Newcastle and go to his birth was the second headline! I was back home with my family then, and we were all sat around watching it and we all couldn't believe it. It was just the craziest moment I've ever been involved with."
With Allen determined to move on from Rangers, a host of clubs across the country began to register their interest in the young talent who had impressed during five years of first-team football. The tenacious midfielder had played 167 times for the Hoops, scoring 19 goals.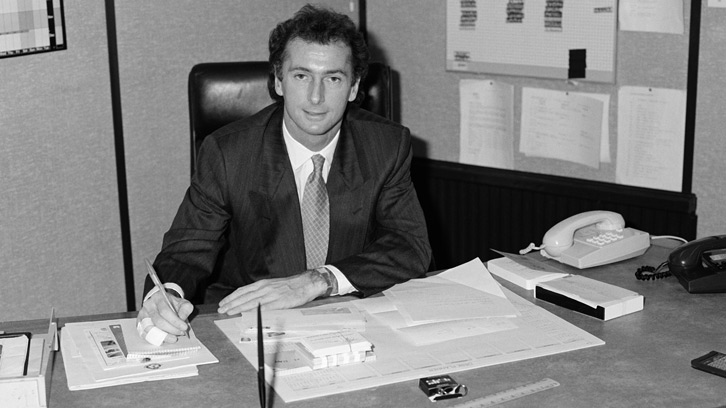 Although 'Mad Dog' would eventually make the move to West Ham, his career could have pivoted in a host of different directions. Moves to north London, Derby and Manchester were also possibilities. 
Speculation surround a transfer to the latter would lead to an affirming conversation with one of the game's sharpest minds.
Allen reflected: "An opportunity came to go to Arsenal along with [QPR teammate] David Seaman, but that got turned down. There was a joint offer for the both of us from George Graham, but that fell through because Trevor wouldn't let me go to Arsenal. 
"It was also around this time that the Daily Sport was first printed, and one of its first football stories said that Martin Allen was going to go to Manchester United. I remember thinking to myself that it couldn't be true and it was a crazy rumour, although it would have been unbelievable. 
"As it happened, I nearly signed for Derby County the night before I signed for West Ham. I went up to see the manager at the time, Arthur Cox, at a Tuesday night game. Whilst I was waiting to see Arthur, at half-time in the Director's Lounge, Sir Alex Ferguson was stood there with a cup of tea. 
"He saw my Dad and I and he came over and started talking to us. I said to him: 'If you don't mind me asking, did you make an enquiry for me to go to Manchester United?' He said: 'I did, but they wanted too much money and I wanted you to be a squad player. It was too much money for you to be a squad player, but I like what you've been doing son'.
"He wished me luck in my career. For that to be coming from the man's mouth itself was a magical moment.
"Soon after that, we had a phone call from Lou Macari."
Macari had been appointed West Ham United boss in July 1989, taking over after from the long-serving John Lyall. The Irons sat in the second tier after a disappointing relegation that summer, just three years after the Club's best-ever finish in Division One. 
With a rebuilding job on his hands, Macari was looking to add fresh blood to his Irons team. The tenacity and passion of Martin Allen would work perfectly.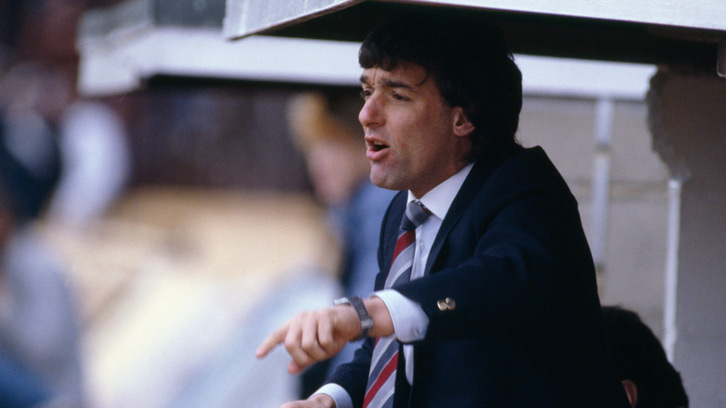 Moving to east London from Swindon Town, Macari came with a reputation for discipline and regimented routine, and Allen got a sense of just how straight-talking his new manager was going to be during a first meeting between the pair, held at Paddington railway station.
"My Dad took the telephone call from Lou Macari at home and the next thing we knew, we were meeting him at Paddington. 
"My Dad and Lou Macari sat there for an hour and sorted out the contract. With Lou, I don't believe he was everybody's cup of tea. He didn't deal in long conversations and he didn't deal in long chats. You either signed the deal or you didn't. There was no fuss or no dramas. That's the deal and you either take it or leave it. 
"We met at Paddington at eleven o'clock and we were out of Paddington by 12. That was just how Lou was and, when I met him, there was no doubt in my mind. 
"I went back to the QPR training ground to get my boots and, the very next morning, I started training at Chadwell Heath and my life changed. It was a big move for me to go to West Ham and one that was very special."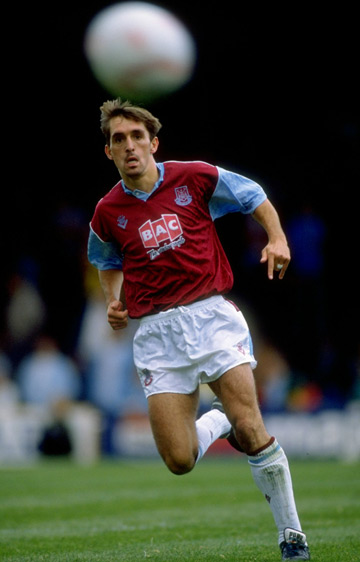 The significance of the opportunity to wear the Claret and Blue of West Ham was not lost on Allen. Both of Allen's parents come from Dagenham, while his father Dennis learned football alongside some of West Ham's all-time greats as a young boy.
Combined with Allen's youth filled with memories of visiting the Boleyn Ground, the chance to play for the Hammers could not be missed.
He reminisced: "My Dad was from Dagenham, born and bred, as was my Mum, so for me to be moving to play for West Ham was a dream.
"My Dad actually played in the same team as Booby Moore as a schoolboy! I've got pictures of them at home winning a cup. I think they were about ten-years-old and Bobby was the captain, of course. He was in with all that era of quality players and World Cup winners; players like Martin Peters and Jimmy Greaves and Ken Brown.
"When I was growing up, we would occasionally go to the games at West Ham. We would meet my cousins and my uncles, and we would meet them in 'Nathan's' pie and mash shop. 
"When we finished in there, they would go two doors down to the betting shop. At that age, of course, I wasn't allowed in, so I would wait outside for them to come out, and they'd be in there until about 20 minutes before kick-off. From there, we'd have a mad rush to get up to our seats at Upton Park, and we'd normally get there with seconds to spare. 
"Those were my most memorable times as a kid. That ground and that atmosphere and the passion of the fans was amazing. I had never seen anything like that."
Having experienced those joyful moments in his childhood, Allen got to feel the real passion and energy of the West Ham supporters during his playing days with QPR, during a particularly memorable match between the two sides. 
It was from that moment that Allen really knew, if the chance presented itself, he had to play for West Ham one day.
"One thing I really remember is one year we were up near the top of the league, and we played West Ham at home. We had around 10,000 QPR fans there and then the whole stadium was taken over by West Ham fans. I could not believe it. Our whole stadium. There were so many West Ham fans there that they were even stood on the side of the pitch.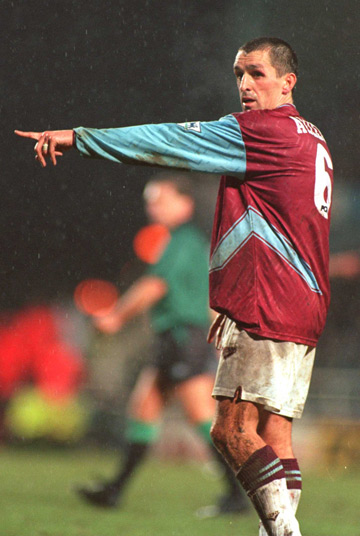 "As a young, impressionable player, I couldn't understand how our QPR team – with such a good team that we had – weren't getting bigger crowds or selling out our stadium but West Ham, who perhaps weren't as good at the time, had the fans that took over everywhere they went. 
"When the fans go somewhere for a game, it's so powerful and strong and passionate. It's such a wave of West Ham, Claret and Blue energy, and it's amazing to be a part of. I loved it and I wanted to be part of it. "
Allen, having signed his West Ham contract, would finally get his chance to play for the east London side. His debut, at home to Plymouth Argyle in August 1989, was the opportunity he had been waiting for. 
The midfielder would mark his first outing for Macari's Hammers with a debut goal, an occasion made even more special by his father joining him at the game. 
Allen continued: "I remember waking up really early. My whole family was meant to be going to a wedding in Essex that Saturday, apart from myself obviously because I was going to be playing football for QPR that day. Then the move to West Ham happened. 
"It got to the Saturday morning and my Mum and my sister were getting ready to head over to Essex for the wedding, but my Dad didn't have his suit on. He had just put on his normal clothes. My Mum asked him what he was doing, and he told her: 'There's no way I'm going to the wedding, I'm going to the football with Martin!' 
"He wasn't going to miss my first game for West Ham at Upton Park! We left really early from Reading to get over there. I drove and he sat next to me. He missed the wedding, but we both went to the wedding reception in the evening. 
"It was a day to never be forgotten. Scoring a diving header, into the roof of the net, and all those supporters behind the goal standing up and coming down towards me. It was a magical moment, one that you can't describe to people. I can still feel it now. You put your hands up and stand in front of all those people. It was just…indescribable. You have those moments with you for the rest of your life."
'Mad Dog' would go on to play 234 games for West Ham, scoring 34 goals, and helping the Irons return to the top flight during his six-year spell with the Club.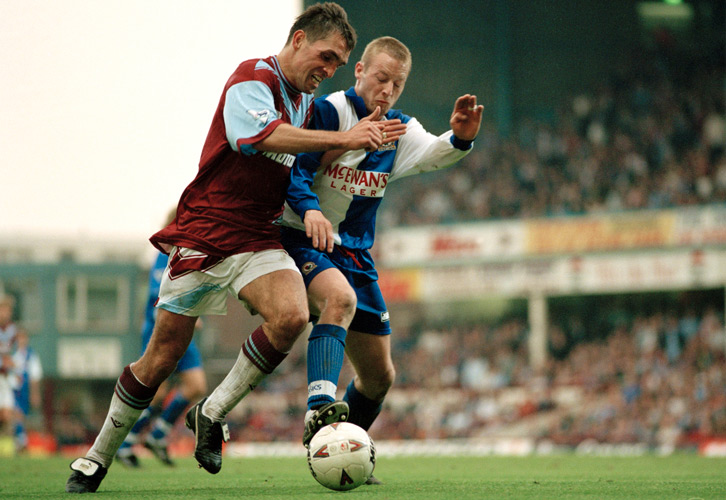 Renowned by fans as an iconic Club legend, whose character was on display in every single fixture, Allen still cannot believe he was so lucky as to play in the Claret and Blue.
"It was an absolute privilege to play for West Ham. It was an honour to play for West Ham. I still have to pinch myself that I got to play for West Ham. I was no way the best or most talented player, but I hope I played with the spirit and determination that West Ham United fans love. 
"Of course, there were some discipline problems, and I think they came from that desire and that will to win and always be at our best. I appreciated playing for West Ham so much. It was a privilege. Wherever I go now people say to me 'Mad Dog, Mad Dog!' It is amazing."
As for Allen's legacy, his son George enjoyed pointing out a humorous sign he noticed during a visit to the Boleyn Ground; one that cements Allen's unique standing with the Club and its supporters forever.
"My son George rang me up a few years ago after being to a game at Upton Park. He said to me 'You know how some people have a statue at a ground? And some people have a stand named after them, and some people might even have a social lounge? 
"'Well, you'll never believe it, but your claim to fame is the 'Mad Dog Hot Dog'!' 
"He had seen this hot dog advertised on a stall outside the ground, so that's my claim to fame now! He found it hilarious, but how many footballers in this country can say they've got a hot dog named after them?"
Read the first-hand, honest accounts of how and why other West Ham United icons and legends came to play in Claret and Blue at the links below: