In the latest of a series of features looking at how club legends and fan favourites signed for West Ham United, cult hero Jimmy Walker offers an honest insight into the situation surrounding his departure from Walsall and his move to the Hammers in 2004…

Jimmy Walker's final total number of appearances for West Ham United might not be the highest number, but there is absolutely no doubt that the goalkeeper is held in the highest regard by Club supporters across the world. 
From 2004-2009, Walker was a consistent in the Hammers' first-team squad, played a crucial role in the side that returned to the Premier League in 2005, and helped the Irons reach the 2006 FA Cup Final.
Released by Notts County as a teenager, Walker was picked up by Walsall in August 1993, originally on a one-year deal. The goalkeeper would go on to write himself into Walsall history, becoming a key player in three promotion-winning seasons and claiming two Player of the Season awards. 
Driven by an internal desire to prove wrong the doubters who wrote his professional football career off before it had really begun, Walker helped the Saddlers reach the Championship. 
"I was with Walsall for ten years, and I had a fantastic time," Walker told West Ham TV. "We rose to the Championship and stayed there for four years, which was unprecedented. It was amazing. 
"To be honest, staying in the Championship with Walsall, I was quite happy with everything. But I always had this nagging feeling in the back of my mind because I always wanted to play at the highest level, and people had told me I was too small throughout my whole career.
"Even in Division Two, people told me I'd done well but I was too small to go any higher. Then we got to Division One and I was in the PFA Team of the Year, and things like that. Then we got into the Championship and people were still saying it: 'he's done great for Walsall but he's not ready.'"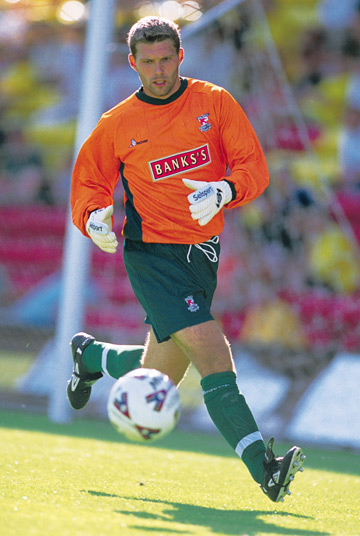 The 2003/04 campaign signalled the last in Walker's contract with Walsall but, with the side sitting just below the Championship Play-Off places midway through the season, it looked like the Saddlers could shock the division with a late push for Premier League football. 
What seemed like a promising year ended with heartbreak, however, as a downturn in form blotted the second half of the season. It ended in agonising fashion. Despite Walsall beating Rotherham 3-2 on the final day of the campaign, the team was relegated from the Championship on goal difference. 
Walker continued: "That was tough. We had three years at that level and, for us, just staying up to start with was like winning the league, at least for the first couple of years. But then we wanted a little bit more.
"I think the Club was quite content to stay in the Championship and thought we had done it already, being just a couple of points below the Play-offs. From there, we went on a slippery slope. We couldn't quite get the results we needed. 
"Going down that year is one of my biggest regrets in football, with leaving Walsall just after that. We were so unlucky. We had a good number of points and we ended up going down on goal difference. We won the game at Rotherham 3-2, but we got two penalties awarded against us. They scored the penalties and we ended up going down by two goals. It was gutting."
Talks about Walker's future continued throughout the campaign but, internally, the shot-stopper's mind was made up. Having spent a decade giving his all for the Saddlers, it was time for a fresh challenge. 
At 29-years-old, Walker was eager to see just how far he could push himself. Rather than sitting in his comfort zone, a new adventure called. 
"By the time the season ended, I'd made the decision to move on", he said. "In my head, the plan was to finish the season with Walsall, finish as high up the league as possible, and then hopefully talk about it then. I think, in my head at that time, I thought that it was now or never. 
"The contract I'd been offered was still on the table. Paul Merson had taken over at the end of that season for two or three games and he was great. I loved Merse and he was desperate for me to stay too. He wanted to build the team around me at that point, but I wanted to prove to myself that I could do a job at the top level. 
"I had held conversations with some clubs, but I had wanted to hold it off until we had finished the season and I'd finished as high as I could with Walsall. I put everything off until the summer. I wanted to help Walsall finish as high up the league as we could. 
"Having to leave at the end of that season, having gone down, was heart-breaking."
One of those clubs Walker had conversed with was Alan Pardew's West Ham United. 
Pardew had taken charge of the Irons in October 2003, leaving his position at Reading for the opportunity to try and guide the Hammers back into the Premier League. With West Ham, Walker would have a huge opportunity to finally test himself in the top-flight of English football – provided the side could get promoted.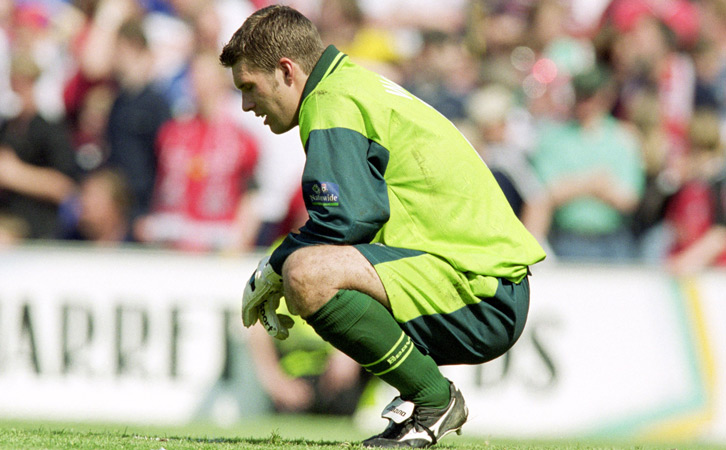 It became apparent to the goalkeeper that the West Ham manager was eyeing him closely, with Pardew even making reference to such during Walsall's visit to the Boleyn Ground in March 2004. 
"I knew West Ham was interested and I knew Derby County were interested, and there were also two or three others also. 
"Alan Pardew was manager of West Ham at the time and, when he was at Reading, I had loads of games against him for Walsall. At that time, a lot of players we had at Walsall, he took to Reading too. I think he was asking them questions about me and then they were coming back to me, saying they thought he was interest. 
"One of Pards' best things was that he knew players, inside and out, at every level. He knew everything about them and, if he didn't, he would ask everyone to find out. If he was asking, you knew he was serious about you. 
"We played at the Boleyn Ground in a 0-0 draw and I always felt like Pards was using it to test me a bit. It was a great game. West Ham were in the Play-Off places at the time and we needed the points for the other end of the table, and I had a decent game. 
"I really enjoyed the first half in front of the Sir Trevor Brooking Stand, and I remember thinking 'this is an amazing place to play football!'. Pardew was watching me walk off. He said something to me and then I gave him a little bit back, which I think he quite liked. 
"We got the 0-0 draw. I made a couple of good saves, came out a few times, and got clattered which I love, and even the fans behind me in the Bobby Moore Stand gave me a little clap at the end.
"At the end of the game, Pards then asked me about my contract being up in the summer. I said back: 'yeah, but I'm expensive!'"
With Pardew's remarks in the back of his mind, Walker focused his attention on finishing the season with Walsall. But the West Ham manager's interest was more than fleeting; his comment was more than in passing. Pardew had earmarked Walker as a target for the 2004 summer transfer window. 
Contact between the pair was re-established just weeks before the season was due to end, but with Walker and Pardew both dealing with very different short-term objectives – West Ham's bid for the Premier League and Walsall's quest to avoid relegation – talks were put on hold.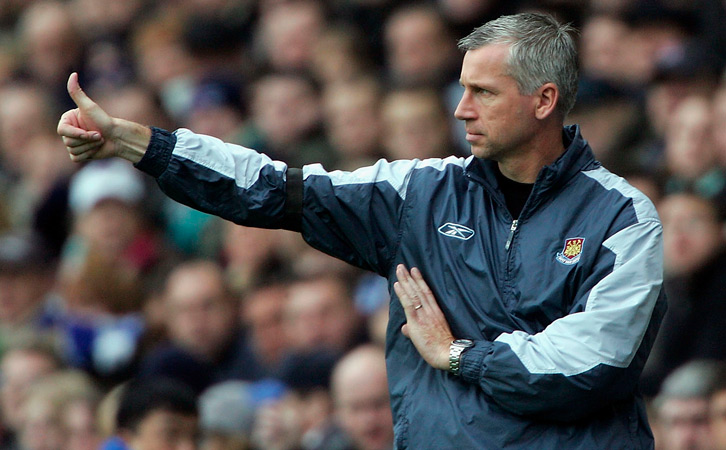 When the two finally sat down face-to-face, the lay of the land was clear. Walsall were now in League One. Walker was ready to move on, but West Ham remained in the Championship, following a heart-breaking Play-Off Final defeat to Crystal Palace. 
"Pardew made contact a couple of weeks before the end," Walker remembered. "He said he really liked me and wanted to know the situation, asking if I would be interested in coming to West Ham. Both teams had a massive couple of weeks coming up though and he was under pressure. We said we'd speak in the summer.
"I met Pards a couple of days after the Play-Off Final, and he was low. It was almost to the point where I couldn't see how we could recover from it. I knew it was early after the Final, but if he was like this then maybe the whole Club was like it, and it would take a lot to bounce back? But I always loved a challenge. This was just another challenge. 
"We met at a restaurant and then we went back to his agent's house and had a chat there, and it even sounded like he was trying to put me off a little bit. He was telling me things like he had told Stephen Bywater he would start the season, which I thought was strange, because if I went in and did well then surely I'd play? 
"He was even talking about other goalkeepers coming in as back-up and I ended up just saying to him: 'You either want me or you don't. If you want me, I'll come. I'll raise morale as best I can and I'll be great in the changing room, and I'll do everything I can on the pitch.'"
Walker's pitch to Pardew paid off, and soon the goalkeeper was on his way to the Boleyn Ground to put pen to paper with his new club. 
With a medical complete, Walker stood in the middle of the famous pitch at Upton Park, having been playing for Walsall on that turf just a few months before, and he knew he had made the right decision.
"I went with the doctor to do the medical at the ground. We met the chairman at the time, Terrance Brown, and I remember just going on the pitch, standing there and looking around and thinking 'this is me'. There was just something about it that felt right. 
"I didn't care about the money and I didn't have an agent. But just stood in the centre circle and looking around, I loved it. I knew this was me and I wanted to do it. I wanted success with West Ham. I made my mind up on the spot, there and then, on the Boleyn Ground pitch.
"It wasn't about the money. A few agents rang me after, but I didn't care. My focus then was on where it could take me. I wanted to get to the Premier League, and I wanted to do it with a massive club, and I knew I could go up with West Ham."
With the contract signed and sealed, Walker was ready to begin the next stage of his career with West Ham. A first day of training would soon follow at Chadwell Heath. 
That very first visit to the Hammers' training ground would prove insightful for Walker, who found himself sitting near an old rival.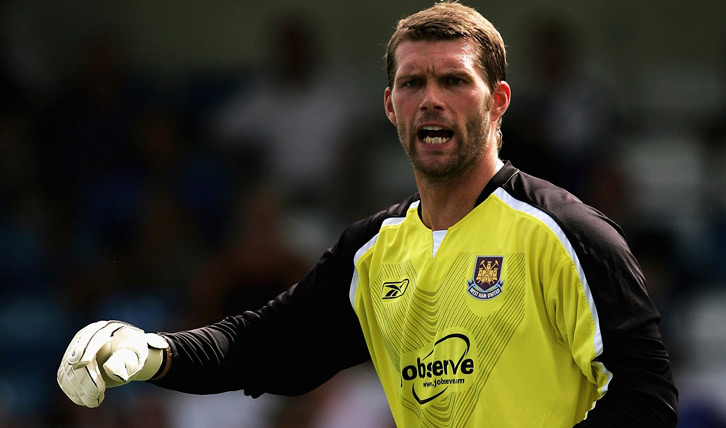 Walker continued: "That first day at the training ground was great. I remember Rufus Brevett being there, and I hated him! When I was at Walsall, he was at Fulham, and we played them loads. One of my mates was a right-winger called Darren Wrack, and with Rufus being a left-back, they had a fight every single game. He wanted to kill people and it would follow up in the tunnel. I can remember thinking: 'I don't like this guy!' 
"So, the first person who I sit next to in the changing room was obviously Rufus Brevett. Brevett was from Derby, so Pardew points to me and says 'he's a Midlands boy', because I'm from Nottingham, and then decided we could room together on away trips! 
"As it turned out, Rufus is now one of my best mates, and one of the funniest guys I've ever met. He's brilliant. The perception on the outside from what you can get from actually being in the team with them is totally different. He was sensational and he made my first year sensational at West Ham."
With Bywater initially established as West Ham's No1 choice, Walker had to take his opportunities in the Carling Cup matches. His first chance at pulling on his new team's kit came in the home cup match against Southend – the very same game that a future West Ham captain called Mark Noble also earned his bow in Claret and Blue. 
It was in the third round Carling Cup match, away to Chelsea, that Walker really felt the power of the Claret and Blue Army for the first time.
"My home debut came in the Cup. We played Southend at home. There was only 12 to 15 thousand fans there but I just felt really at home on the pitch, with the surroundings. I just felt I'd been there, at West Ham, all my life and I needed more of it. It was great. 
"I had a decent game, took a couple of crosses. I think Nobes played in it for his debut in that game too. Teddy [Sheringham] may have played in it and came up to me afterwards and said: 'That was a decent performance. Great start.' Teddy was brilliant and he always had words of encouragement. 
"My first real taste of it came in my away debut, which was Chelsea away in the Cup, and it was incredible! It was brilliant. A proper game. I really enjoyed the game and the atmosphere was excellent. There was about eight to ten thousand West Ham fans behind the goal and the noise was incredible. 
"When Chelsea got that penalty given, I just remember it felt like it took 20 minutes before the penalty was taken. The atmosphere was electric, and I just remember thinking 'if I save this…' 
"I didn't know the ins and outs of Frank Lampard at that time. I knew he'd left. But I got a feel for it, and I could see his eyes. The longer it went, I thought he was just going to smash it. Fortunately, I made the save, and that was my first taste of proper West Ham fans and the atmosphere they could generate. I wanted more of that."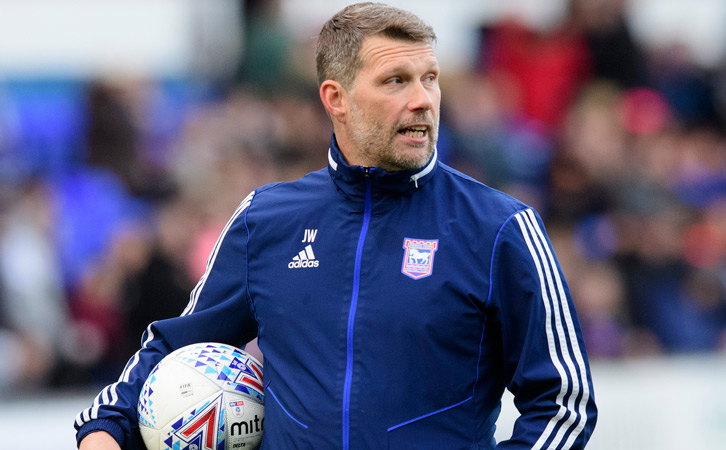 Although Walker would make just 20 outings for the Hammers, his status as a cult icon was more than secured. The images of the shot-stopper being carried by the legendary Ludek Miklosko around the pitch following the 2005 Championship Play-off Final victory still live on, as does his Premier League debut at 32-years-old in February 2006. 
Walker's time with West Ham holds a special place with now-retired shot-stopper, as do the incredible West Ham fans.
"Being at West Ham United was an amazing time in my career and I've got such love for the Club. I loved playing in front of those fans. I couldn't not give 100 per cent for the fans and for the Club and myself. 
"From saving Frank Lampard's penalty in the first game, to the Play-Off Final win, then the Cup final, it was an amazing time to be involved at West Ham. The fans always stuck with me and even now, when I'm invited back to do ambassador work, they come speak to me.  
"There are some proper legends at the Club – the likes of Kenny Brown, John Moncur, Brian Dear – they are proper legends who have won cup finals and played 500 games. To be invited back to be around these people is incredible. It shows how the Club took me into its heart, and likewise. 
"From the first moment I stepped foot on that centre circle and looked around, I thought, this is me. Everything felt right about it and, even going back now, I still see the same fans and the same people. I thank the fans for everything they've done for me."
Read the first-hand, honest accounts of how and why other West Ham United icons and legends came to play in Claret and Blue at the links below: