Over the past few months, West Ham United has been overwhelmed with remarkable stories of NHS staff and other key workers making vast sacrifices to keep the country safe and operational during the coronavirus (COVID-19) pandemic.
It is with immense pride, therefore, that West Ham United continue to celebrate these #HammersHeroes – from five galleries full of your images, to introductions to key workers Amanda Riley, Janet Edwards and Kieren Mitchell, Clare and Chris Newman, and James and Emily Stather.
In a world where social distancing is encouraged, your stories and photographs are evidence that so our communities, in times of crisis, remain truly united.
We would love to hear more about the #HammersHeroes in your family, circle of friends or workplace, why they are so special and all about their association with West Ham United – so please continue to send us their stories and pictures of them, both in uniform and in their West Ham kit via email to [email protected].
This week, the Club is proud to introduce you to 29-year-old Season Ticket Holder, Matt Bremner, who works as a Patch Manager for Openreach in Essex – keeping his part of the country connected in these times of self-isolation through broadband and telephone.
Bremner coordinates a team of telecommunications engineers in an area including Canvey Island, Wickford and Grays, implementing and maintaining broadband connections which, for so many of us working and socialising from home, keep us online.
"I'm in charge of 36 telecommunications engineers who are out providing broadband and keeping everyone happy on the Internet, especially youngsters on their XBOXes!" Bremner joked.
"As you can imagine there was a lot of worry in the early stages of the outbreak – what the engineers could and couldn't do – as they went into houses and areas which all of a sudden they felt could be dangerous for them.
"It was a massive change. The management team have had to make some robust safety plans to keep our engineers safe, but also having that demand to keep everyone connected has been huge. 
"A lot of customers understand this is an unprecedented time and it's difficult, but they still want what they need, and it's so massive in connecting a lot of people. As you can imagine, for people on their own, that's their only reach to the outside world – the chance to see loved ones – so it's a massively important job.
"As managers we've been very busy, but the engineers have been very patient, very professional and we've had some great feedback from customers on the work that they're doing. I'd like to massively thank them – they're out there doing a fantastic job and putting their safety first while keeping everyone connected."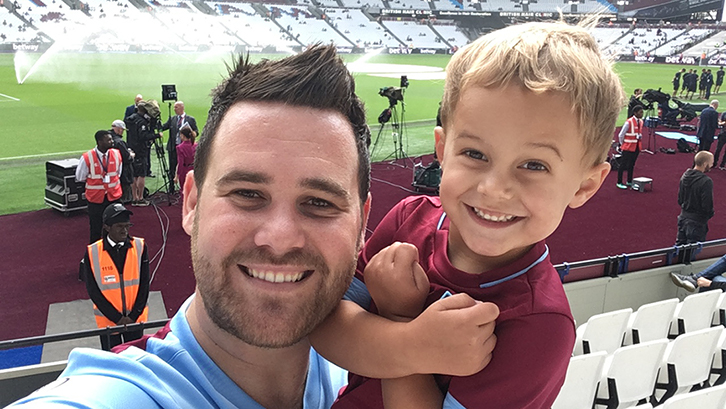 As well as Bremner's own crucial work in coordinating such a vital service amongst his community, he and West Ham United are also full of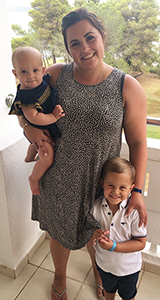 admiration for his wife, Kirsty.
"Kirsty is one of the NHS' heroes," he explained. "When you think of this crisis and what the NHS are doing, putting their own health and lives at risk to help people, I'm so immensely proud of what she's doing. 
"She works as a Community Nurse in Canvey along with some other absolutely fantastic Community Nurses, and they're out visiting patients who are at home for different medical reasons, acting as their first port of call and supporting them and their families. 
"They've been in very vulnerable situations, but they've all pulled together and supported each other. She's been doing all of that while looking after me – I'm like a big kid! – and obviously our two little kids as well, and she does a great job. She's pretty amazing."
It is safe to say, therefore, that heroism runs in the Bremner family blood – but so, like all our #HammersHeroes, does Claret and Blue.
"I've been fortunate enough that my Dad was a diehard West Ham fan and he passed it on to me!" Bremner explained.
"I went to my first game when was only eight… and we lost 4-0 at Sheffield Wednesday! But I still enjoyed it, and I've been lucky enough to have a Season Ticket to see a lot of the games since, like both Play-Off finals in Cardiff and the 2006 FA Cup final. 
"I'm there every week now! We never know what to expect – every game is different – but I just love going. I was fortunate enough to take my four-year-old son Noah to his first games this season: his first was unfortunately the loss against Manchester City, but his next one was the win against Manchester United! 
"I go with my Dad, Andy, and my Grandad, Terry, and my Uncle Mike as well, and we all sit together. It's just a great day out. It's great fun and something that I've just been so fortunate to be a part of, and hopefully I'll see my son follow in the same footsteps in supporting the Club and loving it as much as I do."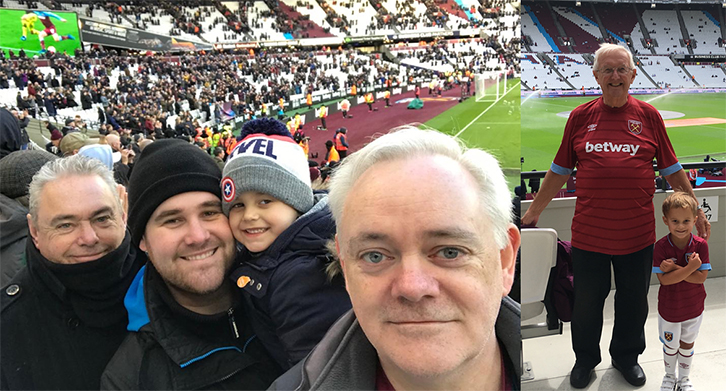 As a Claret and Blue regular, therefore, which memory most stands out to Bremner over the past two decades?
"I think my favourite ever memory was when my Dad took me to the Play-Off semi-final against Ipswich in 2005, when Bobby Zamora got both goals [in a 2-0 win]," he recalled.
"That was my real first away experience, and as a kid, it was just incredible. It's great to win trophies and cups and stuff, but the Play-Offs have just got such a massive prize, so to see Zamora stick those goals in and run over to celebrate right in front of us, that was an amazing memory and something I'll never forget."
It's that sentiment of celebration which fuels Bremner's positive outlook and subsequent message to his fellow West Ham United supporters.
"Just try and keep as positive as you can," he advised. "We all have good days and bad days, some when we feel positive and some when we don't feel so good, but we know it's not going to be forever – we will be back out there soon, enjoying the football. 
"Win, lose or draw, we always all have a great time as West Ham supporters!"
Introducing Matt Bremner: a true #HammersHero.
Matt would like to take the opportunity to call out and thank his Openreach team BVK541: Jamie Miller, Chris Tookey and Nick Cox (all Patch Leads); Terry Archer, Rob Auvache, Martin Bjorck, Michael Coleman, David Connelly, Alex Cooper, Paul Crowley, Richard Dinmore, Torren Dobson, Davey Farmer, Emmanuel Fischer, Peter Hall, Alan Hodson, Alan Johnson, Rob Luh, Marc Marriner, Darren Miller, Scott Munro, Mark Oakley, Antonio Pendino, Mick Powell, Dilver Purewal, Bradley Richards, Mat Riddle, Paul Rowland, Greg Starr, Mick Tanner, Scot Taylor, Peter Taylor, Jason Verlander, Stephen Webber, Darren Whellams, James Wise Bell and Carl Wright