Over the past few weeks and months, West Ham United has been overwhelmed with remarkable stories of NHS staff and other key workers making vast sacrifices to keep the country safe and operational during the coronavirus (COVID-19) outbreak.
From doctors to postmen, electricians to healthcare workers, ambulance drivers to retail couriers – and so many more vital contributors – it has been incredible to hear from so many #HammersHeroes working harder than ever for their neighbours and communities.
We would love to hear more about the Hammers heroes in your family, circle of friends or workplace, why they are so special and all about their association with West Ham United – so please continue to send us their stories and pictures of them, both in uniform and in their West Ham kit via email to [email protected].
After presenting a first, second, third and fourth selection of those stories, the Club is proud to introduce you to one such key worker – and lifelong West Ham United supporter – Amanda Riley, a 28-year-old Sister (Head Nurse) on an acute medical ward in east London.
After qualifying with a Nursing degree in 2014, Riley has served the NHS ever since.
"The ward that I work on was the first one within the hospital to actually take the patients who were suspected [of having contracted] COVID-19," she explained. "We changed our ward from being a normal assessment ward into being a COVID-19 assessment ward.
"It's been quite difficult, but the teamwork is fantastic, the morale's still pretty high and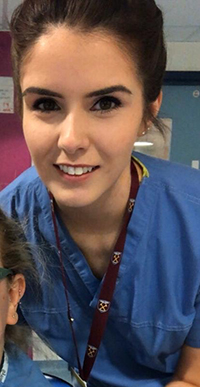 the support from everyone is absolutely fantastic. It keeps everybody going."
Despite the immense challenges she faces on a daily basis – Riley spoke to whufc.com soon after finishing her night shift – she continues to do so with optimism, while always sporting Claret and Blue.
"My family all grew up in east London, so I had to support West Ham – I didn't really have much of an option!" she smiled. "I went to my first game in 2005 and I've had a Season Ticket ever since then.
"Ever since I qualified, I've always worn a West Ham lanyard – I've probably gone through about 50 or 100 of them! I always make sure I go and get a new one when one's getting a bit knackered!
"I quite like it because it's a conversation starter. When people come into hospital, obviously they're a bit worried, but then they always notice the West Ham lanyard and it brings up conversations – it's a bit of friendly conversation and a laugh and a joke as well.
"It's always nice to take patients' minds off things for a bit, just to have a bit of a conversation over something that's not their health."
That love of West Ham United's colours has always been a part of Riley's identity – although she admits to adopting a perhaps unorthodox first Claret and Blue idol.
"My earliest West Ham memory was my brother and my Mum getting me a West Ham shirt," she recalled. "It was a goalkeeper's shirt… when Shaka Hislop was our goalkeeper!
"We used to watch West Ham on TV back in the day, and my brother said he'd take me one day. He did, a good few years later, and then it's stuck since.
"My first game was in 2005 against Blackburn – funnily enough I've still got the programme from the game as well! I remember it very well – it was a Sunday afternoon, it was boiling hot, and we won 3-1. It was our first game up after being promoted."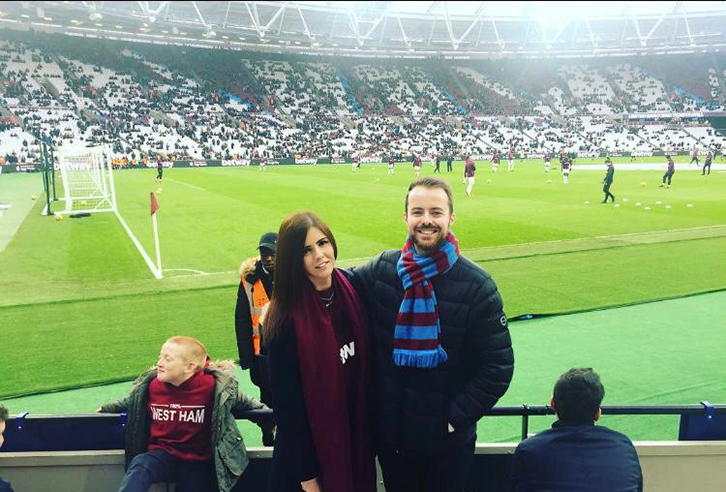 Since then, Riley has proven a committed member of the West Ham United family, enjoying games in the company of one of the welcoming communities at the heart of the Club, Pride of Irons.
"I first came across them on Twitter," Riley explained. "It was during our last season at Boleyn Ground, and I remember messaging them – at that time there was probably about 20 members – and arranging to meet up with them.
"Obviously then we moved to London Stadium, so I meet up with them beforehand.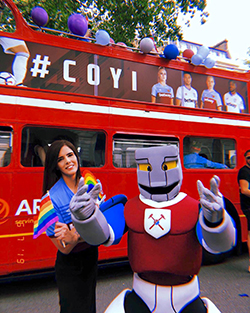 They're fantastic – we've been to Pride and done the marches with them, and Hammerhead came along – and West Ham gave us an open-top bus, which is fantastic.
"It's nice because if you go to the games by yourself, it's nice to feel like you fit in and to have people you can go and have a drink with beforehand. Everyone's so friendly.
"Even now, we've been having video chats with each other, and I think this Saturday as well there's going to be a quiz evening. They're such a nice bunch of people as well, which is great."
As for the future, Riley is looking forward to brighter times ahead, thanking her fellow citizens for taking on board government advice to stay home, protect the NHS, and save lives.
"Thank you for all of your support, for listening and staying at home," she said.
"Everybody's supportive words of encouragement have really kept us going. It's a scary time for everybody, but we've got so many fun times for everybody to look forward to together.
"Hopefully we'll all appreciate what we have that little bit more when this is all done."
Introducing Amanda Riley: a true #HammersHero.