While the coronavirus (COVID-19) outbreak dominates headlines, West Ham United continue to hear, with great pride, of the heroes among its fanbase - the NHS staff and other key workers keeping the country safe and moving in these challenging times.
We've been delighted to share and celebrate all these stories, from five galleries full of your images, to introductions to #HammersHeroes Amanda Riley, and Janet Edwards and Kieren Mitchell.
While football fans, British citizens and Irons remain socially distant, your stories offer evidence that they are more united than ever in their cause.
We would love to hear more about the #HammersHeroes in your family, circle of friends or workplace, why they are so special and all about their association with West Ham United – so please continue to send us their stories and pictures of them, both in uniform and in their West Ham kit via email to [email protected].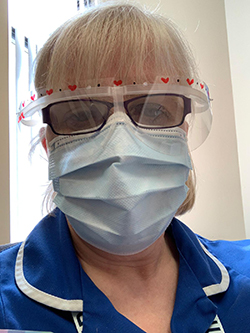 This week, it is with great pride that we introduce you to mother-and-son duo Clare and Chris Newman – Clare being an NHS nurse for over 20 years at an Ipswich hospital, and Chris a YMCA project worker, supporting young people between 16 and 18 years of age physically and mentally through these difficult times.
"I've been a nurse in hospital for just over 20 years on the emergency assessment unit," Clare explained. "We cover any medical problems – the whole spectrum of nursing care. I've been there 20 years and it's been challenging with lots of change, but I enjoy it very much.
"We kind of first knew about it with all the plans beginning to be put into place to make COVID-19 wards. There are probably 15 or so wards now with COVID-19 patients in, which affects some of our transferring of patients to other wards.
"We've got lots of bridging beds available in the community which people can go to if they're not functionally fit to go home, and while we wear PPE on the ward anyway, it's much more important nowadays."
"We're both lifelong fans," Chris explained. "It's been very weird – it's a way of life really, you sort of come to the weekend and sit and watch the West Ham games when they're on TV, or watch Soccer Saturday and see the scores come in. Having no sport at all is quite an odd sensation.
"It really changed for us at the YMCA when lockdown fully kicked in. It meant we changed our rules. The kids are only allowed off-site once a day like the rest of us, which is very challenging for them, and they often need reminding to stay two metres apart.
"They've all got varying mental health needs, and some have got physical needs as well which need meeting, so it's a challenging time but very rewarding at the same time."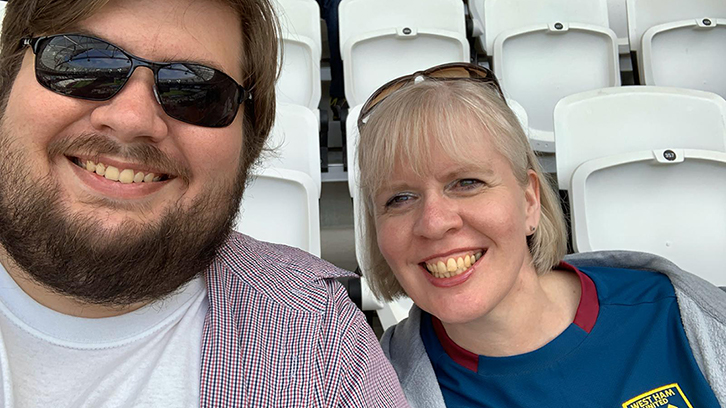 When sending their nominations for their #HammersHeroes, it was pertinent that Clare and Chris each emailed West Ham about one another – family, and football, are clearly two hugely important aspects of their lives.
"Our parents and grandparents are all Londoners and I've always had West Ham in my family," Clare said. "My Mum and Dad got married in St Francis Church, which is just around the corner from London Stadium now. I've got four brothers, hence why Chris' first word was 'football'! 
"They're all very much into football. I think my first game, I was 14 when I went to the Boleyn. It was against Ipswich and it was a draw, if I recall rightly. It's just always been in the family."
Chris added: "We've got east London family roots. Football and West Ham go pretty much hand-in-hand for our family.
"Football dominates our conversations when we meet up, especially with my uncle Tim, my cousin Joe, his son… they go week-in, week-out, home and away when they can, so it is a massive topic of conversation normally!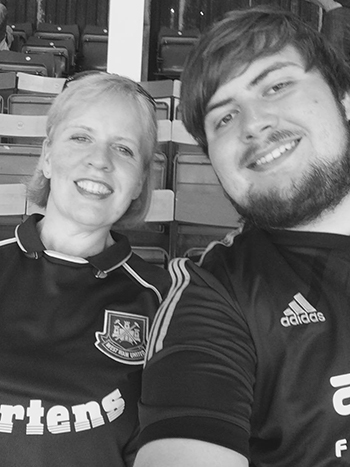 "My first game was against Tottenham Hotspur at home in November 1998 – we won 2-1! I was five or six years old. My first memory of West Ham was singing Paolo Di Canio's name… but calling him 'Polo' because I couldn't say Paolo properly!
"I've seen West Ham a fair few times since then, particularly when we were in the Championship and we beat our local team Ipswich in the Play-Offs in back-to-back seasons."
Both regularly working shifts which encompass weekends, the Newmans admit to being unable to attend London Stadium as much as they would have liked in recent years – but that love of football, of all things West Ham United, is still always with them.
"I'm constantly keeping my eye on the scores and everything," Clare said. "I talk to the porters a lot about football – they come in and say 'you know you're 1-0 up!' and cheer, so I always keep an eye on it!"
As for their games watching the Club, the two generations of West Ham United supporter choose from two wide-ranging eras.
"For me, in terms of live games, it would be beating Chelsea in the final season at the Boleyn," Chris recalled. "I was fortunate enough to be at that game and see Andy Carroll score the header towards the end of the match. The atmosphere was electric so that was quite special!
Clare joked: "The 1981 League Cup final was good. I watched that – Chris wasn't even in my thoughts then!"
While in good spirits, the Newmans talk of how their sense of family, their sense of community, and their sense of dedication goes beyond just their relatives.
"Look after each other, keep in contact – whether it's Zoom, Skype, FaceTime – and make sure everyone's well," Clare advised. "If you haven't heard from someone for a little while just message them because people are struggling." 
Chris added: "It's tough but stay home, protect the NHS and save lives. It's one we've been told by everyone, but at the minute, it's the most important message people need to listen to. 
"Football is always going to be around, whatever hobby you do is never going to go away – it's always going to be there to pick up when this has finished."
Introducing Clare and Chris Newman: true #HammersHeroes.