Fans
#HammersHeroes: Introducing Kieren Mitchell & Janet Edwards
It is with immense pride that West Ham United continue to hear the stories of NHS staff and other key workers, every individual outstanding in their commitment to keeping the country safe and operational under hugely challenging circumstances.
These remarkable individuals abound, from four galleries full of your images, to last week's introduction of one of our invaluable #HammersHeroes, Head Nurse, Amanda Riley.
While football fans, British citizens and Irons remain socially distant, your stories offer evidence that they are more united than ever in their cause.
We would love to hear more about the #HammersHeroes in your family, circle of friends or workplace, why they are so special and all about their association with West Ham United – so please continue to send us their stories and pictures of them, both in uniform and in their West Ham kit via email to programme@westhamunited.co.uk.
This week, the Club is delighted to introduce you to two more – Store Manager Kieren Mitchell and Supervisor Janet Edwards – long-term West Ham United supporters going the extra mile from their small supermarket in Hertfordshire.
"Our customers have always been really loyal to us, especially the local people," Mitchell explained. "Since the outbreak, we've made it clear we're going to do everything in our power to help everybody we can."
"We've been doing local deliveries for our customers," Edwards expanded. "They phone up the day before, or on the day, and we help them.
"We take papers round for them. We do our best for them. People really appreciate it – we've even had boxes of chocolates bought for us!
"We've even got a few customers who come in and take deliveries around for us, because not all of us drive or get out the shop at the same time."
"It's been amazing to see the whole community come together – it's been amazing," Mitchell smiled.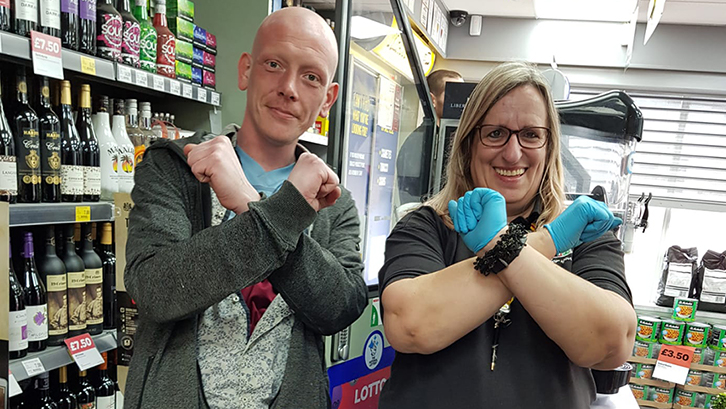 With circumstances ever-changing, the challenges faced by Mitchell and Edwards' team have at times seemed ever-shifting – yet they have faced them head-on.
"At first, it was a nightmare," Mitchell said. "The shop was constantly full.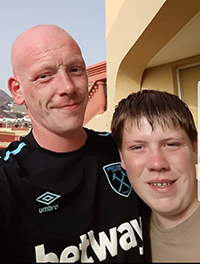 "We couldn't fill the shelves up quick enough – people were literally taking the stock off the delivery cages before we could even get it out. It was manic.
"We're only a small store, so we only have ten staff. We had a few people out [with symptoms, now fully recovered], but luckily the whole staff, including Janet, have just put a hundred per cent in. I don't know what we'd have done without them.
"It's been non-stop. I barely get the chance to get lunch, but I want to make sure that the local people, especially the elderly in the area, have got the supplies that they need."
In demonstrating such determination every day, Mitchell and Edwards continue to do their lifelong Club proud in every sense. 
"My Grandad was a Spurs fan and my Dad was a West Ham fan!" Mitchell laughed. "When I was about five, they just said to me 'look at these flags, and see where your heart belongs', and I just knew it was West Ham.
"Now, we've got a couple of Spurs fans working in the shop, which I'm not too happy about – but they're good people and we get along well!
"We've also had James Collins come into the shop – I've met him a couple of times. I think he plays golf at our local golf course. He's a very nice bloke and very down-to-earth!"
"I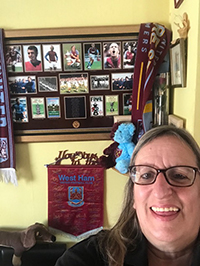 originally come from Wanstead, east London, and my Dad came from East Ham, so I was West Ham through-and-through," Edwards explained.
"He used to take me to the games to watch Billy Bonds and Trevor Brooking. Alvin Martin was my hero. I do get a bit emotional when I hear 'I'm Forever Blowing Bubbles' as my Dad, who died three years ago, and I used to sing it together.
"I also have fond memories of the 1980 FA Cup Final; I was working in a small sports shop as a Saturday job and we had the radio on. I think we scared a few customers, as were jumping and shouting when Trevor Brooking scored!
"I loved it. I love the atmosphere and the camaraderie of the Club. I've always got my badge on my lanyard, every day."
As for the future, both key workers reiterated a collective need for patience, a collective need for empathy, and a collective need for community.
"Keep safe and keep doing what you're doing," Edwards said. "Support the NHS and we'll get through this. We will get through this.
"Everyone's pulling together," Mitchell added. "Everyone is helping each other and helping out when they can.
"More than ever we need people to pull together and just listen to the guidelines that the NHS have set out – stay home, and stay safe. We will see the other side of this."
Introducing Kieren Mitchell and Janet Edwards: true #HammersHeroes.