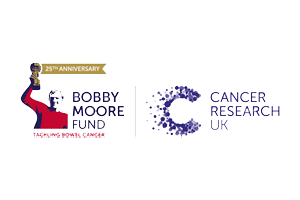 In 1993 Stephanie Moore MBE established The Bobby Moore Fund (Registered Charity No: 1089464), in partnership with Cancer Research UK, in memory of her late husband and former Hammer Bobby Moore OBE. Bobby, who will always be remembered for captaining England to World Cup glory in 1966, and the Hammers to triumphs in the FA and European Cup Winners' Cups, tragically died of bowel cancer aged just 51.

Bowel cancer is the second largest cause of cancer death in the UK, after lung cancer. Almost 100 people in this country are diagnosed with bowel cancer and 45 die from the disease every day.

The good news is that around two-thirds of bowel cancer cases could be prevented by changes to lifestyle. We can all make choices that will reduce our risk of the disease, such as taking plenty of exercise, maintaining a healthy body weight and eating a healthy diet.

Equally important is early detection and recognising the symptoms of the disease which includes bleeding from the bottom without any obvious reason, a persistent change in bowel habit to looser or more frequent bowel motions, tummy pain, especially if severe, or a lump in your tummy. When bowel cancer is found early more than eight out of 10 people will survive.

For more information on bowel cancer and its symptoms, click here.

To date, the Bobby Moore Fund has raised over £21m for research and also works to raise public awareness of the disease and its symptoms. The Fund supports high-quality bowel cancer research carried out by leading scientists working across the UK.