David Moyes has urged West Ham United supporters and football in general to be patient with Gianluca Scamacca and Angelo Ogbonna.
Scamacca is getting up to speed following his summer move from Serie A club Sassuolo and has yet to play a minute of football in a Claret and Blue shirt, and manager Moyes said he will ease the centre-forward into competitive action only when the time is right for the player and the team.
Speaking in his pre-match press conference ahead of the visit of champions Manchester City to a sold-out London Stadium this coming Sunday, Moyes is excited by the prospect of seeing the 23-year-old in action, but not before he is ready both physically and mentally for the intensity of England's top-flight.
"Gianluca Scamacca has only just really joined us, so he's probably a little bit behind, so I'm not expecting him to be available this weekend.
"He's not had the chance to play. He's not played any preseason minutes, so it probably makes it very difficult for us to put him out on the pitch so soon His training is a little bit behind at the moment compared to the other players. He has trained, but maybe not as regular and as consistent.
"The transfer took quite a bit off as they pulled him out of some games and training at the time, so we've got him in and I like what I see, but we're trying to get him in the best condition we can and get him ready to play.
"Gianluca is someone we had been watching for a long time. I see his linkup play and his build-up play are very impressive. He's 23 at the moment and that's young for someone to come into the Premier League, so I'm looking and will have to give him time.
"You hear other managers say you have to give young players time as well, but there are lots of things I like about him already. He's given the team a lift and he'll bring us a different dimension to Michail Antonio, while maybe the two of them together might at times give us an option as well.
"We're not going to push him on too hard, too quick, because we want to bring him on and we want to get him right and then bring him in when we feel he will be ready to show his qualities."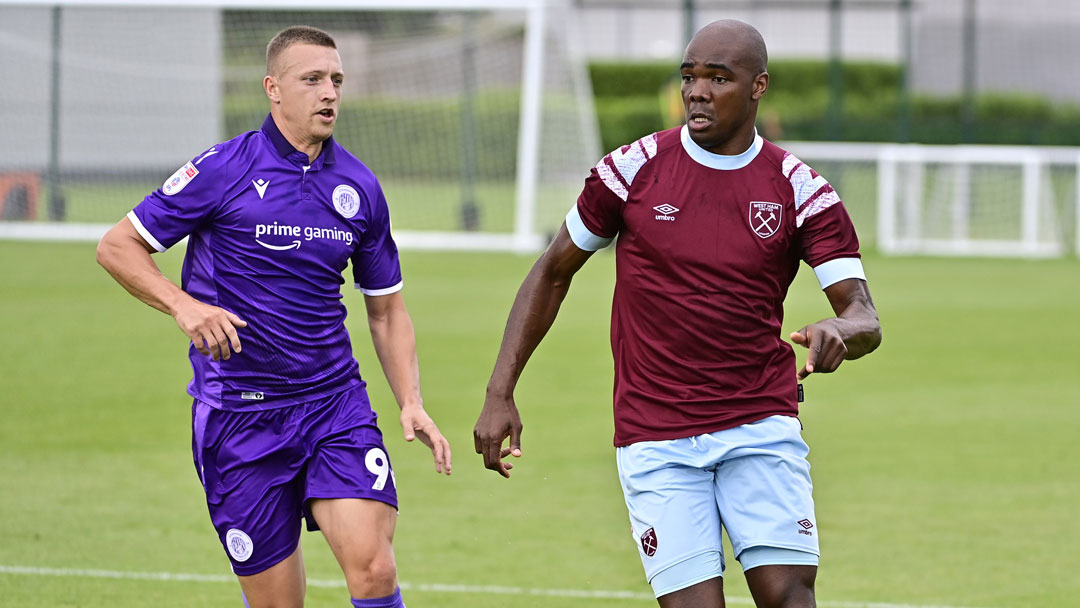 Scamacca's fellow Italian Ogbonna is also working his way back to full fitness as he continues his return from the long-term knee injury he suffered in the home Premier League win over Liverpool last November.
The 34-year-old centre-back has featured in pre-season himself, at Borehamwood and Reading, but has since appeared three times for the U21s, and Moyes revealed his first-team comeback could still be some weeks away.
"Angelo Ogbonna is playing this afternoon for Under-21s [in their Premier League 2 Division 1 opening fixture at Fulham]," he revealed. "He had his first 90 minutes last week so he's doing really well, but he's obviously not ready yet to be to be considered for the first time at the moment, but he's coming along nicely and maybe in another three or four weeks he'll be much closer to that."