A mathematician, teacher and writer who shot to fame on University Challenge, it might surprise you to learn that Bobby Seagull's first choice specialist subject would be West Ham United.
Growing up in Newham, the intellectual Seagull has never been short of enthusiasm for all things Claret and Blue - and has even brought shades of the colours into his television series Monkman & Seagull's Genius Guide to Britain.
Seagull caught up with broadcaster Mark Webster to shares his favourite things about being a West Ham supporter in episode four of The Six Factor…
 
Bobby, thanks very much indeed for agreeing to share with us your Six Factor! First of all, congratulations on your recent Celebrity Mastermind win!
"Thank you, I was so chuffed! Initially when I was picking my specialist topic, I thought I'd pick something Maths-related, but they asked me to pick something more popular! 
"Someone had done West Ham fairly recently so that was off the table, but what's next? England. So England at World Cups – bish, bash, bosh, I went and smashed it! Not many people have taken on John Humphrys and lived to tell the tale."
Well played indeed! Let's kick off the six questions then – firstly, who was your favourite player as a kid?
"Immediately, my thoughts are in the mid-90s, and I was drawn towards Julian Dicks and Tony Cottee; Dicks, the hard man, with his rifling free-kicks, and Cottee because he's a really classy footballer – a short guy, I like short footballers who do well! – who had two spells at the Club. These are the players I saw on television growing up.
"But the one it has to be for me is still Bobby Moore. He just epitomises everything there is about West Ham: a classy footballer, someone who uses his intelligence and awareness on the pitch, and got a couple of trophies for us – the FA Cup (in 1964) and UEFA Cup Winners' Cup (in 1965). 
"For me, while Dicks and Cottee were the players while I was watching Match of the Day in the 1990s were my favourite players, it has got to be Bobby Moore."
As you say, Bobby Moore's transcended the generations – but who's your favourite West Ham player now?
"The easy answer is Mr West Ham. I'm a Newham born-and-bred lad, East Ham through-and-through, and Mark Noble is a Canning Town lad and has been at the Club pretty much his entire career, apart from a couple of loan spells at Hull and Ipswich as a teenager. 
"He's our longest servant, he wears his heart on his sleeve and he puts in the graft: Noble by name, Noble by nature! He's someone that represents what it truly means to be a Hammers player, almost in the Bobby Moore tradition of giving everything you've got."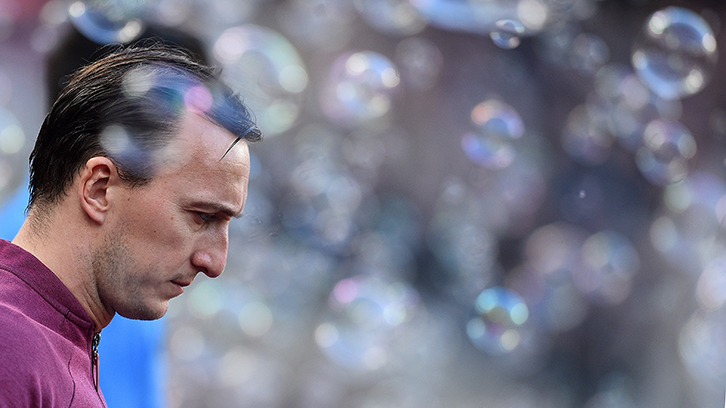 How about your favourite boss then?
"A popular man, our eighth club manager, took us to our highest-ever Premier League finish of fifth – and we even won the Intertoto Cup with him! Even more cool recently, he even gave me a shoutout on Instagram for winning Celebrity Mastermind – Harry Redknapp!
"I would have probably said him before, but after the last few days and the shoutout in particular…! That sort of cheeky-chappy, east Londoner. I know football's very international, but I love the idea of West Ham being a Club that's rooted in the east End, having generations here, and Harry represents that for me. "
That's a very wise choice! Now, you're pretty famous for turning out in West Ham shirts, so I suppose you've probably got a favourite – from what era?
"I love wearing my Claret and Blue in public. My first TV series, Monkman & Seagull's Genius Guide to Britain, I wore my Claret and Blue tie – a very chunky version of it – and in my new series I've got coming out, Monkman & Seagull series two, I wear another Claret and Blue tie with slightly thinner stripes. I always wear my Claret and Blue whenever I can.
"In terms of kits, it's between two: the Dr Martens 2000 kit, the one worn by Paolo Di Canio, Joe Cole – one of Harry's classic teams – and one of my first ever kits; but the one that I've fallen in love with in the last few years is our 1966 one, our classic home jersey. It's got that otherworldly feel, an era of innocence. Obviously football's big money, big business, but back then football meant a different thing, and it harks back to when people played just for the love of the game.
"Always on television now, I wear a West Ham pin badge, Claret and Blue tie… I'll get it in there!"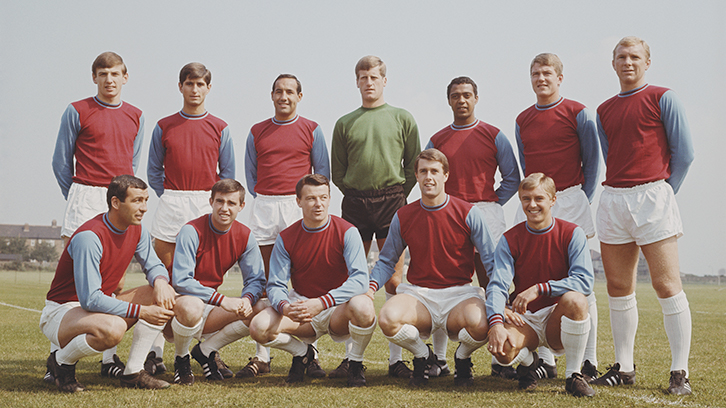 We'll keep an eye out! Fifth question is – and you're either going to go for the Di Canio goal or work past it – but what is your favourite West Ham goal?
"I'm actually not going to go for the Di Canio goal you think [against Wimbledon], but I will go for another one!
"My memory of this is quite hazy - I can't find it on YouTube – but it was 3 May 2003, the year of my first Season Ticket during my gap year, and we needed to beat Chelsea at home. Di Canio was a bit out of form, Sir Trevor Brooking was our caretaker manager at the time, Les Ferdinand was subbed off, Di Canio came on – and I think Trevor Sinclair's shot was blocked, but it came to Di Canio and he put it past the keeper. 
"He went mad and took his shirt off, running into the crowd, and I was there – my season ticket was in the little Chicken Run stand – and I was going mental. Just for a moment, we thought we were going to survive. I think we drew with 2-2 Birmingham in our last game and got relegated with the highest ever points for a team in 18th. That was my first ever season as a Seaon Ticket holder – thrilling, but not the way we wanted it to end!"
Given that you arrived as a Season Ticket holder on a classic rollercoaster ride of a season, do you have a favourite season or a favourite game?
"That means a lot to me that season, but actually the season that comes to my mind is our Great Escape in 2006/07. I think in early March we were ten points behind with only nine games to go, and everyone thought the Hammers were gone, and then suddenly we put this great run together and won six out of eight games.
"We still probably needed to win the last game, but we were playing Manchester United at Old Trafford and they were the champions. They were probably thinking back to 1995 when we stopped them winning the title and they came to our turf, so a lot of their fans were probably thinking 'let's send them down and get revenge', and then we got a bit of luck our way through Tevez and beat United. We had a miraculous escape!"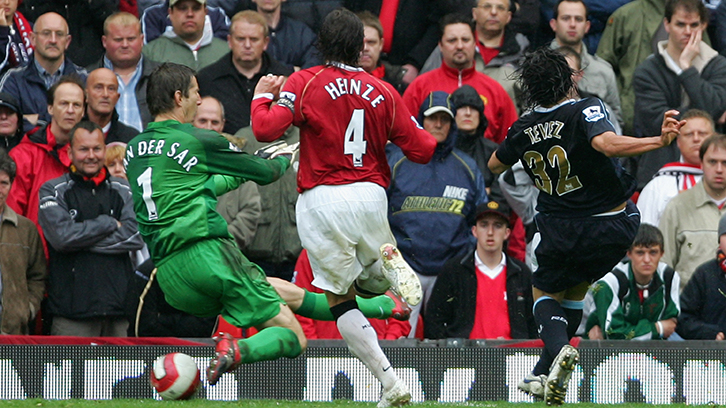 Thank you so much for your Six Factor! Celebrity Mastermind was the latest in a long list of things – what else are you up to at the moment?
"A few things! I was so inspired by PE with Joe Wicks that at 10am on Monday, Wednesday and Friday for kids in Key Stage 1, 2 and 3, Maths with Bobby! It's Facebook Live lessons – a lot of celebrities have supported it, like Jeremy Vine, Louis Theroux, Gyles Brandreth, Naga Munchetty, Dan Walker… we even had someone from Norway do the class yesterday! 
"That's my main focus, but I now also do something called Thoughts of Mr Seagull: one-minute videos on my TikTok, Instagram, Twitter etc. about messages that can help kids and young people stay positive in these surreal times and transmit my positivity that way.
"I am now hosting quizzes on YouTube – every Wednesday night at 8pm on my YouTube channel – is a football quiz, and then every Saturday at 8pm is a family-friendly one with music, charades, geography, so a random mixed bag. Occasionally Eric Monkman is a guest host as well! I'm also doing puzzles for the Premier League and West Ham United."
*Check out previous episodes of The Six Factor with Peaky Blinders star Jack Rowan,  broadcaster Nat Coombs and darts referee Russ Bray!