Kicking-off a new West Ham TV series, Season Ticket Holder, author, broadcaster and lifelong Hammer Mark Webster talks to well-known supporters about their love for the Club.
In tribute to the greatest No6 of them all, Bobby Moore, Webster asks famous fans about their six favourite West Ham things.
His first guest on The Six Factor is Peaky Blinders and Noughts and Crosses star Jack Rowan…
Hello Jack. Congratulations on Noughts and Crosses – you must be delighted in how well it's been received?
"Indeed I am! It's a powerful story, and those who have seen the series or read the book will know it's good that we were able to tell this story. It's very relevant and just from an actor's perspective, it's a dream role to play."
Firstly, how did you become a West Ham fan?
"Well like most kids really, well, my Dad's West Ham, so naturally I'm West Ham, but it was never a forced thing – it wasn't like 'West Ham, nobody else', he very much let me decide, but I wouldn't have it any other way, because me and my Dad, a big part of how we bonded as father and son was going to Upton Park when I was a kid. We used to go every Saturday, so… yeah, my Dad, my Dad's the reason why I've had to suffer a lot of heartbreak but no matter what, it's always more sweet than bitter."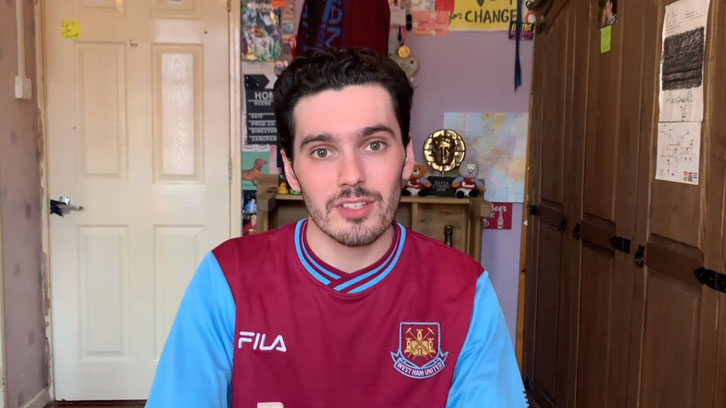 Second question... Who was wour favourite Hammer as a kid!
"Now this is a hard one because as a kid I remember getting so many different players on the back of my shirt, but I would say my most consistent favourite player was Scott Parker. In my opinion he's what West Ham's all about: grit, determination, never gave up, always went for goal when he could, and that season, that heart-breaking season, 2010/11, even though we got relegated he rightfully won [Football Writers' Association] Footballer of the Year because he was impeccable, and if you had a team of Scotty Parkers, I don't think you'd ever get relegated – actually, you would never get relegated! I would say Scott Parker."
Thirdly, who is your favourite current Hammer?
"I'd say my favourite player at the moment has got to be super Fab[ianski]. Especially this season, we've really missed him, and any West Ham fan can vouch for me when I say that. For some reason our form just seemed to slip when Fabianski got injured and then he came back, first game back I was behind the goal – he saved a penalty within five minutes. Of course, we were missing this guy. Without him in the goal, we were missing him – it's like we'd lost a limb. I've got to say Fabianski, I'm a fan of that guy."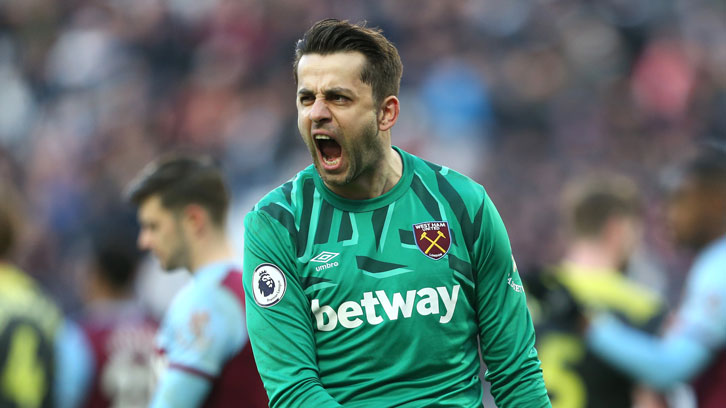 Number four... Which is your favourite West Ham shirt?
"I more prefer the kind of retro West Ham shirts. I've got a nice little collection of old shirts. Of course, this one that I'm wearing, this is my Dad's old one. He gave it to me. This was my favourite one of his, so he sorted me out. And this was my one when I was a kid – it's obviously a miniature version. I'm going to show you my favourite away one and home one, so bear with me!...
"This one is my favourite away one – simply just a beautiful shirt in my opinion. I love the badge. This is my favourite bit because it's cold in the UK, so even if I've got my jacket zipped up, I'm still repping, you know what I mean? I think of [Paolo] Di Canio when I wear this one. Like I said, great condition, good fit, and I got a really nice deal on it, so yeah, this is my favourite away one but I've got another nice retro one I want to show you, so bear with me… Now this is a beauty. This is hands down my favourite home shirt, and I thought I'd keep that one in the background because it deserves a bit more screen time! Perfectly oversized, got that '90s feel to it and that '90s look to it. There's a tiny bit of damage to the sponsor but I kind of like that, it adds to the story of it all – who wants a perfect retro shirt? Dagenham Motors – great sponsor for West Ham – and this is the one I've had the most comments on. In the pub after the game, I've had so many people come up and say 'I love that shirt', so yeah, this one's a good one – so in answer to the question, I'm definitely a shirter and a collector!"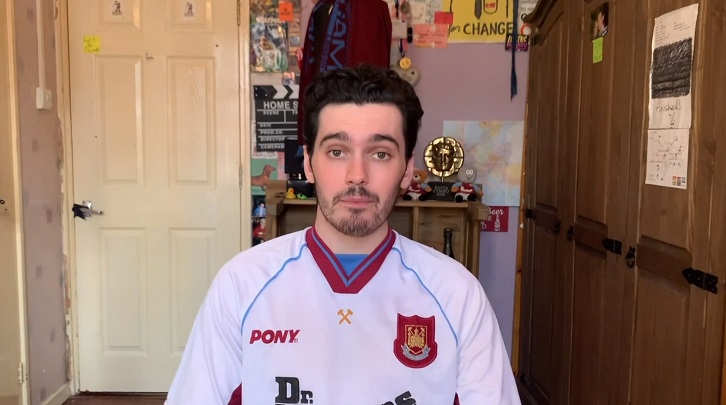 Fifthly, what was your favourite West Ham goal?
"I know my favourite West Ham goal, and this is my favourite goal not because of its simplicity. It wasn't a bicycle kick, it wasn't from the halfway line or anything, it was a pretty simple goal, it just meant the most to me in my lifetime. I'll say the goal and then I'll give a little backstory behind it. The goal is the 2005 Play-Off final against Preston when Bobby Zamora slotted it in.
"Two years before that we got relegated and I remember going to a Saturday football class in south London, and I was the only boy there that wore a West Ham top – most of the lads there were Chelsea fans, so they really let me have it when we got relegated, that's what kids are like! All that matters is 'your team doing well', 'your team's this', 'you got relegated…' so it was heart-breaking, obviously.
"Then the next season we were in the Championship, had a great season, made the Play-Off final against [Crystal] Palace, and then we lost and I remember I was on my way to the Isle of Sheppey at the time, and I had my West Ham top on, and obviously when you're a kid, I didn't have a phone, so I had no sense of time, so then I got to the Isle of Sheppey and I remember walking and there were these lads, and they started cussing me and I was like 'what are they cussing me for?', and then they were cussing my shirt saying 'West Ham this', 'West Ham that', and I just didn't know why – I thought maybe they had a problem with West Ham. It was only until about 15 minutes later where I found out that West Ham had lost, so I was like 'a whole another season in the Championship?'. I couldn't believe it, it was heart-breaking.
"So then, fast forward a whole year, we're in the Play-Off final again, same position against Preston, 0-0 going into the second half, and I remember Jimmy Walker kicked it out, straight to Etherington. Etherington, perfect cross, and boom, ZAMOOORAAAA – bang! He scored and I remember going absolutely mental. I was with my Dad in the pub, and obviously I wasn't drinking, I can't even remember, I was only like ten. When Bobby Zamora scored that goal in the Play-Off final, that's my favourite goal!"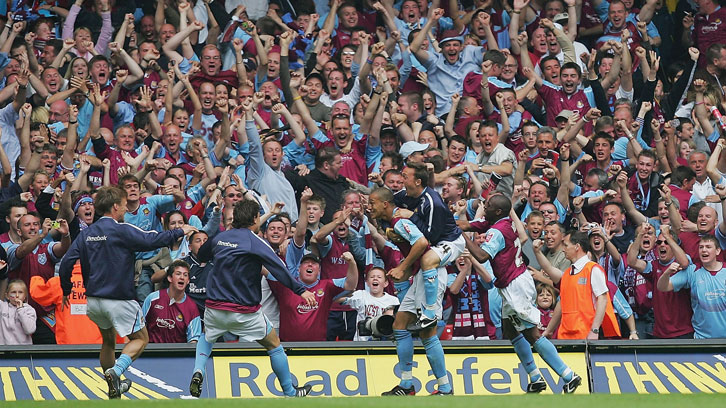 And finally, question six... What is your favourite Hammers moment?
"Our last game at Upton Park against Manchester United will forever be in every West Ham fan's memory, forever embedded in our hearts. What a moment. But for this video I just suppose I want to make it even more specific. Our last game at Upton Park's an obvious one, so like I say, I want to make it more specific.
"One that really sticks in my brain is when we played Everton. It was a third-round [FA Cup] replay on a Tuesday night, and it was when it went to penalties and it was down to the goalkeepers, and I was right behind the goal so I felt really in it, and I just remember when Adrian, before walking up to the ball, threw his gloves down, boom – sent the keeper the wrong way. And when we won that game, because that was a really exciting game, we celebrated like we'd won the FA Cup that night. It was packed out. It was constant singing, dancing. It was a game that I'll never forget, even though it is specific, yeah, it meant a lot, so… I would say that."
Thank you, Jack! And just a reminder that Noughts and Crosses is available to watch now on BBC iPlayer, while Peaky Blinders is on Netflix…
"Thanks for having me – I'm really grateful to be involved. It's been fun to put on a West Ham top and just talk about West Ham, so it's really fun. Thanks for having me and in these current times, just stay safe. To everybody, sending all the love and before we know it we'll be back at London Stadium in our Claret and Blue get-up, cheering our team on, so I'm looking forward to it."