West Ham Tv
The Six Factor: Broadcaster Nat Coombs shares his memories of West Ham United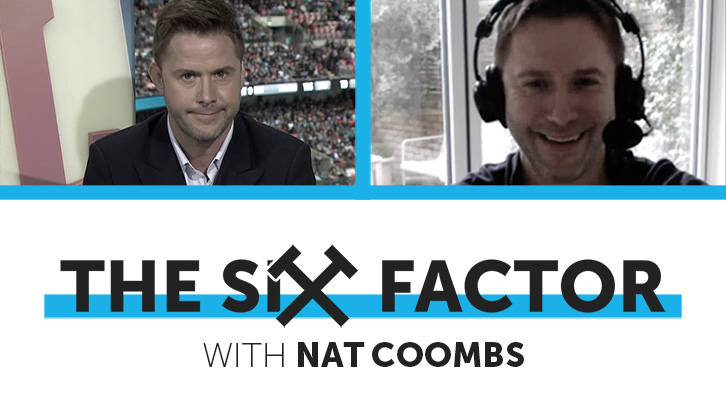 In a new West Ham TV series, Season Ticket Holder, author, broadcaster and lifelong Hammer Mark Webster talks to well-known supporters about their love for the Club.
In tribute to the greatest No6 of them all, Bobby Moore, Webster asks famous fans about their six favourite West Ham things.
Following on from the opening interview with Peaky Blinders and Noughts + Crosses star Jack Rowan, Webster's second guest on The Six Factor is British television and radio presenter, and writer, Nat Coombs…
So, Nat Coombs, I'm delighted to be able to talk to you!
"The sun is shining, there's a smile on my face because I know I'm going to talk to one of my oldest West Ham friends about life as a West Ham fan - what's not to like?!"
It's got the lot, hasn't it, being a West Ham fan? It's an emotional rollercoaster – when did it start for you personally?
"I blame my sister entirely for it. I'm the youngest of four siblings and my sister Beth, who is closest to me in age, is the reason why I've gone through this life! She is great because we're all, I think to varying degrees, pessimists as West Ham fans. We've had Season Tickets for years and I remember sitting there with her, and I think her record for a game for 'We're gonna lose!' is about 18 seconds!
"Even by her standards, that was impressive. Sitting next to her for years and years and years of constant moaning... but our favourite players are often in sync. Generally speaking, the things we love about West Ham are in lockstep, and that's as it should be as a Hammer."
First up, question one on The Six Factor... who was your favourite Hammer as a kid?
"My favourite as a kid was Stuart Slater because I was, before I transitioned all these years myself, a winger, so I guess like a lot of people you concentrate on the player who plays in your position. He came through, so was one of ours, and was electrifying. I remember in particular his most famous goal and performance was in the [FA Cup] quarter-final against Everton in 1991, and that whole season and phase of his career, he was just turning it on. In the end that came good for us, but it wasn't a particularly glorious time and he was the shining light – he was just a really exciting player, so as a kid, really captivating to watch."
Let's bring you right up-to-date then and contrast that with question two: your favourite West Ham player now?
"I love [Michail] Antonio because of his passion, his commitment, and his ability to score unbelievably crucial goals…"
And the great thing about Michail Antonio for me is you don't realise how important he is until he's not there. He's been that kind of footballer for us, I feel....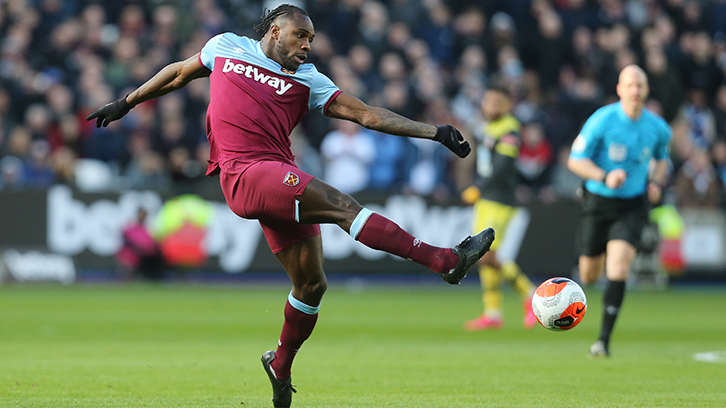 Okay, now, question three: who's your favourite gaffer?
"Again maybe obvious, but undoubtedly your most popular I'm sure is John Lyall. I guess that's because of that era when we were playing maybe the best football we've ever played, certainly the most successful in league terms, but it's more than that.
"I've had a lifelong love for the NFL as well, and I look at a certain era in the 1980s when I first fell in love with it. There were coaches in that time, in particular Tom Landry, the Dallas Cowboys coach, whom, even if you're watching this and have no idea who I'm talking about, you can look up and you'll get a sense just from a photograph of him.
"He wore a suit, he wore a top coat, he wore a trilby – even in the late '80s he was timeless and classic and represented so much that is good with the game, and for me John Lyall was exactly the same. He is somebody who is West Ham through and through, presiding over a really exciting side that played the West Ham way, and was a gentleman as well, so for all of those reasons, it has to be John Lyall."
Fourthly, what's been your favourite West Ham United shirt?
"I'd have to go AVCO 1985/86. I guess there's love for the BAC [Windows] era. Dagenham Motors is obviously going to be popular, but AVCO 1985/86 I think."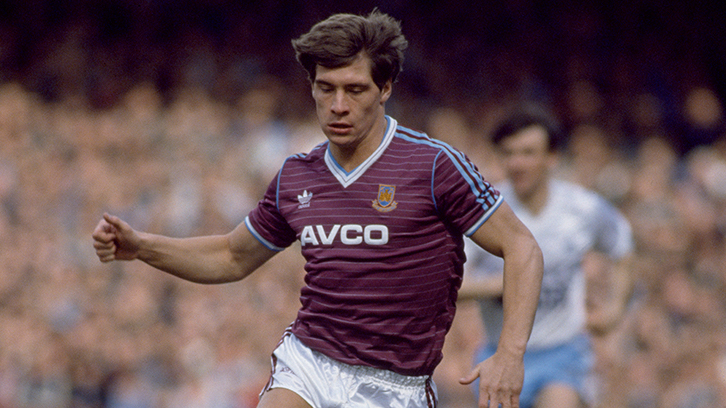 That would have been perfect. Now, for question five, can you narrow them all down to one favourite goal?
"My favourite goal is the [Carlos] Tevez goal against Spurs. In the end, it was inconsequential in the scheme of that game, but at the same time it kick-started the Tevez salvage operation and I love it for so many reasons.
"At the time, he was playing so well but everybody was talking about the fact he hadn't scored for West Ham. There was so much to his game beyond scoring and he was one of my favourite players of all-time, to the degree that I've actually got a Boca Juniors Tevez hoodie - that's how much I love him!
"I obviously avoided his Manchester era but aside from that I followed him, and he was so passionate, cared so much, was such a complete player, and his celebration was so brilliant. I was watching it back on YouTube, and in the version I saw, the Andy Gray commentary was brilliant, because Gray straight away goes on a rant about how Tevez is going to get booked for the celebration, so that little coda is great as well!
"You can see what it meant to him. Just looking back now at Tevez, there's a great drama series about him which is on Netflix, dramatising his childhood, and when I first saw it I thought 'this could be terrible', one of those puff pieces with really stilted acting, but it is brilliant. It's got kind of shades of the TV series Gomorrah - really gritty, tough drama. It's all about Tevez's upbringing, which was, as you can imagine, tough, and it has a great cast, great all-round production, and the young guy who plays Tevez is brilliant in it as well. That's well worth a watch."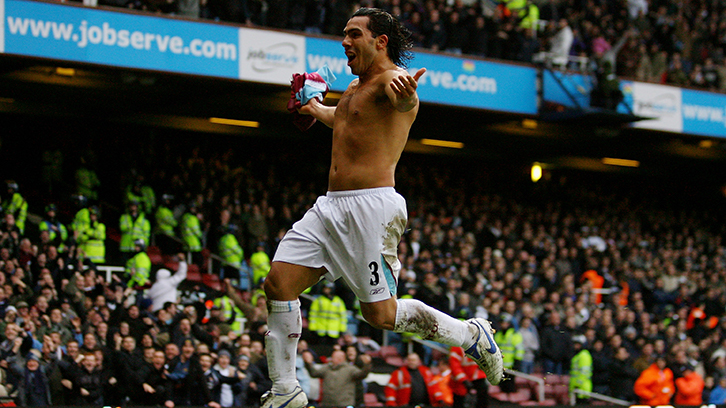 Okay, to finish off The Six Factor, a broad question: can you pick a favourite season or can you pick a favourite game?
"It has to be at Old Trafford [in May 2007], Tevez scoring to keep us up.  I wasn't at the game – I was on a stag [do] – and it was on the Sunday, so I was unbelievably hungover. I was with a bunch of mates, none of whom were Hammers – most of them were Liverpool fans actually, so they were in our corner because obviously it was against Man United!
"We'd all been mates since we were kids, so they were rooting for us, but not in my wildest dreams did I think we were going to win that – we were definitely going to lose that and go down. So the fact that we didn't, the fact that it was Tevez as well, who for reasons I've said is one of my favourite players – I absolutely loved him – that has to be my favourite."
Perfect game for you that, Mr Nat Coombs! Thank you so much indeed for your Six Factor. And I must ask before we go, regarding the NFL - what're your hopes, your prospects, for the season forthcoming? Are things looking good?
"It's interesting because with so much sport just in a complete state of inertia, the NFL, because it's out of season, has managed to occupy the headlines again.
"You've had free agency, which is their equivalent of a transfer window. There's no baseball, there's no basketball, there's no football, so there's nothing going on, so Americans are concentrating on it, and we've [just had] the draft as well.
"The season isn't meant to start until September so it looks, touch wood, with where we're at right now, that things will be back to relative normality. But nobody knows, and in North America, it's such a complex issue because if you look at the situation in Europe, different countries are in different states, and that's true of the states in America. But hopefully, fingers crossed, we'll be back and rolling for the new season in September."