Some West Ham United fans might not instantly recognise the name Russ Bray, but most will instantly recognise his voice!
Bray is the referee, caller and voiceover artist whose gravelly tones have become synonymous with professional darts over the last three decades.
The lifelong Hammer shares his stories and favourite things about being a West Ham supporter with broadcaster Mark Webster in episode three of The Six Factor…
Mr Bray! Lovely to talk to you. So, to kick-off, I believe you're a Guinness World Record holder! You need to explain that to us!
"Ha! A good few years ago, we were on the North Pier in Blackpool – myself, [darts stars] James Wade, Steve Beaton and a good few other players. They set a dart board up ten feet away and we has to try and hit the bullseye (a normal oche length is 7 feet 9 ¼ inches long). On about my third throw, I hit the bullseye and I was the only one to hit it all day. And of course, with it being recorded by Sky and everything, it could then go as an official world record in the Guinness Book of Records because nobody had done it. I held onto that for two or three years until Freddie Flintoff took it off me for Children in Need!"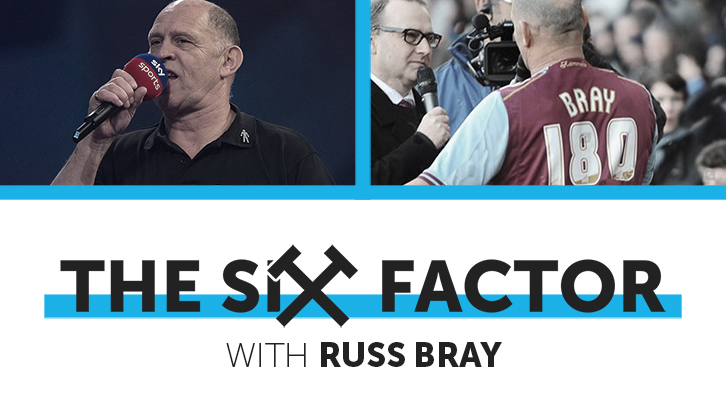 Well, it's a pleasure to speak to a former World Record holder! That also reminds us that you played a bit of darts before you took up refereeing for the PDC?
"Yeah, and funnily enough I used to play for West Ham in the London Super League all those years ago, at The Lamb in Plaistow. I didn't do too bad. I played pairs with the late, great Eric Bristow, so I didn't do bad!"
You grew up in South Ockendon and used to take the Green Line bus to Upton Park as a kid. So, who was your favourite Hammer as a boy…
"Bobby Moore. Well, there were actually quite a few… I'm from the Bobby Moore era but I like Billy Bonds, Frankie Lampard Senior, Harry Redknapp, Hurst and Peters obviously, but my real true favourite was Bobby. He epitomised what the game was, he was a gentleman, he was a brilliant football, his timing was impeccable and his delivery was absolutely second to none. If he'd have been Brazilian, they'd have praised him even higher. That's the truth, isn't it? I never actually got to meet Bobby Moore. I met Martin Peters, and I've met Geoff Hurst at golf events over the years, but I never actually physically met him, and he's one person I'd love to have done so."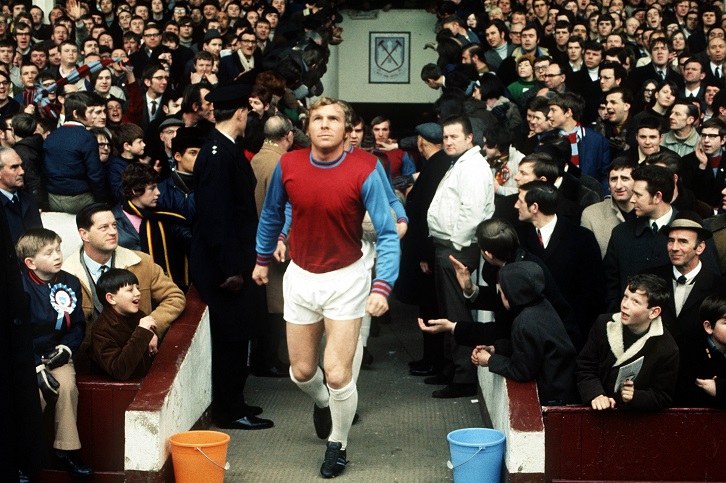 Let's bring it up to the present day. Who is your favourite current Hammer?
"There are a couple actually, and they're a couple of lads I know. The first is Declan Rice. He's such a lovely kid. I did an event down at Chadwell Heath a couple of months back, a bit of darts, and Declan came in. The second is Aaron Cresswell, who I knew from his time at Ipswich, and he's a good little dart player as well. They're two good lads and two cracking footballers. They're my two favourites, probably because I know them perfectly."
Fourthly, who is your favourite West Ham manager?
"I'm going to have to go for Ron Greenwood. He's Claret and Blue through and through and he just knew what he was doing. It was old-fashioned managing. He didn't have a big squad like they do now. Everyone respected him, and he seemed a really fair guy as well, knew what he was talking about, was a good coach, a good manager, and everyone enjoyed playing under him."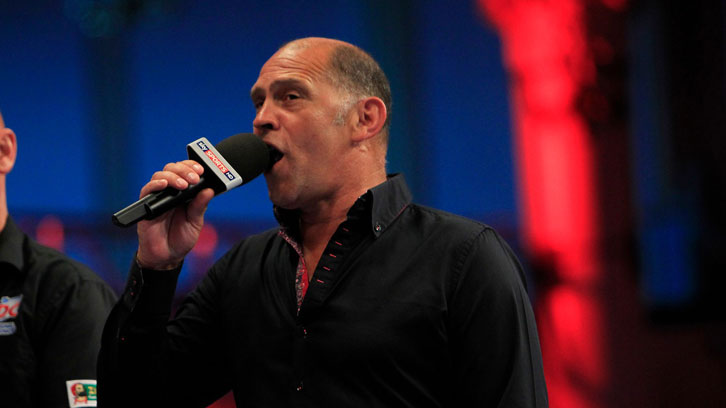 Next up, the darts boys like to wear bright colours and your fans have produced a '50 Shades of Bray' shirt, but what's your favourite West Ham shirt?
"I've got a replica of the old Thames Ironworks FC shirt, with a v-neck and in dark blue, but the one I always did like was the sky blue with the two claret hoops from the 1960s and 1970s. It looked good. Just a couple of hoops was lovely. I like the current one too, and the boys got me one with ' BRAY 180' on the back when I went up there recently!"
Finally, what's your favourite West Ham goal of all-time?
"I tell you what, he was a school mate of mine. We were in the same year and that was Geoff Pike. Me and Pikey played together at school and he went to the Hammers and I went to the Orient as a goalkeeper in my youth. One goal that he scored was a header at Manchester United. We beat them 2-0 in the FA Cup back in March 1986. Brilliant!"
*Check out previous episodes of The Six Factor with Peaky Blinders star Jack Rowan and broadcaster Nat Coombs!