In early 1897, Thames Ironworks and Shipbuilding Company owner Arnold Hills announced that he had bought a large piece of land at the Memorial Grounds in West Ham.

Hills announced plans to build a multi-purpose sports centre at the Memorial Grounds, which was named in honour of Queen Victoria, who had ascended to the throne 60 years previously.

Despite the sheer scale of the development, the new facilities were built in just six months, opened on Jubilee Day on 22 June and around 8,000 people came along to the opening ceremony.

The Memorial Grounds, it was said, had capacity for 100,000 spectators and a range of sporting – it had a banked cycle track, which was one of the best in the London area, and the ground was believed to be fit to host an FA Cup final, although it never did.


The football pitch sat in the middle of the cycle track, while the site also played host to tennis courts, cricket pitches and one of the largest outdoor swimming pools in the country. There was also a stand and administrative offices too, making the Memorial Grounds a fantastic centre for sport in east London.

The summer of 1897 saw a large turnover in players, with the Club's first captain Robert Stevenson returning to his native Scotland with Arthurlie. Others no longer at with Thames Ironworks included Thomas Freeman, Johnny Stewart, Walter Parks, James Lindsay, William Chapman, William Barnes, John Woods, George Sage and William Chamberlain.

While a number of players had left, the Club moved effectively to fill the gaps in the squad. Henry Hird, a ship's plater who had recently arrived at the company from Stockton on Tees, joined. The Hammers also signed several players with experience of playing football at a higher level, including Jimmy Reid and Robert Hounsell (both Reading), Simon Chisholm (Inverness) and Percy Mills (Gravesend).

The Sportsmen forecast on 3 September 1897 that Thames Ironworks could expect a productive season: "It is only reasonable to expect an establishment that employs nearly 5,000 people to turn out a very good team of footballers. The Thames Ironworks opened their season yesterday at the Memorial Recreation Grounds. During the past few months some very capable players have found employment in the Works and as a result a very creditable exposition of the game was seen."

As well as a new home and new players, Thames Ironworks also introduced new kit colours – Royal Cambridge blue shirts, white shorts, a red cap, belt and stockings.

The Thames Ironworks Gazette commented that the new strip: "The contrast supplied by the delightful green turf is very pleasing."

One newspaper reporter commented: "A prettier and more distinctive costume than theirs I have never yet seen on a football ground. Light blue shirts, white knickers and scarlet stockings were their colours."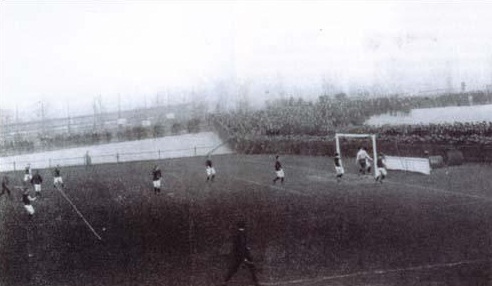 Thames Ironworks FC's first competitive match at the Memorial Grounds took place on 11 September 1897, when Brentford were the visitors for a London League fixture. A curious crowd of 1,000 spectators turned out to see outside left Jimmy Reid – one of four debutants – score the only goal of the game in 1-0 home victory.

The low attendance was put down to the lack of public transport to help supporters access the site, so Hills decided to take matters into his own hands.

In November 1897, the owner secured an agreement with London, Tilbury and Southend Railway (LT&SR) to build a station at nearby Manor Road. The LT&SR board approved this in February 1898 and construction company Mowlem was given the contract to build a four platform station. The station was completed in May 1900 but did not open until 1 February 1901 as West Ham.

Another issue was ticket prices. Season tickets for 1897/98 were fixed at 5 shillings (25p), while individual match tickets were priced at 4d at a time when skilled tradesmen usually received less than £2 a week.

On 13 December 1897 the club secretary wrote: "The support we have received has not been so large as we should wish for, the gates not totalling near the number we might expect and certainly not so many as the quality of the play of our men should warrant."

Despite the relatively low crowds, Thames Ironworks turned the Memorial Grounds into a fortress in their first season there, 1897/98, winning all eight of their London League fixtures on home turf. In those eight matches, the Hammers scored 31 goals and conceded just seven.

The Ironworks also won through two rounds of the FA Cup at the Memorial Grounds, defeating Redhill and the Royal Engineers Training Battalion before losing at Southern League side St Albans in the second qualifying round.

When West Ham were promoted to the Southern League First Division for the 1899/00 season, ticket prices rose again, with predictable consequences. Crowds were generally disappointing, although 13,000 did turn out for an FA Cup tie with local rivals Millwall, while 12,000 were present for a league defeat by the same opposition.

The summer of 1900 saw Thames Ironworks FC cease to exist in its original guise, as Hills initially decided to turn the Club into a public company to raise funds for his business interests.

In September 1900, West Ham United FC was created as a limited company, with the new Club continuing to be based at the Memorial Grounds.

West Ham United played home matches at the facility for the first four seasons of their existence, starting life with a 7-0 thrashing of Gravesend United in front of 2,000 supporters on 1 September 1900.

By 1904, Hills was reportedly having financial problems and was unwilling to re-negotiate a rental agreement with the Club for the Memorial Grounds. It was time for the Hammers to find another new home.

West Ham's final home match at the Memorial Grounds took place on 30 April 1904, when Swindon Town were the 1-0 winners in a Southern League First Division fixture.