Kurt Zouma says West Ham United need to be at it from the kick-off and maintain their intensity for the full 90 minutes if they are to beat Leicester City on Saturday.
The Hammers host the Foxes in their final Premier League fixture before the break for the FIFA World Cup finals, with both clubs beginning the day on 14 points and eager to secure a win that will see them sign-off on a positive note.
West Ham go into the London Stadium showdown seeking to bounce back after two home defeats – to Crystal Palace in the Premier League and Blackburn Rovers in the Carabao Cup – this week, and the French defender is aware how disappointed everyone associated with the Club is feeling after those unexpected results.
And Zouma knows he and his teammates need to raise their performance levels not only to return to winning ways against a resurgent Leicester, but to satisfy and enthuse the 60,000 home supporters inside the stadium and the millions more Hammers watching around the world.
We have to work harder, have more intensity in the game and hopefully we can get the crowd going by scoring some goals
"This game is going to be huge," he confirmed. "Everyone knows it. We know it.
"We didn't start the season well, so we just have to be better and do better because the fans deserve it. With the quality we have, we have got to be higher, but it is what it is. That's why it's the toughest league in the world. But, listen, we work together in this. We know Saturday is going to be huge but we want to win, especially for the fans, for ourselves, and that's the aim, so let's do it!
"It's going to be a tough game. They've got 14 points, the same as us. They are in good form and have won their last couple of away games, so they're going to come here confident and they are a good side, but we are also a good side and I think it's going to be a good watch and hopefully we will get the win."
Zouma knows recent results and all-round performances have not been good enough and was asked if he could explain why the Hammers have not produced their best, and why, in particular, the team have started those two games slowly.
"Everyone has been disappointed, but we have the chance to get it right and all of our focus is on the game on Saturday," he continued. "[We have started the last two games slowly], but I am not sure the reason for that. Maybe it is that we think it's just the beginning of the game and everything is going to be sorted quickly, but obviously you can see how intense the games are and maybe we need to put more intensity in the style of the game. I don't know about this topic, but we really need to find out why and make sure we tick that off.
"I think it's a bit of everything. Maybe it's a lack of concentration and a lack of intensity as well, maybe the team we face facing know about us. I don't know, we need to find a reason. I would say that sometimes things don't go your way, so you have to work harder to get things back in your way."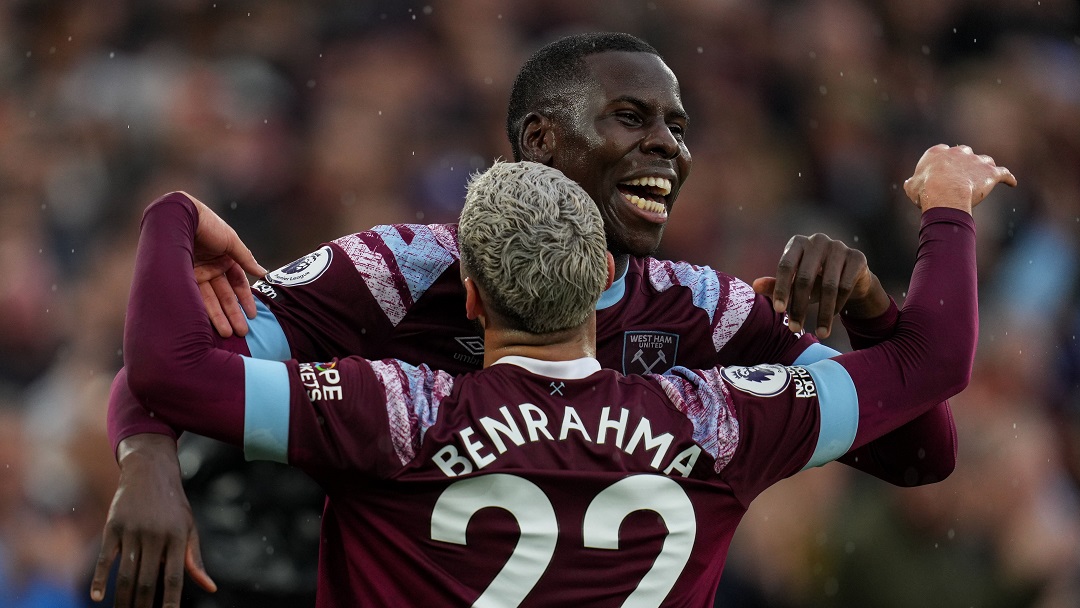 Should that hard work pay off and lead to a welcome home win over Brendan Rodgers' team, it will surely be met with a positive reaction at the final whistle, in contrast to the negative noises heard following Crystal Palace's last-gasp winner at London Stadium last weekend.
Zouma concluded by saying every player in the West Ham dressing room shared the disappointment of the Claret and Blue Army in their own display, and is determined not to let history repeat itself.
"Everyone can understand it because we didn't play well, we weren't at it," he observed. "You could see that the fans wanted us to win at home, but we disappointed them, and we disappointed ourselves as well, so we have to put it right in the next game.
"We've had lots of meetings, talking about how we played and some tactical points preparing us for Saturday's game, and that's it really. We have to work harder, have more intensity in the game and hopefully we can get the crowd going by scoring some goals."