West Ham United Women's Academy Manager, Dan Mlinar says that players from his WSL Academy have had a priceless experience, after a whole host of the teams players were involved in a 3-1 defeat to Hashtag United on Wednesday evening. 
The Hammers opted to play a youthful line-up at Parkside, as Paul Konchesky decided to rest almost all of his senior squad - with only Grace Garrad, Jess Ziu, Keira Flannery, Alex Hennessy and Sophie Hillyerd involved in the defeat. 
The Tags found their goals through a double from Sasha Adamson and the games opening strike came from Emma Samways. 
West Ham did grab a consolation late on, as Rebecca Chitolie-Porter rounded the Hashtag goalkeeper on 80 minutes, before cooly slotting home. 
Mlinar was proud of his young players at the full-time whistle, and says that many will have experienced a number of firsts from the outing in Essex. 
 
It was a great opportunity for our players to get out on the pitch and mix with some first-team players
It's actually the first minutes that our academy players have had since returning for pre-season, so it was nice for them to be back out on the grass. 
We had players making their West Ham debut, we had players playing in their first ever match against older players - and for some it was their first ever match in front of a crowd!
It was a priceless experience for them all, and I'm sure they will take many things from the game. 
Our young players get to see what the level is
They've played alongside a number of first-team players tonight, so they've seen the level that they need to get to if they want to be a fixture of the first-team squad. 
It's been a really great workout for them.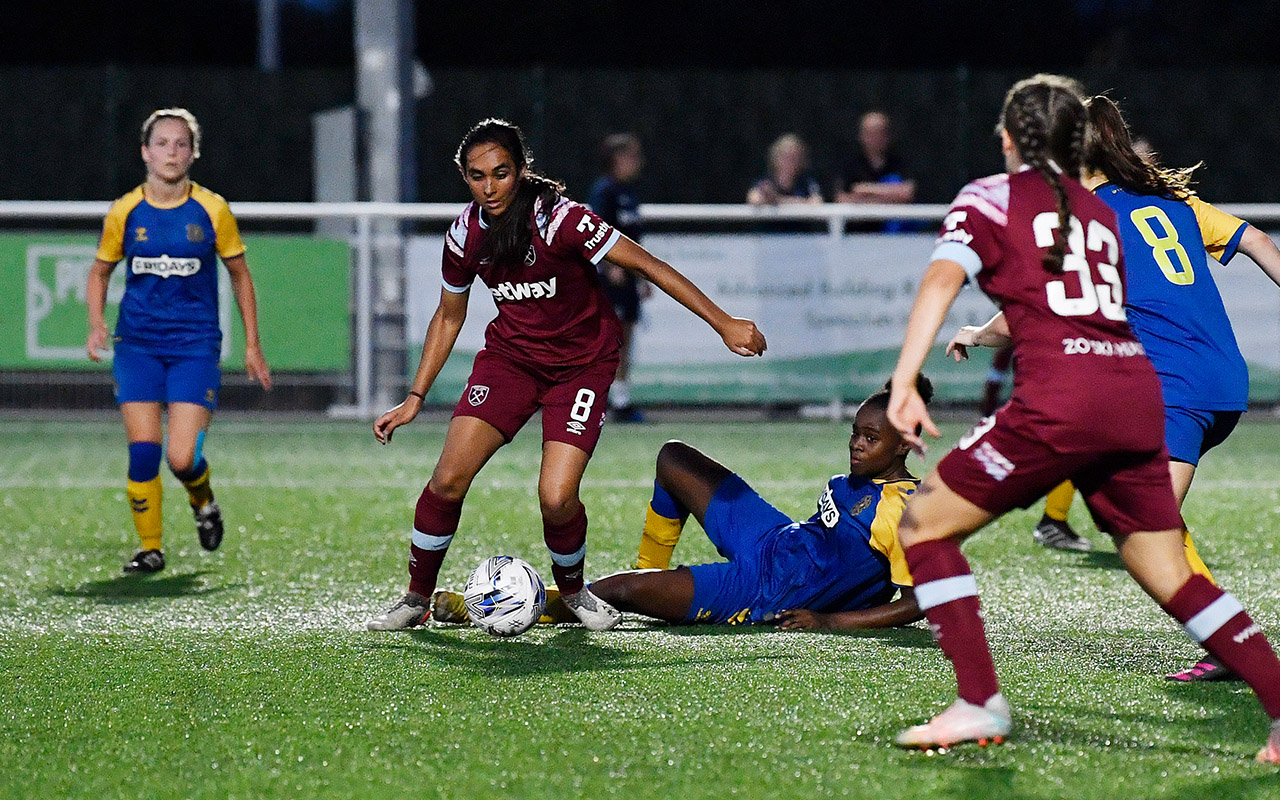 It's about making sure that players know that there's a pathway into the first team
We're going to have a couple of players that will be between academy and first team this season, and that's exciting.
It's a good time for these youngsters to be at the football Club, because there a clear ethos here of being able to promote from within if we have the right calibre of player that's ready for first-team action. 
It's also such a massive experience for them. You've got Katie O'Hanlon who's been training with Jimmy Walker, who's got countless games in the Football League and has played for the club. The players are being given details by Paul Konchesky, it's all massive for them.
So hopefully one or two of them can really take something from tonight when we're back in as a group on Friday. 
We're looking forward to our own campaign
Our WSL Academy team will have quite a young squad this season, but I saw enough tonight to show that this group has something. 
We've only really had about five or six sessions since we returned for pre-season, so I'm looking forward to a couple more matches and seeing the girls grow after today's experience. 

Interested in watching West Ham United Women this season? Sign up to our mailing list or click on the graphic below to purchase a season ticket for the 2022/23 Barclays Women's Super League season now!