Paul Konchesky says that it's fantastic to see his West Ham United side in the draw for the semi-finals of the Continental Tyres League Cup after a narrow 1-0 victory over Liverpool at Prenton Park on Wednesday.
The Hammers, who had plenty of bright moments on another chilly evening on Merseyside had to wait until the 87th minute to make the breakthrough, with Captain Dagny Brynjarsdottir heading home from a wonderfully cultured ball in from Viviane Asseyi. 
In a pretty evenly matched contest under the lights in Birkenhead, it was Konchesky's Irons who prevailed, advancing into the last four of the competition.
The boss says that his team are proud of his sides effort and application on the night, and he's looking forward about to seeing who they pick out in the draw. 
It's fantastic that we've been able to advance into the semi-finals
It's not me that I'm delighted for, I'm delighted for all of my players in that dressing room that worked their socks off and, in every game, they give me everything that they have. 
There's more on the line when it's the cup, and to go somewhere that this club has rarely been in reaching the last four is fantastic. I'm delighted for my players, staff and everyone connected with the club because everyone has worked hard to get to this point. 
A cup run is what I've been wanting for this team 
At the start of the season, I said that I wanted the team to do similar to what they achieved last season in the league, but I also wanted us to have a really good cup run. It doesn't matter what cup we do that in, but I'm pleased we've done well in reaching this stage. 
I don't want stop there though, I'd love to be able to get to the final with this group of players. 
To win any game in that fashion is fantastic 
We had to fight for the win, particularly towards the end when they brought Megan Campbell off the bench and had three or four chances from her long throw. 
We defended them excellently, which isn't easy to do.
Everyone was very good tonight – it's not just about the XI that start the game, it's the whole group as a collective – they've all been fantastic in this competition, and we will need everyone heading into the semi-final just before the international break. 
Liverpool managed to claw their way back in, but we got the job done
We made an excellent start to the game, but they were able to get back into the game – I think being away from home, with the passionate support that they have, you probably expect that to happen at some point in the game. 
We defended well, we were a tight knit unit as well as being good on the counter attack. The only real criticism I could say is that we could have been more ruthless in their box, but my captain popped up in the end with a really important goal. 
Just before the goal, Viviane had a chance herself to score but it got blocked – but then she goes and sets up Dagny. We know how dangerous she is in the box and it was a great ball into the box from Vivi.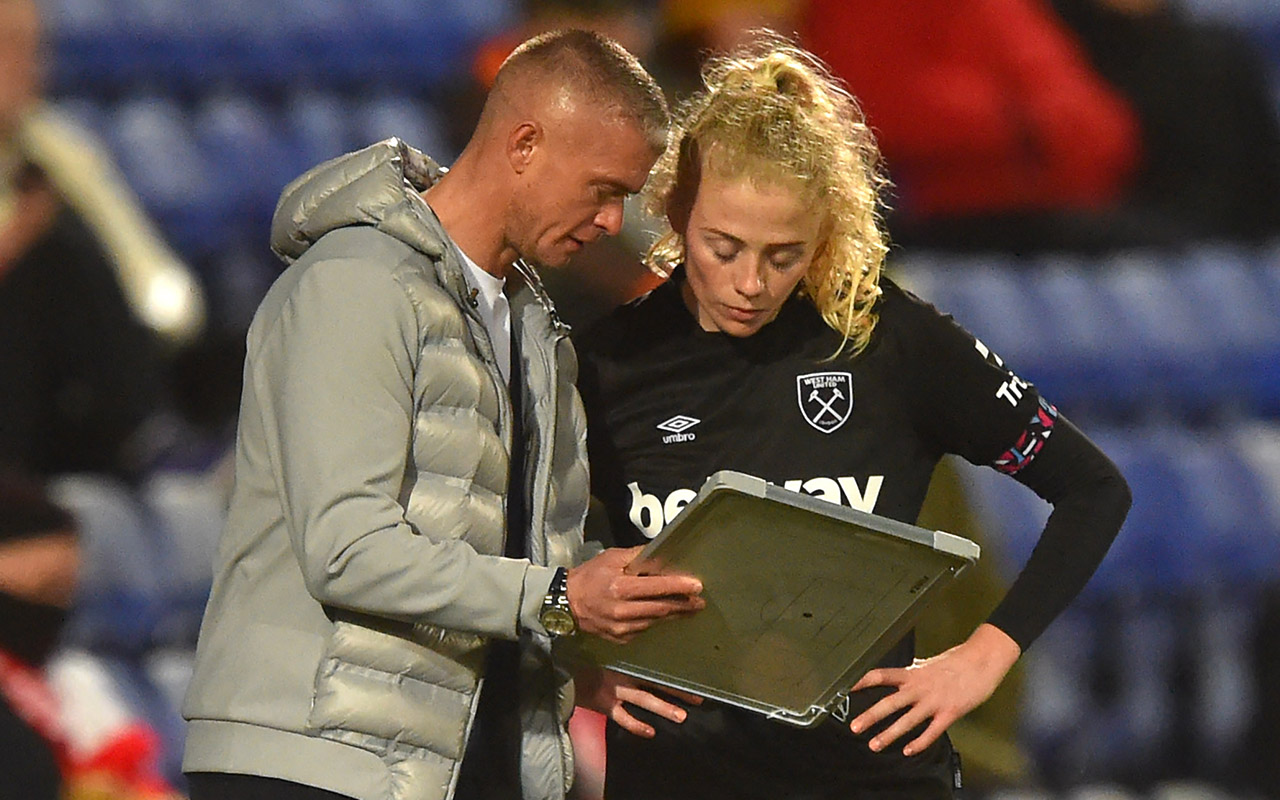 It's brilliant for Emma to be back starting for us
It's nice to see her out there doing what she loves to do and it might take her a little while to get back to the levels that we know she is capable of, but to get 70 minutes in her legs is brilliant. 
We're excited to be in the hat and hope that we get a good game in the next round
Every team that's going into the semi-finals is doing so because they've got quality – and we're one of those sides. I know that if we play to our best then we have every opportunity of making it into the final, so let's see who we pull out!

The Irons will learn of their opponents in the semi-final on Thursday 26 January, with the draw for the last four taking place at 4:30pm (GMT), live on TalkSport2.