It's time to pit your wits against your fellow Hammers in the FPL 2022/23 West Ham United Official League!
It's that time of year again when would-be managers all over the world battle it out for the chance to be named Fantasy Premier League (FPL) West Ham United Official League champion!
FPL is a true test of your managerial skills, requiring you to recruit players within a set budget, transfer in new players before they become stars and drop them before they lose form.
With the added complications of a limit of three players from any single Premier League club, and deciding when to use your valuable Bench Boost, Free Hit, Triple Captain and Wildcard chips, topping the table is a challenge like no other.
Thousands of you took on the challenge last season, with the top-scoring FPL managers each month winning Claret and Blue prizes, while supporter Darren Valet and his team Crockerdile Hunter was our overall 2021/22 winner.
If you think you can emulate Darren, all you need to do is visit fantasy.premierleague.com/leagues/join/public and use the code jiymp8
The deadline for Gameweek One registration passes at 6.30pm on Friday 5 August, so it's not too late to join the fun and competition! We're also offering monthly prizes!
On whufc.com and in each issue of the Official Programme this season, we'll be analysing players' performances – who are the movers, who are the shakers, and who are the players who might want to up their game!
Of course, the world is divided into two kinds of FPL players: those devoutly dedicated to fine-tuning their teams and systems week-by-week to optimise a point output to value ratio… and those who don't check them after the third week.
So, to help you keep on top of tweaking your teams for the months ahead, we'll delve into tactical tips, FPL opinions and the players in Claret and Blue who we reckon are the ones to watch each matchweek.
But as always with Fantasy Football, very little can be guaranteed… so good luck, Fantasy Managers!
West Ham United 2022/23 FPL Player Prices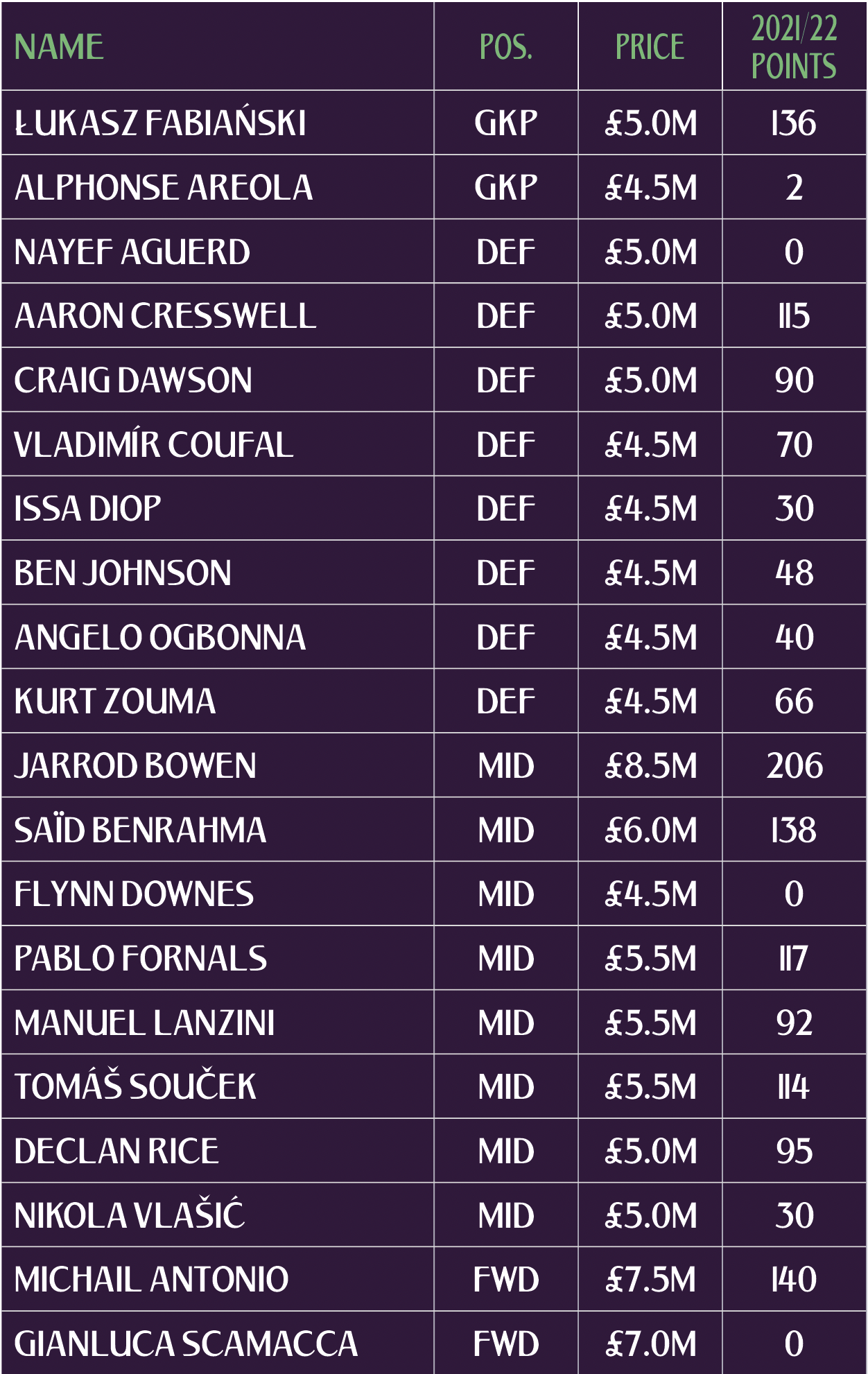 Ironing out your squad
To help you on your way to constructing your Ultimate Fantasy Premier League XI – well, including subs, 'XV' – it's important to get to know your Club's standing ahead of the upcoming season.
Looking back on our impressive 2021/22 season, those loyal to West Ham players since the very beginning of the campaign will have seen the Irons rack up a total of 1,686 points on the pitch – a significant improvement on the cumulative total of 1,380 in 2019/20.
A full list of West Ham United FPL player prices for the upcoming season can be seen here – but to assist you, we've picked five Hammers who could make a big difference to your team.
For reference, the ICT Index is an FPL statistical index which uses match-event data to generate a score for three key areas: Influence, Creativity and Threat. These figures then combine to create an individual's ICT Index score.
1. Jarrod Bowen MID
Last season's points: 206 (+65 on previous season)
Price at start of last season: £6.5m
Price at end of last season: £6.9m
Price at start of this season: £8.5m
ICT Index: 267.4
ICT Rank for Midfielders:

Overall ICT Rank: 10 of 534
Jarrod Bowen was an FPL manager's dream signing last season, scoring 12 goals and racking up an incredible 17 assists on his way to a career-best 206 points.
Only Liverpool's Mohamed Salah and Tottenham Hotspur's Hueng-min Son scored more points midfielders in FPL in 2021/22.
Amazingly, only 8.5% of managers believe Bowen can continue the form that led to an England debut in June.
With a relatively cheap price – Salah is £13.0m and Son £12.0m – and a FIFA World Cup to aim for in November, the 25-year-old could prove to be a bargain buy for the second season in a row.
2. Michail Antonio FWD
Last season's points: 140 (+22 on previous season)
Price at start of last season: £7.5m
Price at end of last season: £7.3m
Price at start of this season: £7.5m
ICT Index: 252.7
ICT Rank for Forwards:

Overall ICT Rank: 17 of 534
Michail Antonio's FPL price had actually dropped from the start of last season come May, but West Ham United's No9 still rewarded his managers with his best season to date, scoring 140 points.
Antonio scored ten Premier League goals for the third season in a row, and also weighed in with a joint career high seven assists, while he also played a career high 2,975 minutes.
Six yellow cards and one red cost him valuable points, but Antonio remains a constant threat to score, both in real life and in FPL.
With Gianluca Scamacca's arrival, Antonio has even more incentive to do well, too.
3. Gianluca Scamacca FWD
Last season's points: 0
Price at start of last season: N/A
Price at end of last season: N/A
Price at start of this season: £7.0m
ICT Rank for Forwards:

Overall ICT Rank: N/A
Gianluca Scamacca will be available to FPL managers for the first time after completing his transfer to West Ham United from Italian club Sassuolo, for whom he scored 16 Serie A goals last season.
While it may take Scamacca some time to settle into the intensity of the English top-flight, he has the build, the attributes and the ability to make his mark and both score and assist goals – vital commodities for FPL managers.
Priced at £7.0m, Scamacca has been selected by just 0.8% of FPL managers, meaning he could give you a big advantage if he brings his Serie A form to the Premier League.
4. Aaron Cresswell DEF
Last season's points: 115 (-38 on previous season)
Price at start of last season: £5.5m
Price at end of last season: £5.4m
Price at start of this season: £5.0m
ICT Index: 132.4
ICT Rank for Defenders:

Overall ICT Rank: 78 of 534
Despite 25% reduction in his FPL points output, largely due to a drop in both clean sheets and assists from the previous season, Aaron Cresswell still gave his managers a good return for their £5.5m outlay in 2021/22.
The left-footed defender again showed his creative worth, registering four assists, and also added two goals, having failed to find the net in the previous campaign, and his ICT Rank for Creativity recognised his attacking contribution.
With his set-piece ability, the No3 is always liable to pop up with assists from free-kicks or corners, while his crossing from open play remains a real asset in both real life and FPL.
5. Manuel Lanzini MID
Last season's points: 92 (+64 on previous season)
Price at start of last season: £6.0m
Price at end of last season: £5.6m
Price at start of this season: £5.5m
ICT Index: 100.3
ICT Rank for Midfielders:

Overall ICT Rank: 139 of 534
It is a few seasons since Manuel Lanzini was an FPL star, registering a career-high 133 points in 2016/17, when he tallied eight goals, three assists and nine clean sheets.
However, the No10 tripled his output from 2020/21 last season, scoring his highest points total since 2017/18, with 92, and there is a good chance he can break the 100-point barrier for the fourth time in his West Ham United career this term.
A superb passer, Lanzini can certainly up his assist output, while Mark Noble's retirement means the Argentinian will now become the Hammers' full-time penalty-taker.