Dagny Brynjarsdottir said that she and her West Ham United teammates were very disappointed with their first half display at Prenton Park on Sunday afternoon. 
The Irons faced Liverpool, hoping to make it three wins in a row in all competitions, but found themselves behind after only three minutes on a bitterly cold afternoon on Merseyside. 
Ceri Holland was able to capitalise on a mistake that saw Honoka Hayashi and Kate Longhurst go to clear the same ball, allowing the Wales international to fire home her first goal of the campaign. 
Around 16 minutes later, Brynjarsdottir and company were two goals down. Experienced Reds forward, Katie Stengel had time to swivel inside the area, and fire the ball beyond Mackenzie Arnold. 
Whilst the Hammers did grow into the game, particularly after a tactical change from manager, Paul Konchesky, which as a result saw a much improved second half performance – his side couldn't find a way back into the game. 
Brynjarsdottir believes that there are plenty of lessons to be learnt from the defeat in Birkenhead.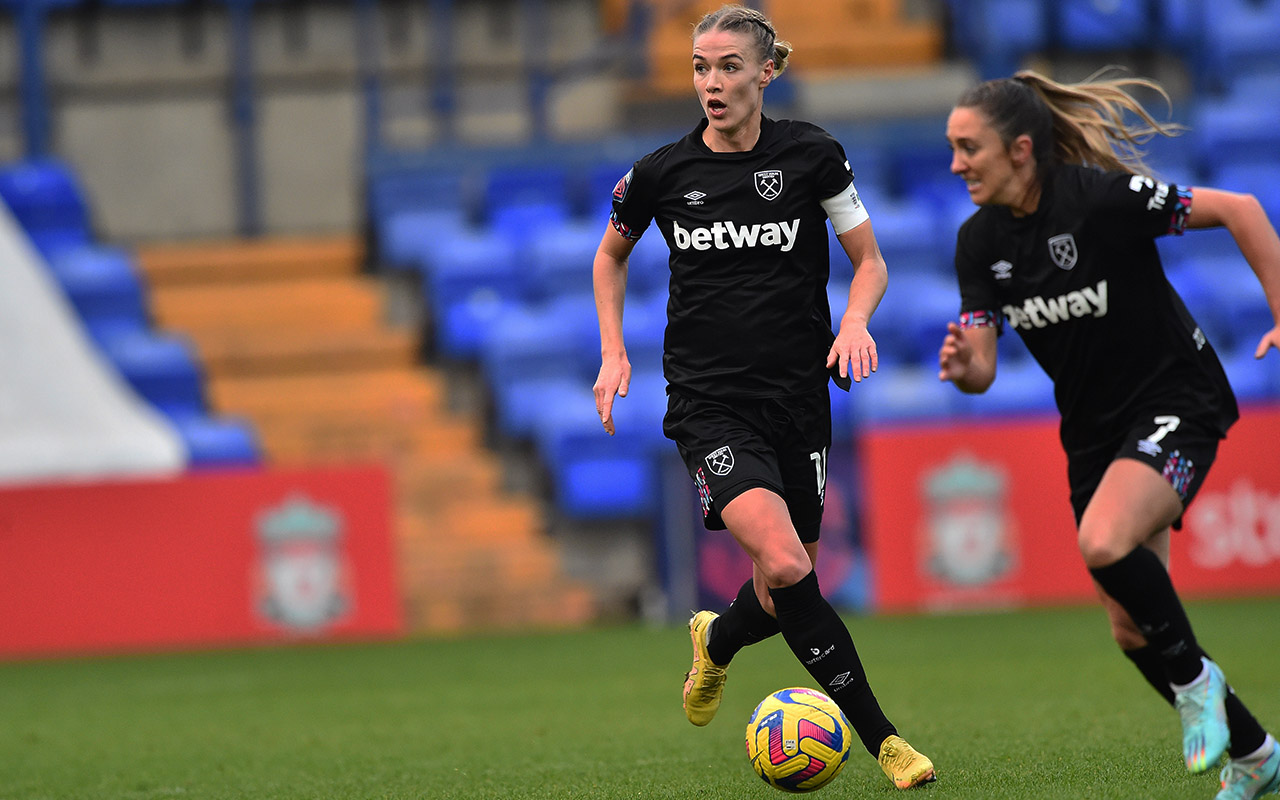 "We're very disappointed with the result," the Iceland international told whufc.com. 
"We wanted to come here and take all three points today, but obviously things didn't work out for us today. I just think we were sloppy when we first came, they started the game on the front foot and were able to consistently win the 50/50 balls. 
"We gave up two very easy goals, and in the first half, we really didn't look like our usual selves at all, which was frustrating.
"We haven't been a team that has started matches slow this season, and I think the last two matches has seen us take a little bit of time to get going - and teams are going to punish us if we continue to do that, as we saw today."
The change in shape saw the Hammers see more success, control possession in the second half and create some decent chances. 
However, they couldn't find a way past Rachael Laws, and Brynjarsdottir was frustrated that the side failed to get on the scoresheet. 
"I think our second half performance was a lot better, and more like the performances that we have produced this season. But, it's so difficult when you're already two goals down to try and get back into the game.
"We created some good chances, but we weren't able to take them, so that was again, another frustrating aspect of our performance. 
"However, there are a lot of positives that we can take from the second half, and we need to make sure we iron out the issues that we saw in the first half, ready to face Tottenham next weekend. 
"As a team, our mindset needs to be right. We have to be ready to win the first ball, win tackles and be brave with possession. I think a lot of that comes from having the right mindset going into the game, and I don't think we had that from the first minute today," she concluded.