Regardless of how long you've followed football for, you'll know of the achievements of Sir Geoff Hurst.
One of the most famous English footballers ever to have lived enjoyed a wealth of extraordinary successes for both Club and country, with 249 goals for West Ham United, a FIFA World Cup final hat-trick, three Hammer of the Year awards, and FA Cup and European Cup Winners' Cup winners' medals for his Club to his name.
Hurst was in attendance last week as 'West Ham United's European Champions', a statue paying tribute to him, Bobby Moore, Martin Peters and the Club's 1965 European Cup Winners' Cup victory, was unveiled at Champions Place outside London Stadium.
As West Ham continue their latest European adventure with a home fixture against Genk on Thursday 21 October - for which tickets are available - Hurst sat down with whufc.com to discuss his hopes for the modern-day Hammers, and the parallels he sees between his European champions and David Moyes' current squad...
 
We're hopefully just starting off on our European journey this season, but do you see any parallels between the spirit of your 1965 European Cup Winners' Cup team and that of the modern-day West Ham United side?
There are always parallels. The key thing for me, with the success we had at West Ham at the time, was that we had a great bunch of lads.
The great spirit we had within the 1965 squad was a fundamental part of our success, and we are quite clearly seeing that today with the current West Ham team. 
People use the word 'resilience' about the players, and there's been a significant, vast improvement under David Moyes. There's no question about that. 
If you go back and pick people out from different periods of our history, you look at our manager Ron Greenwood at West Ham, who was instrumental in our success. 
[In 1966, England manager] Alf Ramsey was fundamentally hugely important to getting a team together over three years, and we've seen that with David Moyes and the current squad. That's the quality of the manager.
You can't possibly praise enough about the work that David Moyes has done with the current squad. We're seeing the resilience that people are talking about on the field, in the results we're getting and in the attitude of the players when they're playing. There's been a remarkable improvement. 
David talked about the fitness levels a while ago too, so there's been a vast improvement in fitness levels, attitude and so on. 
And with those two key things – fitness, and certainly the togetherness that you can see in the celebrations, or when the players speak – you can sense that there is a great team spirit and camaraderie, and they are fundamental issues to the success of any Club or team. 
 
How do you think your team-mates would have would have looked at this current side in terms of what they want to achieve in the Europa League this season? 
It's a great journey. We've been in Europe in the past as a Club, and we enjoyed it. 
It's great for the players' careers to be playing European football. It adds to their expertise, so it's been a great start for us and I hope we can continue it.
We want them to win it, and I think they're quite capable of it with the quality of the players and their endeavour and their attitude. All of these things are key things, and we could be successful this year. 
There's a long way to go yet, but it's a great start. 
As we celebrate your fantastic achievements and your team's legacy in the Club's new statue, how much scope do you think this team have to write their own history at West Ham? 
Well, they've started well. I think we look forward to continued success in the Premier League, of course, and in Europe and in the League Cup and FA Cup. 
I think an issue could be that trying to compete in four tournaments, and playing a couple of games a week in a very competitive league, a competitive UEFA Europa League and Cups that are competitive, is going to be quite a hard task. 
The key thing for me is, of course, to maintain your position in the Premier League. That is fundamentally the most important thing.
But I think David Moyes has mentioned it does give the opportunity, with four tournaments to play, to other players who are coming into the side as well, who are proving they can come in and compete for their position.
It's giving them an opportunity to play, as opposed to having just one competition in the Premier League, so that's quite healthy for the squad as a whole. 

And with the new statue being just outside London Stadium, do you hope that, with our European past, the current squad can be inspired by that?
I think so, yes. I think the current squad can look at what can be achieved and what has been achieved here. 
It's not just the 1960s we've been involved in cup competitions at West Ham. Subsequently, we've had some good years. 
We've won the Cup other times, so it does leave a legacy. It does leave a bit of a competitive nature for the current squad to think, "well, you know, they've done it" – and maybe it started with us in the 1964 FA Cup!
Maybe winning the Cup once, subsequent teams have looked at that and said: "We've done it. We've broken the barrier of getting into Cup finals and doing well." That's a great legacy to look at.
We've done it again a few times since, so that's something that the players know the Club is capable of doing, with the size of the Club, the quality of the Stadium, the quality of the fans – we're getting 60,000 each week – and now with the competitive attitude of the team. 

When fans come and visit the statue outside London Stadium, what do you hope they see in it? 
I hope they think I'm very good looking!
No, I'll hope they'll enjoy it and remember the fantastic past we've had as a Club, and hopefully we will continue it. 
In my opinion, no question at all, it can be achieved by the current batch of players and the leading manager we have in David Moyes. 
I think we've got a very good chance, with the group of players we have and the way they're playing. We've been seeing it for 18 months now. It's quite evident in the results we're getting and the attitude of the players.
You can pick all the players out, but if I were to pick just one out, I remember Jarrod Bowen, playing up front, slide tackling people a couple of games ago. He was in the attacking third, but he's there tackling people, making sliding tackles like a defender! 
That single thing shows to me that he typifies that group of players and the resilience I mentioned earlier, and shows what can be achieved with the right attitude. Players have to be both physical and have a great attitude, as well as have the technique. 
You cannot possibly succeed at any level in any game without both good players, and the correct attitude for the 90 minutes that they're playing.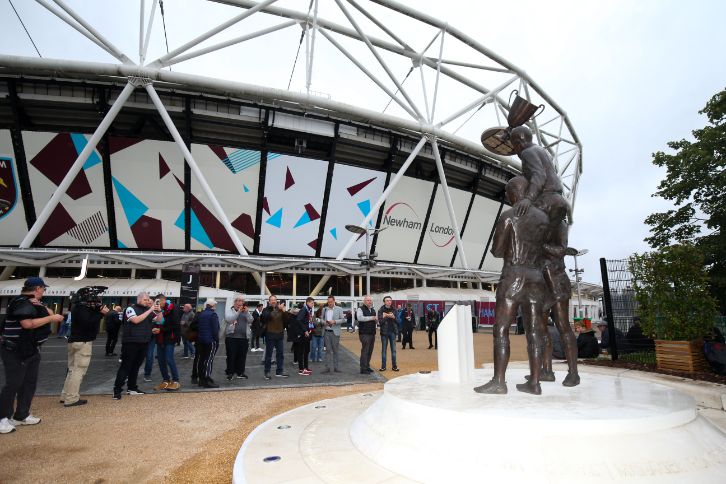 And finally, tell us a little bit about your theatre tour, and what fans can expect from it!
Yes, we've got some theatre tours. I've done a couple a couple of years ago, I had a schedule listed before this awful pandemic, which cut everything, naturally, short. 
We start again in late October. I've got a couple before Christmas and lots after Christmas in mostly February and March, so it will be nice to get back to some kind of normality. We have a little format which has worked very well, and it's quite an enjoyable thing for me!
The VIPs can come on stage now and have the opportunity to meet me, then I speak for a while about my life and career and there's usually a bit of a Q&A with Terry Baker, my agent, who runs these shows, and the audience have some time at the end to ask the questions from the floor. 
It's quite enjoyable and very well organised. The times at theatres are quite strict, so it doesn't go on for hours and hours and hours! They've been working very well, so I'm looking forward to starting off again in late October. 
 
For more information or to book tickets for Sir Geoff Hurst's upcoming Theatre Tour of UK cities, please click on the event page here.
You can also click here for Part One of Hurst's interview about the statue itself, and here for Part Two about his beginnings at the Academy of Football.