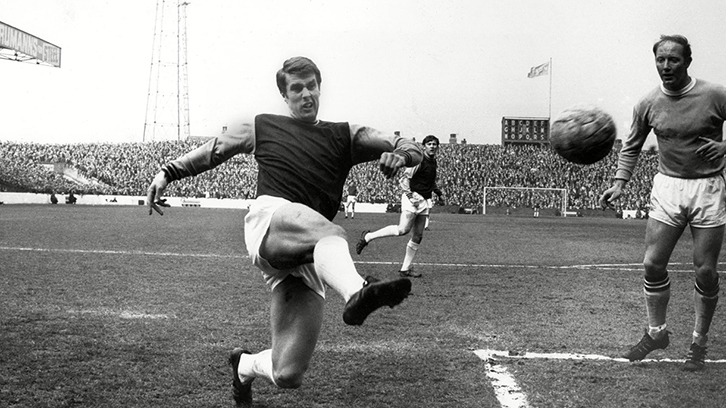 Seldom few careers glittered in Claret and Blue as brightly as that of Sir Geoff Hurst.
One of the most famous English footballers ever to have lived enjoyed a plethora of extraordinary moments for both Club and country, with 249 goals for West Ham United, a FIFA World Cup final, three Hammer of the Year awards, and FA Cup and European Cup Winners' Cup winners' medals for his Club to his name.
A pivotal player as the Hammers reached the very pinnacle of the game, Hurst was in attendance last week as 'West Ham United's European Champions', a statue paying tribute to him, Bobby Moore, Martin Peters and the Club's 1965 European Cup Winners' Cup victory, was unveiled at Champions Place outside London Stadium.
But Hurst will never forget his humble beginnings at the Academy of Football, where his career and life transformed, and - in the second instalment of a three-part interview - sat down with whufc.com to discuss the influence of his coaches on the rest of his sparkling career...
 
Our Captain, Mark Noble, has previously talked about the importance of celebrating our heritage at the Academy of Football, and it's that set of values, isn't it, that define West Ham?
It is remarkable what you can achieve if you go to the right place, and that place has got an Academy, you've got senior players who are interested in coaching, and you've got the success with Ron Greenwood taking over. 
As Harry Redknapp would say, Ron's the best coach he'd say he's ever worked with, and Harry's been involved in football for a long time, so that's his kind of stature. 
Ron took me, within three years of placing me up front for the first time against Liverpool in September 1962, from a midfield player that was playing more cricket than football, to playing in an FA Cup final, a European Cup final and winning a World Cup – so my own particular story is amazing.
I think, significantly, England could win the World Cup again – things are going very well – but whether we will ever see a Club providing the captain and two goalscorers [in the Final with] England winning a World Cup, that is going to be hard to beat. 
You will probably never see that happening again, and that all started with the Academy.
It all started with our coaching and our upbringing, all of us coming from nowhere, just local kids, to what we could achieve in the right area, in the right club, with the right Academy. 
You know, it's just like a bunch of schoolkids, just growing up, the way you start. We were just teenagers when we all started, and it's amazing what you can achieve in the right surroundings.
We were very fortunate – Bobby, Martin and myself – to be around at the time, to grow up at that time when things were happening within the Club and with the Academy. 
You don't really appreciate it at the time, but then you look back, as we are doing with that statue, of what can be achieved at the right Club.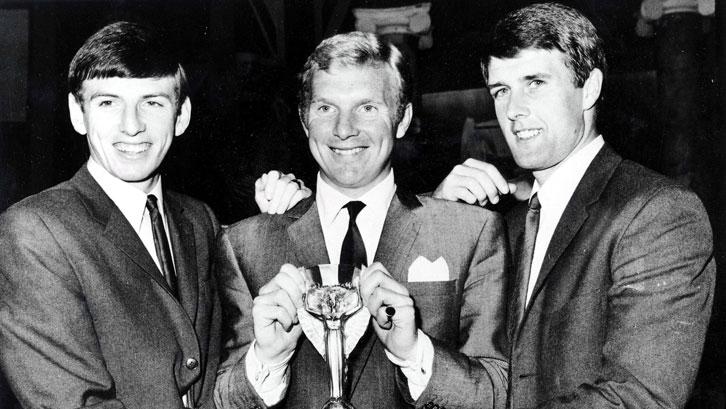 You mentioned in your book that you could have been a cricketer, or even a centre-half! Tell us more about how Ron Greenwood took you on that journey to becoming a forward – how did you achieve that together?
Two things: firstly, teaching. Coaching, teaching with the right teacher. You see how important it is that kids talk about their teachers at school and the impact they had on their lives. We were very fortunate to have one of the best coaches we've ever seen and a great teacher. 
The other thing needed is the attitude of the pupils and the people themselves. One thing I think I do have, whatever my failings are, I've got a pretty good attitude. 
He saw something in me, Ron, as part of the tactics of putting me up front. He said as a midfield player, I liked to get forward, but I didn't like to get back, so that was obviously an important factor for a front player! You wanted to get forward and get in the box and score goals. 
Really, from a standing start, up front in 1962, I think I played about 27 games and scored about 13 goals, having been a midfield player and centre-half at school, so the transformation and the coaching, that was the key thing. 
In particular, we developed the near-post cross, where we worked on the training ground with cones where the full-backs should be. We were taught – every player was taught, right side or left side – don't get past the cones, whip it from behind the cone, past it. 
Prior to that, the winger had to beat the full-back before you got the cross in, but we started knocking balls in past the full-back without beating them. 
That created Martin's goal to me, a fantastic near-post cross against Argentina [in the 1966 World Cup quarter-final] where I scored the only goal of the game. That was created on the West Ham training ground under Ron Greenwood. 
Out of the many things that Ron told us was, with a free-kick, a corner or throw-in, if it's on, do it. Don't wait to set it up. If something is on and you can see it, do it, and that was a classic example of Mooro's free-kick to me for the first goal against Germany [in the Final]. 
We worked together. He took it, he saw it, he was only a yard away so he could take it quickly. I've left the space in the box, and the two things get together and you score a goal. 
And, quite remarkably, the German defender was probably about five yards from me in the middle of the box because two players, thinking alike, were taught to do things quickly if it was on, so these things that we were all taught on the training ground, we were taking now into World Cup finals – and that says so much.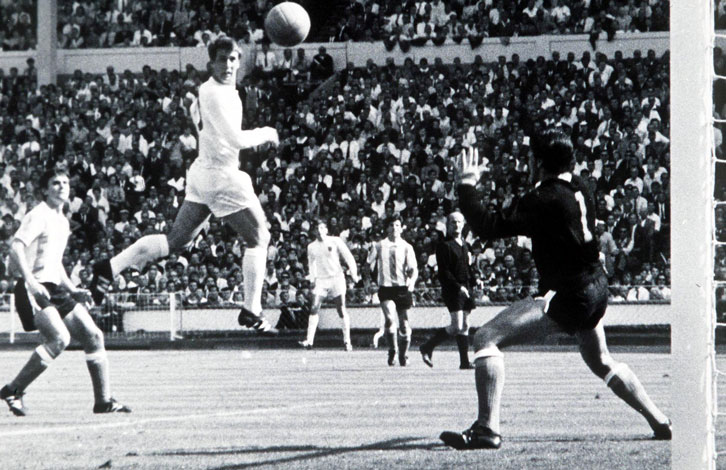 When you hear your list of achievements in West Ham colours – 249 goals, six in one day against Sunderland, three Hammer of the Year awards, the World Cup final hat-trick – were you aware of the magnitude of what you were achieving for West Ham at the time?
I don't think you're aware at the time what was happening. If you look back, with great enjoyment, at what we achieved… well, you just do what you've always done and just enjoy playing and being with the team. You're not really completely aware of the magnitude. 
I think with the World Cup Final itself, I don't think we were ever aware at that time how big it was. My first emotion, really, after the Final, was one of relief that I got through it, but the enjoyment of being that successful just simply lasts forever. 
The country hadn't really played in World Cups back then. World Cups were not big. We weren't playing in European tournaments regularly in this country at Club level, so coming into it, the expectancy was so-so. 
I think we felt we had a good side, we hadn't been beaten for a year, but the country's expectation was not that high.
Subsequently obviously winning it and 30 million people watching it, since then, it's raised the level of expectation and excitement for England playing in World Cups, I would argue very strongly from that time.