Seldom few careers glittered in Claret and Blue as brightly as that of Sir Geoff Hurst.
One of the most famous English footballers ever to have lived enjoyed a plethora of extraordinary moments for both Club and country, with 249 goals for West Ham United, a FIFA World Cup final, three Hammer of the Year awards, and FA Cup and European Cup Winners' Cup winners' medals for his Club to his name.
A pivotal player as the Hammers reached the very pinnacle of the game, Hurst was in attendance last week as 'West Ham United's European Champions', a statue paying tribute to him, Bobby Moore, Martin Peters and the Club's 1965 European Cup Winners' Cup victory, was unveiled at London Stadium.
Encapsulating the celebrations which greeted West Ham United's finest hour – a 2-0 victory over TSV Munich 1860 at Wembley Stadium on 19 May 1965 – the statue depicts Peters and Hurst hoisting Moore – and their silverware – aloft on the duo's shoulders.
The names of the full triumphant team, as well as manager Ron Greenwood, have also been immortalised on the plinth of the statue to truly capture a collective and historic success. 
Reflecting on its unveiling, Hurst sat down with West Ham TV – in the first instalment of a three-part interview – to discuss the new landmark to visit at Champions Place…

Sir Geoff, how did it feel to see 'West Ham United's European Champions' standing tall outside London Stadium for the first time? 
Well, it was fantastic to see the end result, and it was really rewarding to have as much time getting involved in looking at some of the details of it. 
The year went by very quickly. It was over a year ago when we first went down to Greenwich to look at the beginnings of the mouldings of the statue with Roberta [Moore], Mooro's daughter, and Kathy [Peters], Martin's widow, so that was enjoyable, meeting them. 
I hadn't seen them for a while, so that was good in itself, and that part of the process was very enjoyable.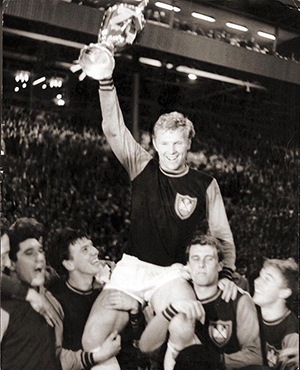 How do you personally remember the moment that it encapsulates? 
Well, the crazy thing about the moment and the statue is that the three of us were in the original photograph purely by chance, and exactly the same thing happened in 1966!
Winning that tournament, the three of us were in it again, along with Ray Wilson, who was in that picture because he had to help Mooro's left leg up! So, purely by miraculous coincidence, on two occasions, the three of us were in the picture with Bobby on our shoulders, so that was amazing in itself. 
It really encapsulates the success that we achieved both in 1964 [the FA Cup] course, which you've got to mention, and 1965 and of course, in 1966.

And you worked very closely on minor details to capture not just the moment, but the characters behind it…
Yes, that was also fun! I think Roberta was slightly more active than Kathy or myself to add a bit more detail, particularly with Mooro. 
I noticed, and they wouldn't have noticed, that Martin wore shinpads, and Bobby and I didn't wear them, so that was something – a little detail. We went into that kind of detail. 
I thought Martin's thighs were a little big in the initial design a year ago. Martin was quite a slender individual. You look at footballer's thighs, and generally speaking, they're quite solid, looking at Mooro's particularly in the shot. 
Martin was quite a lean individual, so I think the sculptors took a few inches off his thighs, so we went into that kind of detail, and in the face and in the hair.  My hair wasn't quite as parted, when I had hair! 
I can't remember that far back, but those were some of the details, so that part of the process was very enjoyable, to meet them again and go through it and really help with the real detail.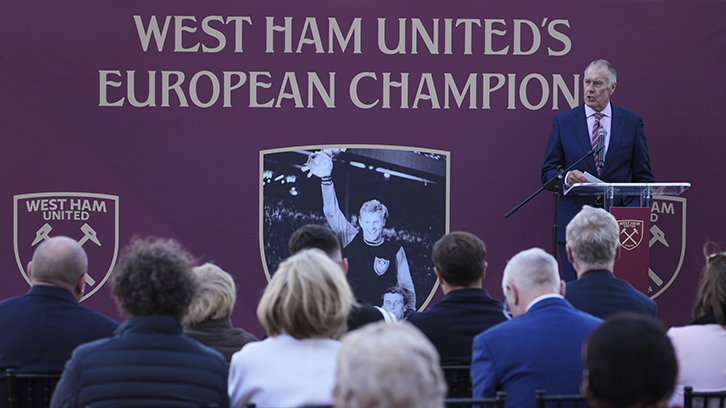 It's been a tragic time, with the recent losses of Jimmy Greaves and Roger Hunt. That photograph of yourselves as 1965 Cup Winners' Cup champions is so closely tied to a similar photograph from 1966, wasn't it? 
Yes, it culminated in that. The timing was sad because of the loss of two players and, of course, they were two players who I was vying for my position with for England. 
It looked prior to the World Cup that it was going to be Jimmy Greaves and myself who would be selected, because of the numbers we were given out of 22: Jimmy was given his club number at Spurs, which was No8. I was given my club number, which was No10, and Roger was given No22, so it looked like, at that stage…
In the pre-World Cup tournament friendlies, we played in Scandinavia and Poland. Jimmy got four against Norway, as usual. Roger, I think, got the winner against Poland, so he'd scored one or two beforehand. 
I probably had maybe a slight dip in form. I'd only played three or four games, so I was utterly and completely new. It's ridiculous, when you look at it!
Martin's first game, when I played with Jimmy, was against Yugoslavia, which was only a couple of months before the World Cup. I mean, that story in itself is astonishing. 
I didn't play so well prior to the tournament, so I always jokingly say that Alf Ramsey started off in 1966 with those two very average players: Jimmy Greaves of Spurs and Roger Hunt from Liverpool! Two of the greatest players we've ever had in this country, both playing for their fantastic clubs. 
I sat on the bench in the first game. My thoughts were that I was just happy to be in the 22 players, and I've said this before, but I never, ever dreamed that I would play for England – that was never on my radar. I always felt I was doing well for West Ham and I was happy with that, but it was never, ever, for one second on my radar to play for England. 
But retrospectively, looking back today, looking at my record at the Club prior to the World Cup in the Club games, and with the success we'd had at Club level in 1964 and 1965 – which also helps, when your Club is successful – I felt probably I should have been picked for England maybe two or three years earlier. 
That's how you view things in time. 
 
The statue encapsulates yourself, Martin and Bobby, but every member of the squad's name is on the plinth as well, as well as Ron Greenwood's. How was it reuniting with a number of your team-mates at the unveiling? 
That was a lovely part of the day. In fact, I bumped into Kenny Brown and Ronnie Boycey over breakfast with their wives! 
That was also a nice part of the day, a very enjoyable part of the day, and a very emotional part of the day.
Funnily enough, coming into it, I wasn't sure how I was going to feel about being there and being involved, but getting there and seeing the video clip of it [the 1965 Cup Winners' Cup victory] in the room where we first met, and bumping into the lads I'd played with or I hadn't seen for some time, that really got me fairly emotional right away.
You started to relive the fantastic times that you had with them and the enjoyable times, both on and off the field. 
I mean, in 1963, of course, we went to the United States together – my first trip on an aeroplane – from Prestwick in Scotland, going to New York as a 21-year-old. And I was just in New York, playing against these foreign teams!
It was a great education for us, and that all stems from Ron Greenwood's thoughts about playing against quality teams, so that was a fantastic start for me in the summer of 1963.
I started scoring goals right from the beginning as a front player in 1962 and 1963, and in 1963 I think I was top goalscorer in the season. It was a continuation of the success that the team had, and that I had personally.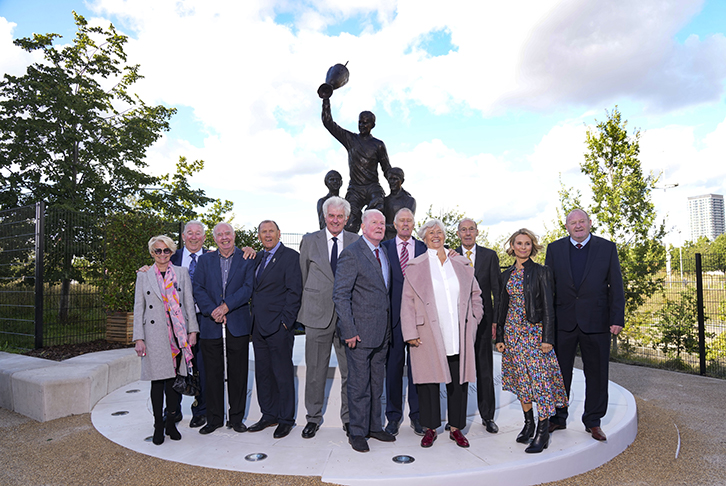 West Ham United has such incredible foundations. As we try to build as a Club for the future, how important is it that to have that link to our history and heritage at London Stadium? 
It's very important to look at all the clubs, and our Club's history in particular, to see, in a sense, where it all started, because that's such an important era for the Club.
Initially to move up, of course, from the second division [winning promotion in 1957/58] – we'd been in there for a long time – and then, within a few years, we go and win the FA Cup! 
We hadn't been in an FA Cup Final since 1923, which was the first one when we lost 2-0 against Bolton. 
And then in 1965, we became only the second [English] team to win a European trophy. I mean, it's phenomenal!
And it was the start. The Academy [of Football] started then. If you look at the late 1950s and that team, people were very influential in wanting to be more coaching-focused, more detailed in running a Football Club in terms of the coaching side of it. People like Malcolm Allison became a successful coach, of course. Dave Sexton became a successful coach, and so on. And I think that you saw the starts: Noel Cantwell, of course, then went to Manchester United.
They were very keen. You could see a change then in the kind of training which we started to do, from not [just] running up and down, you know, a cinder track.
Every player had a pair of spikes, and you'd do sprinting sessions on the cinder track at the side of the pitch. Within weeks of Ron Greenwood taking over, the spikes were discarded, straight out the window, and we phenomenally – what a revolution – wore football boots and played with a football for most of our training!
That was how it was started, so those periods of time, coming out of the second division and within a few years getting to an FA Cup final… I've used the term: "it's a joke"! I saw Tim Henman talking about Emma Raducanu, who won the US Open – she didn't drop a set at 18 years of age and was initially only a qualifier – and in the middle of his discussion he kept using "it's a joke, it's a joke."
I look back at that time of my life, you know, and it's a joke, in a way, because I joined West Ham, but nobody was chasing me as a kid. 
A friend of my father wrote to West Ham and asked them for a trial. I was not necessarily always going into football, as some kids want to do. I wasn't too bad at school. It wasn't really on my horizon that "I've got to go into football". 
But a pal of my Dad's wrote in, West Ham replied first, and that was it: my first job interview, from leaving school, was a trial at West Ham United.
I got lost on the underground coming from Chelmsford the first day, the first day I went to, so I missed the first trial, but I basically found the way on the [London] Underground. I'd never come across an Underground, of course, I lived in the sticks in Chelmsford then, so that's part of the amusing story I always relate. 
I look back with astonishment and amusement at some of the early periods of my life.