With just seconds left on the clock at Rush Green Stadium, West Ham United led Arsenal 2-1 in their final game of the 2020/21 Premier League 2 season, and Division 1 safety looked assured.
It was a match the young Hammers had dominated throughout, in keeping with the fine form they'd shown in winning four and drawing two of their preceding seven matches – a run which had boosted them from bottom of the table to outside of the relegation zone.
Then, from nowhere, an Arsenal set-piece saw the visitors equalise – and the young Hammers' fate was suddenly out of their own hands.
U23s lead coach Dmitri Halajko and assistant Steve Potts were one many Academy of Football coaches left awaiting the result of the final Premier League 2 match of the season between Leicester City and Liverpool U23s, some three weeks ago.
The Reds' 2-0 victory finally secured the Hammers' safety, leaving Halajko and Potts to reflect on a season defined by challenging circumstances – but also possessing no shortage of positives to draw from. 
 
How did it feel to secure Premier League 2 Division 1 safety for another campaign?
Halajko: We were really pleased. We feel that it's deserved. We've probably had a handful of games where we felt like we didn't perform particularly well, but we think that we've had enough good performances to warrant being in the top division. 
Potts: After playing well at the start of the season, but not getting the points we sometimes deserved, to see us get ourselves out of trouble and climb out of the bottom two to stay in the division was a great achievement by the lads. 
They put in a good effort over the last eight games or so. From the players' point of view, to continue their development next season against the likes of Manchester City, Chelsea and the other big clubs next season is huge.

What was the development squad's highlight of the season for you? 
Halajko: This season, we really enjoyed our Papa John's Trophy experience. We qualified out of our group, when we didn't manage to last year, winning all three of our group games and only conceding one goal. 
We eventually got knocked out by Peterborough, who have gone on to get promoted from League One and were certainly one of the better teams in the competition. 
We put in some good performances against men's teams and that was an important part of showing our progression. Hopefully next season we can look to improve even further.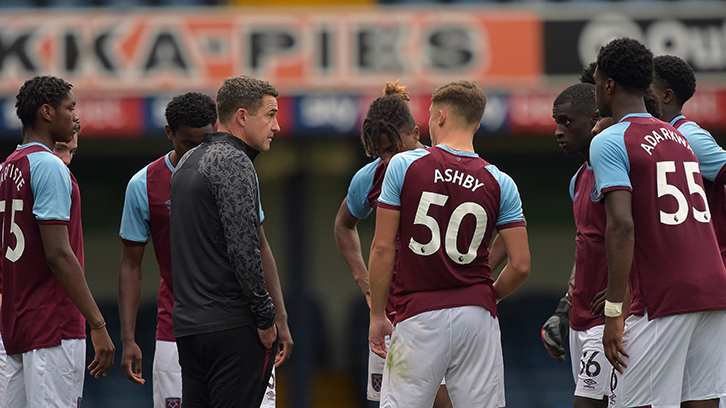 How did the players adapt to the change in divisions in 2020/21?
Halajko: In terms of being on the ball, I think we dominated games this season in this division, like we did last year. We've continued to try and play attacking, fluid football, but the bit that we maybe haven't done as well is capitalise in both penalty boxes. 
There were times in the opposition box when we could have finished off our chances slightly better after a passage of great football. Then, in our penalty box, we've had times where we've been slightly soft. The overall philosophy in the middle of the pitch we're happy with, and we'll continue to develop.
Potts: That's what it's all about, gaining that experience. Last year, when we went behind in games, we knew that we'd at least come up with a goal or two. 
This year, when the results didn't start going our way, it was a case of keeping spirits up because we were happy with the performance levels, we just couldn't get over the line. I think that was the difficult side of it really, and that's football at the top end. 
You're going to get bad results, and it's about how you keep going and come through those tough periods. Fair play to the boys, they found a way of winning and getting the results towards the end.
Halajko: Our results during the first half of the season we felt were slightly unfair. We felt like we were in mid-table form, but were down at the bottom, but in our last eight games, it was top three form with the number of points we were picking up.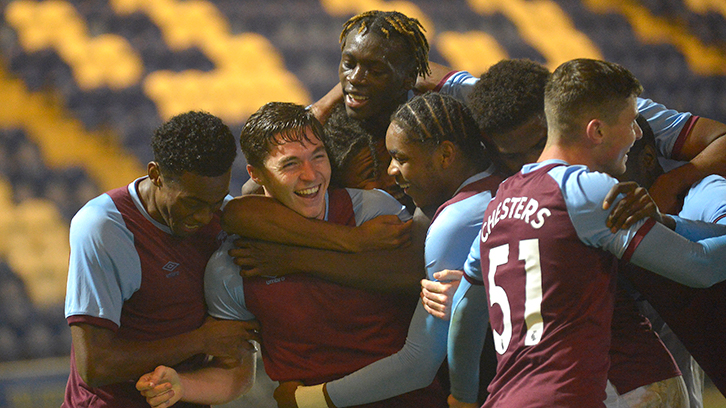 Which performances and which results stood out to you this season?
Potts: A real turning point for us was the 1-1 draw against Liverpool away in March.
We'd had a few sticky results before then and we'd leaked too many goals. Coming off the back of those games, and with a young team up against a club like Liverpool… but we probably should have won the game, and looking back I think that have us a little bit of confidence for the run-in. 
We had a mixture of senior lads and younger players playing and that might have just been the springboard that we needed for the rest of the season to crack on from there.
Halajko: I'd probably go for Manchester United away [a 3-2 win in March] – and I think I went for that one last year as well! To go away to Manchester United and get a last-minute winner is what football is all about. 
I'd say that for the excitement, the drama and that never-say-die attitude the lads showed to keep going from 2-0 down and not give up. To show resilience and back themselves, and ultimately come away with a result at a really tough place to go and play... 
We had a young team that day as well, starting with lots of youth team players. We've had a lot of youth team players play for us this year and that's been a real positive. That day, we had a nice blend of some of lads who have been around the U23s for a season or two and some of the youth team players showing exactly what they are capable of.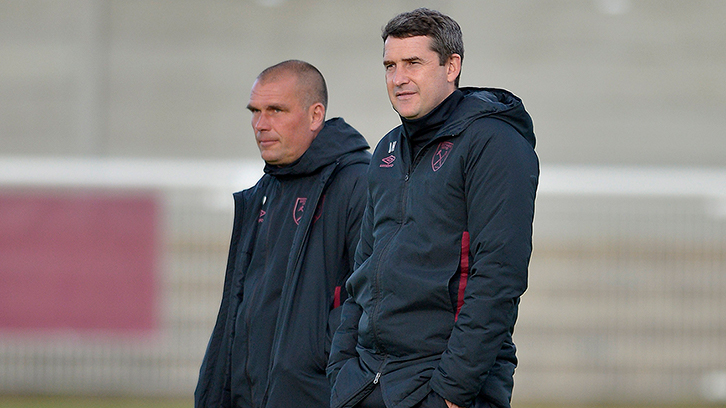 What aspect of the players' performances this season have you been most proud of?
Potts: It's been a tricky season with COVID-19. We've found parts of it challenging as coaches, and as part of the rest of our staff. 
From the U23s point of view, sometimes we've been training with small numbers, but the biggest credit I can give them is that, come matchday, we've put a team together, put a squad together and rolled out a game plan. 
For them to gel together and get performances like that has been really pleasing. 
Halajko: Resilience would be the main thing. West Ham United have been brilliant as a Club in supporting us through this tough time, and we're very fortunate to be able to work in such an environment while there have been these challenges that everyone has had to overcome. 
The lads have always stayed positive and got on with it, and they've had the resilience to bounce back from the ups and downs that the season has had. That will stand them in good stead for the future.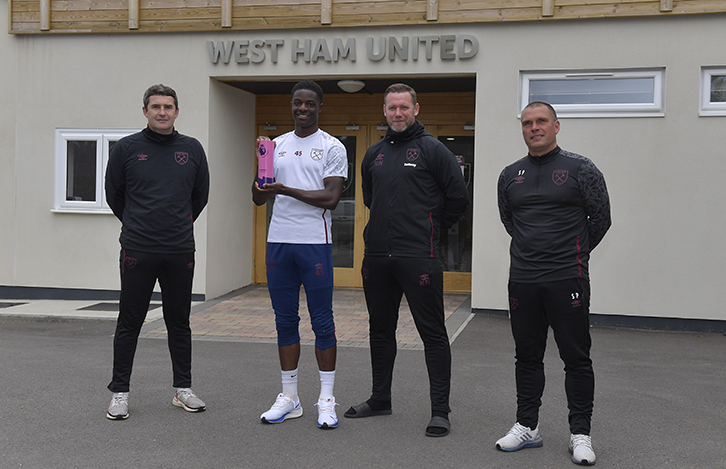 The U23s players and staff have worked so closely with the first team this season…
Potts: It's great that the coaching staff take such an interest in the U23s. It's a huge incentive for the lads to know that they're watching, and that a good performance could catch the eye of David Moyes and get themselves around the squad.
They've watched so many of our games, they've got a great idea of what the boys are all about.
Halajko: It's been great. Kevin Nolan is probably the strongest link; we speak to him day-to-day. Our lads have the opportunity to train with the first team regularly, and if they're not with them, then they're on the pitch alongside them, which is really unique. 
At many academies, the U23s work from a different site. Ours is close. Ours is joined up, and the coaches take a keen interest. They come to the games, they watch them training and they know all of the players on first-name terms. That relationship is really key to making the transition at any football club.
That played a part in the seven first-team debuts we had this year; the first team knew the lads and what they were capable of, and when they needed players, they knew who to call upon - and when.