Club
Update for our supporters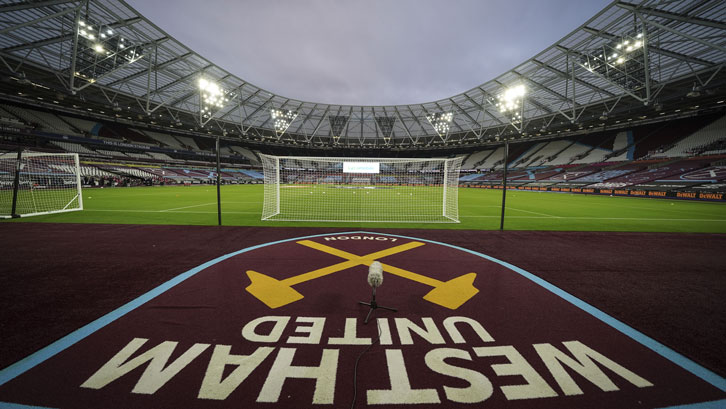 Following the Government announcement that England will go back into a national lockdown this week, the Club would like to reassure you that we remain fully focused on preparing for the safe return of fans to matches, along with continuing to support and care for those in our community most in need during this difficult time.
As always, our absolute priority remains the health and safety of our supporters, players, and staff, and the thoughts of everyone at the Club are with everyone who been adversely affected by the COVID-19 pandemic, particularly those who have lost loved ones, and those who have suffered physical and mental health difficulties.
It is now more than eight months since the Club last played a first team match with our supporters present. During this period, we have seen that football simply isn't the same without fans, and also been reminded of just how important the game is to so many people across the world.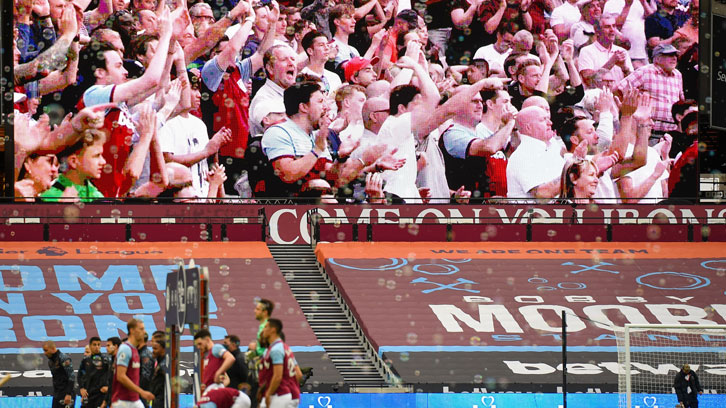 Work continues behind the scenes to ensure we will be ready to welcome back first and foremost our Season Ticket Holders followed by other match-attending fans as soon as the Government give the green light. With 66,000 physical seats inside London Stadium, we believe we are in a strong position to ensure that a substantial number of our supporters can attend matches while following safe social distancing measures.
London Stadium has some of the most accessible transport links and significant exterior space around the stadium to ensure a safe and socially-distanced ingress and egress, both of which highlight why we are as well placed as any other Premier League club to welcome our fans back, once the time is safe to do so.
We have put rigorous plans and processes in place – in strict compliance with Government guidelines – to make London Stadium as safe as it can possibly be for all spectators, and we can't wait for the day the Claret and Blue faithful are back in their seats cheering the team on.
Until then, we will continue to do everything we can to ensure that all of our supporters are kept up to date, informed and as close to the Club as possible, as well as continue to enjoy the experience of following the Club remotely as David Moyes and his players look to build on their strong start to the new Premier League campaign and push further up the table.
Virtual Mascot Experience
With this in mind, we have created a virtual complimentary mascot package to give young Hammers between the age of 6-12 with a stay-at-home match day experience like no other. There are six virtual mascot places for each home fixture, and winners will be selected from Junior Season Ticket Holders and the public at random.
The package is free, and parents can sign up their child using the registration form to be in with a chance of being selected for the upcoming fixtures at London Stadium. That is just one initiative we have launched recently, while we will share more details regarding further enhanced matchday experiences from home and digital events in due course.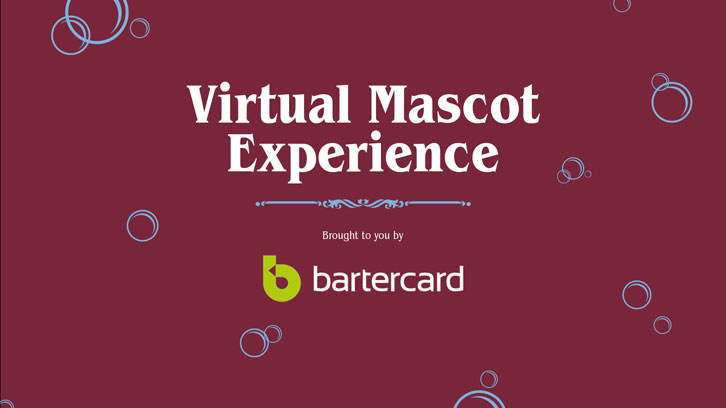 Refunds before Christmas
We are also pleased to confirm that Season Ticket Holders will receive their pro-rata refunds for our recent Manchester City match next week and the next four home fixtures – against Fulham, Aston Villa, Manchester United and Crystal Palace – BEFORE Christmas as the Club has brought forward the payment dates for all five fixtures as we understand and appreciate that in light of the latest announcements supporters are unlikely to attend matches before Christmas and there may be a greater need for this among our supporters over the festive period.
Season Ticket Holders can still take advantage of the Club's offer to add a further 10% to any match refund that is selected in Club Cash, providing a convenient, transaction-free way to boost your balance. With Black Friday discounts to look forward to and Christmas shopping coming up, this is an ideal time to have Club Cash to spend in official club stores and Club Cash retained can also be used against your 2021/22 Season Ticket with the further 10% representing a significant saving.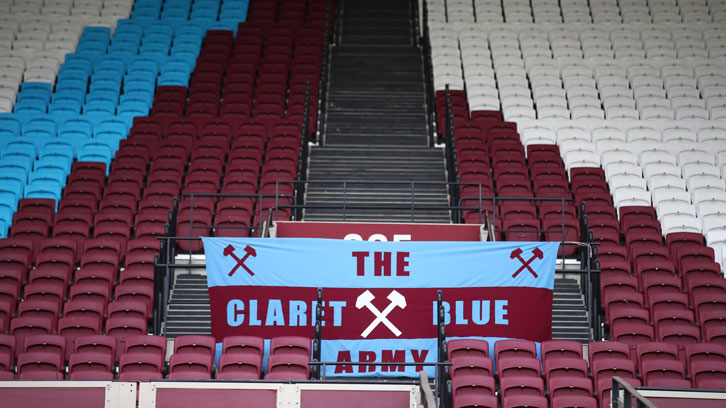 Broadcast fixtures
Elsewhere, we hope for a positive outcome later this week when Premier League shareholders meet to further discuss the issue of pricing levels for the pay-per-view (PPV) fixtures. At the most recent shareholders' meeting, West Ham United expressed our view that the PPV price per game should be cheaper, especially as we understand it is an important matter for our fans.
The interim broadcast solution was proposed to ensure all supporters had the opportunity to continue to watch their team play live while games continue to be played without supporters present – something which was important to us as a Club. The continued feedback we receive from our fanbase will be considered in our future discussions we have with the Premier League, fellow clubs and the broadcasters.
This follows regular communication recently with a number of supporter groups and the Football Supporters' Association, whom we continue to speak to about the creation of a new democratically-elected supporter consultation forum.
Community support
Just as importantly, we continue to do everything we possibly can to support our local community in East London and Essex, particularly those most vulnerable and in need as we head into the winter months.
The West Ham United Foundation continues to deliver its Holiday Hunger programme, providing free healthy meals, alongside sport, to school pupils who are most vulnerable. This was in place throughout the October half-term and will continue in December and over the Christmas holiday.
This is much needed as West Ham United's surrounding boroughs are some of the most deprived in the UK and poverty and inequality levels have increased as a result of the COVID-19 pandemic. To date, Holiday Hunger has delivered over 3,000 meals across more than 50 sessions in school holidays in East London and Essex, providing more than one million calories to children.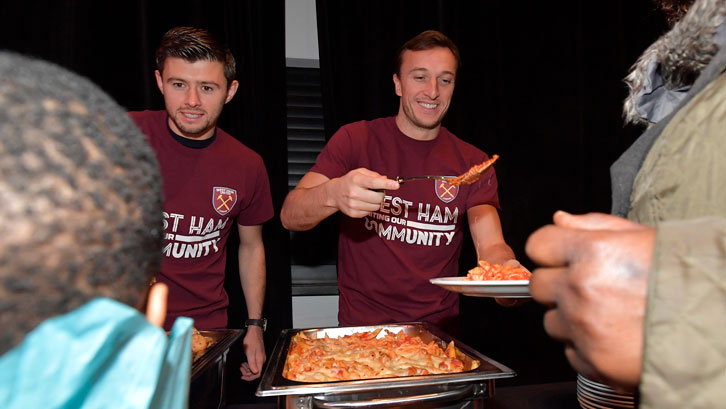 This is in addition to the recent £25,000 donation made by our Joint-Chairman David Sullivan to the campaign led by Manchester United striker Marcus Rashford, aiming to help end child food poverty in the UK. The donation was made to Fareshare UK, the UK's national network of charitable food redistributors, made up of 17 independent organisations, which take good quality surplus food from across the food industry and deliver it to almost 11,000 frontline charities and community groups.
During the COVID-19 lockdown earlier this year, the Club concentrated its efforts on supporting local foodbanks, providing and delivering food parcels to people most at risk of going hungry. Over 350 hours were dedicated to supporting holiday hunger and foodbank outreach, delivering more than 1,125 bags of food across east London. 
On top of creating more than £1.4million of annual savings to the NHS delivered through diabetes prevention via the Club's Players' Project, we also made a pledge of support for the Club's local NHS trusts across East London and Essex by committing to a range of new positive community initiatives which will help the NHS to provide vital support for patients and staff, as well as celebrated our Hammers Heroes amongst our magnificent fanbase.
Club personnel at West Ham United continue to check on and provide support to vulnerable and elderly members of the community, including the Any Old Irons group, while our players in both the men's and women's squads provide further support through the fantastic work of the Players' Project.
Supporting our staff and supporters
Additionally, the Club are committed to ensuring our employees receive the support and security they need during this time. All staff continue to be paid 100% of their salaries, despite reduced workload in some departments.
As we head into another uncertain period across society, the Club will continue to devote ourselves to doing everything we can to assist our supporters and our local community. We will keep you regularly updated across our official club channels over the coming weeks and months, and encourage you to keep in touch with us through the many avenues available.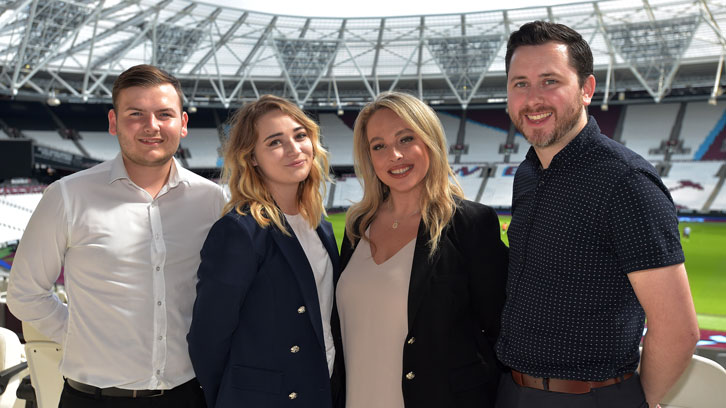 Our Supporter Services team remain on hand to answer any questions or queries you may have as well as being on hand, to receive your flags for display at London Stadium, supporter images and messages of support to display to the team on matchdays as well as any suggestions supporters have, including ideas for how we can involve you more on matchdays and recognise our fans.
Remembrance weekend
Finally, ahead of our Premier League home fixture against Fulham this weekend, we will be featuring Hammers fans in the Armed forces on our big screens, to mark our Remembrance tribute.
We would like to thank you, our loyal and passionate supporters, for your continued backing and look forward to welcoming you back to London Stadium as soon as possible.
Come on you Irons!