West Ham United has today announced the launch of a new Sensory Room at London Stadium to provide a space for people with sensory needs to enjoy Hammers matchdays in a calm and comfortable environment.
Some fans with sensory difficulties, particularly children, can experience anxiety and panic amidst the noise and numbers of a football crowd.
The new Sensory Room, developed in close conjunction with the Disabled Supporters' Board and informed by best practice from The Shippey Campaign, will offer a range of calming sights, sounds and apparatus, managed on matchdays by specially appointed staff, to help supporters adapt to the atmosphere of London Stadium in safety and security.
Supporters will also have the ability to transition between an adjacent viewing room, where they can watch on in a quieter locale, or out onto a balcony; they will be free to move between whichever experience of a match makes them feel most comfortable.
In this way, the Sensory Room – as well as this season's launch of a Weekly Sensory Hour at the Club Store and West Ham's ongoing support of Purple Tuesday – is designed to help those with sensory needs get more used to a footballing environment.
We've got a lot of supporters who have non-visible disabilities, autism being one of them, so to see this Sensory Room opening makes us really proud of the Club

DSB Co-Chair Cathy Bayford
Cathy Bayford, Co-Chair of the Disabled Supporters' Board (DSB), explained: "I think this shows that we cover all aspects of disabilities. All families should be included. 
"As West Ham United, we're a family club – we want all families to be able to come along no matter what. Nothing should prevent you from coming along, so if this can help, that would be great.
"We've got a lot of supporters who have non-visible disabilities, autism being one of them, so to see this Sensory Room opening makes us really proud of the Club."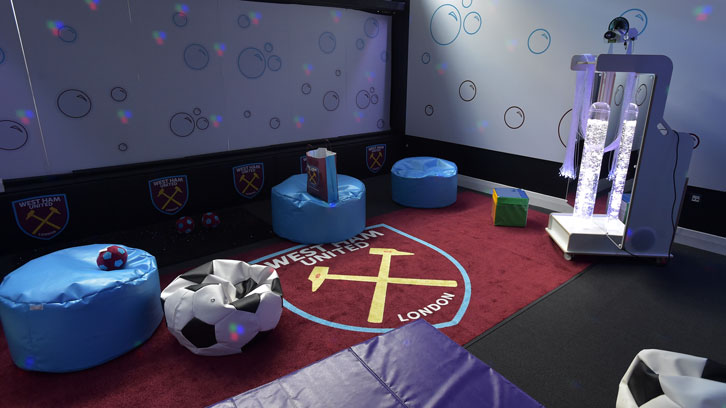 Trevor Bright, Co-Chair, added: "The thought that you're opening up that matchday experience to people who have never had it before is brilliant.  This Club is really good at working to make the matchday experience better for all disabled fans across the board."
Driven by the Disabled Supporters' Board and West Ham United, the idea of the Sensory Room was informed by parents Kate Shippey MBE and Peter Shippey MBE.
The duo founded The Shippey Campaign having experienced the need for such a facility for their own children, with the goal of forming Sensory Viewing Rooms at as many sports stadiums as they could.
"It's wonderful what West Ham have done here," Peter Shippey said. "It's helping people who would otherwise struggle to come to a match to enjoy the game and atmosphere in a place where they feel comfortable.
"Myself and my wife both had season tickets at Roker Park and the Stadium of Light. We'd both been to football matches for 20 or 30 years. Six years ago, we just wanted to take our boys to the match, but they couldn't cope with the noise and the atmosphere. 
"We saw the problem, came up with the solution, and it's brilliant now everybody's getting on board and helping fans that need it."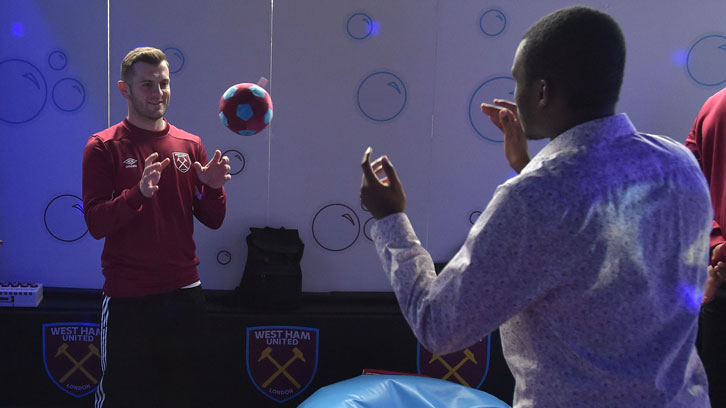 Kate Shippey added: "When you see how many people are benefitting from facilities like these Sensory Rooms, it can only be a benefit to every single stadium.
"There are so many conditions which have sensory difficulties as part of them. Rooms like this are a must – it's an essential part of a stadium now."
The new Sensory Room facility has already received the seal of approval from West Ham United's Official Private Hospital, Spire London East Hospital, as Disability Access Officer, Julie Pidgeon, explained: "We invited Spire down a couple of weeks ago. It was a professional look at the room from a professional's point of view, and they were over the moon with it."
Support for the new Sensory Room was echoed by West Ham United first-team players Jack Wilshere and Angelo Ogbonna, who attended a soft launch event last month.
Wilshere explained: "West Ham United is a massive Club and we've got a big following. We know that fans are going to have different needs, so to have somewhere up in the stands and away from the noise, which we know some fans will need, is brilliant."
For more information on the Sensory Room, please contact [email protected].