eSports
West Ham Esports unveils 2020/21 shirt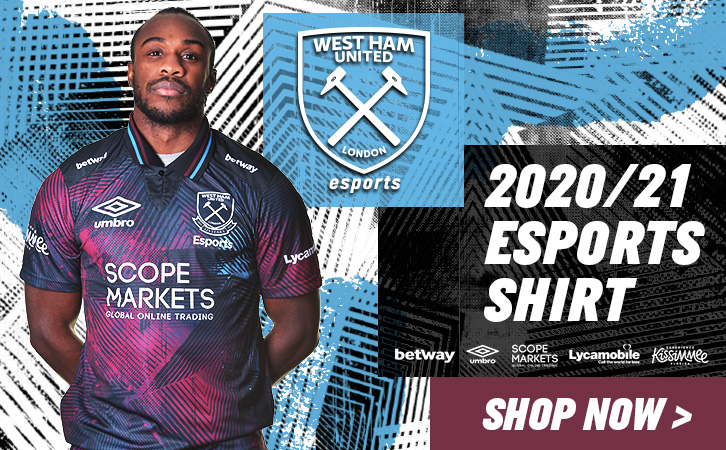 It's time to take your shirt.
West Ham United is delighted to announce the release of its limited-edition 2020/21 Esports shirt, made for gamers everywhere.
Specially designed to realise pure concentration and focus, the 2020/21 Esports shirt celebrates West Ham United's 125th anniversary and its ongoing mission to champion competitive gaming within the Premier League.
Made from 100 per cent polyester and finished with a Claret and Blue ribbed tipped collar and single button closure, while sporting the logos of sponsors Betway, Umbro, Scope Markets, Experience Kissimmee and Lycamobile, this is a shirt designed to harness your prowess in the digital arena.
 
The strip will be sported by the Hammers' three Esports professionals as they look to conquer the global FIFA 21 scene in Claret and Blue this season.
Curtis 'Paps' Poole and Jonas 'Jonna' Ghebrehiwot – last season's eDivisie finalist and champion respectively – are joined by rising star Alfie 'AC RedLac' Calder in the Irons' pursuit of a berth at the 2021 FIFA eWorld Cup next August.
As well as their individual Global Series campaigns, including their efforts in Weekend League, the players will also be uniting for the FIFAe Club Series when qualification begins later this month.
As the Club's official Esports players, Paps, Jonna and RedLac will wear the strip at competitive events during the 2020/21 season.
They will also adorn it during their daily live streams on the West Ham Esports Twitch channel, where you can step up your game by watching them in action and asking them your questions.
You could also be part of West Ham United's Esports campaign this season, with sign-ups for the 2020/21 ePremier League set to open at 5pm this Thursday 3 December.
For more exciting FIFA 21 and gaming content, follow the official @WestHamEsports accounts on Twitter and Instagram.