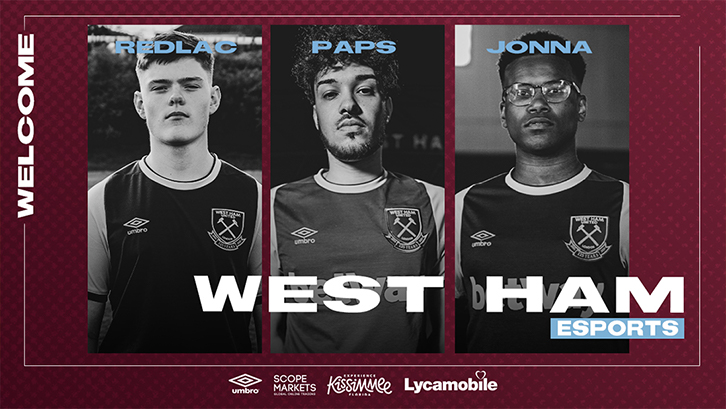 New season, new game – new all-star team.
West Ham United were earlier this month delighted to announce the arrival of three new Esports players from partners Team Bundled for the 2020/21 FIFA season.
The three new Hammers have a variety of experiences in the global Esports sphere between them, but all possess undoubtedly world-class potential ahead of the new FIFAe competitive season, which kicks off in November.
All three are going live twice per week on Twitch for your entertainment, with a mix of streams, games, tips, challenges and occasions. For alerts on when the players go live, make sure to subscribe to the West Ham Esports Twitch channel.
You can also follow their progress on the official @WestHamEsports accounts on Twitter and Instagram - but without any further ado, let's meet the three new Irons...
 
Curtis 'Paps' Poole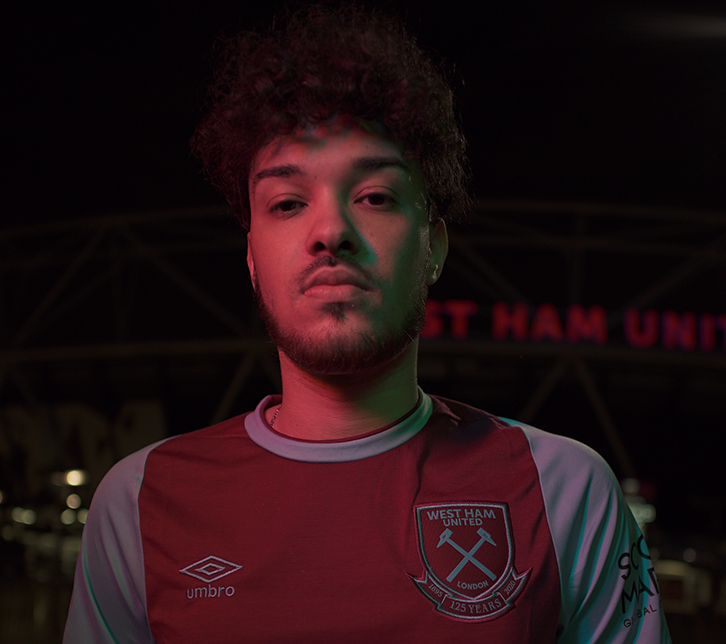 Console: PS4
Age: 24
From: Coventry
Last season: eDivisie finalist and M.V.P.; 33rd globally on PS4, 5th in the UK
A coveted player in the Esports sphere, Curtis 'Paps' Poole brings a touch of class to the West Ham Esports team.
Having first began playing FIFA competitively five years ago, winning several online competitions, Paps' breakthrough arrived when reaching the ePremier League quarter-finals with Arsenal two seasons ago.
A methodical possession-based player, Paps proved a resounding force for AFC Ajax in last season's eDivisie, claiming the M.V.P. award – the equivalent of Player of the Season – for his contributions to their season-long campaign.
"It's like real football," he explained. "You play every other team in the league, then the top two get promoted to the finals automatically and the next 12 teams have to play for a place in the finals. We finished first in the overall league season, but then we lost in the Grand Final."
While the United Kingdom's Esports scene grows year-on-year, in Holland, the eDivisie finals themselves were played out in front of thousands of supporters at the AFAS Live concert hall in Amsterdam.
"It was a crazy experience," Paps admitted. "It was unforgettable. The fans are really nice, really supportive. I'd say it was my career highlight so far."
Paps relishes the grand stage - and is looking forward to the challenge of wearing Claret and Blue accordingly.
"The challenge of top-tier FIFA is that there are a lot of expectations, because a Premier League club is so big. Pressure doesn't necessarily affect me – sometimes, I believe I play better under it.
"The ePremier League will be very important, because it's the main competition, as well as the global tournaments,"
As well as his eDivisie run, Paps qualified for three major FIFA global tournaments last season – and he is hoping to bring similarly strong memories to east London.
"I think it's a privilege to play for a Premier League club, especially one as big as West Ham," he smiled. 
"I'm really excited to see what I can do here - I had a good season last season, but I think if I work hard, I can have an even better season here at West Ham."
Jonas 'Jonna' Ghebrehiwot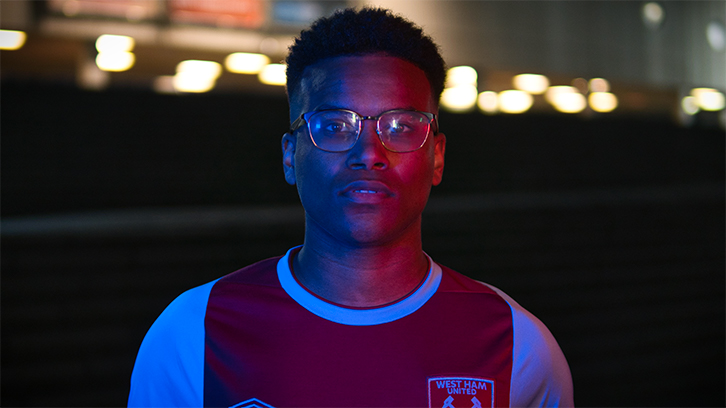 Console: Xbox
Age: 24
From: Groningen, Holland
Last season: eDivisie champion; 76th globally on Xbox
Paps' opposite number in the eDivisie Grand Final is now his teammate: Jonas 'Jonna' Ghebrehiwot won that day on penalty kicks, representing PEC Zwolle.
An ice cool, possession-based player, Jonna's was a true underdog story, as his side fought back from a low-ranking league placing to eventually win the competition outright.
Now, Jonna – Groningen born and bred, but a Premier League enthusiast – is excited for the challenge of representing West Ham United.
"It's a dream come true actually," he said. "I never thought I'd be the first Dutch player to represent a Premier League team when I started playing FIFA, so it's unreal.
"I've been watching Match of the Day every week since I was little, so I know West Ham and their famous players – it's an honour, actually!
"Obviously I had a few options in the Netherlands as well, but when my manager told me there was an option to sign for West Ham, I immediately told him I wanted to go there. This whole journey has been amazing."
Having only started gaming competitively five years ago, and playing FIFA just three years ago, Jonna's fledgling talents were spotted in an AFC Ajax competition where the prize was a professional contract with the club.
After losing out in the final, however, he was signed up by Team Bundled and, through them, PAC Zwolle, for whom he delivered memorable success against his former suitors last season.
"Winning the eDivisie in my first season… I think that was really unexpected for everyone!" he recalled. "We really worked hard for it and it was an amazing moment.
"I'm actually surprised there's no eDivisie equivalent here. Obviously there's the ePremier League, but it's not quite the same as what we have in the Netherlands. Hopefully in the future there'll be something similar - I know it's big in the UK as well, so I wouldn't be surprised if something similar happened in the UK sometime soon."
It was ice-cool nerves that saw Jonna lift such a prestigious trophy, and he promises to deliver a similar style of FIFA on the virtual pitch this season.
"Last FIFA I played 4-4-2," he explained. "It took me a while to get my tactics and everything in order, but when I get everything – the right players, the right tactics, the right formation – I'm a possession player.
"I like to have the ball. I'm a very calm person and I think I show that in the way I play. When I go behind, I don't panic."
As for the supporters, Jonna said: "Thanks for having me! I hope to do great things with this Club.
"I want to represent West Ham as well as I can. I want to play in international tournaments and play as many game for the Club as I can."
"If you have any problems playing FIFA, maybe I can help you, so come by one of my streams!"
Alfie 'AC RedLac' Calder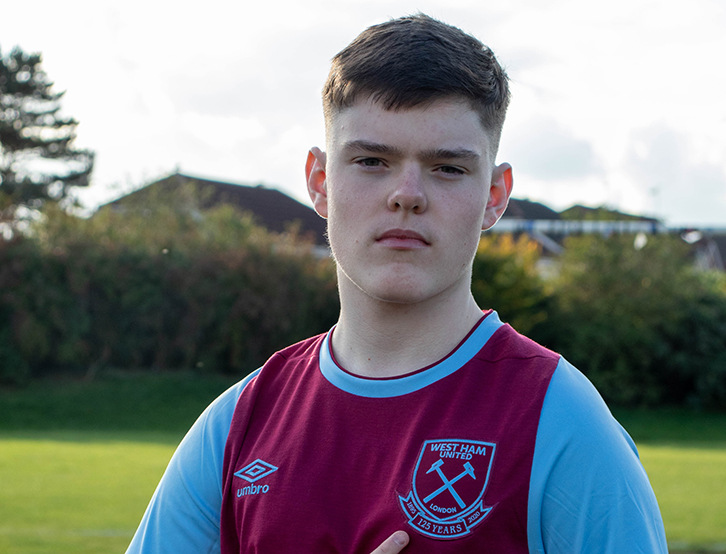 Console: Xbox
Age: 17
From: Mansfield
Last season: 18th in the UK on Xbox, self-funded
"It feels great to be a West Ham Esporter," Alfie 'AC RedLac' beams. "It's what kids dream of: representing a Premier League team. It's surreal, really."
West Ham Esports' potential diamond in the rough, 17-year-old 'RedLac' is a rapidly rising star in the FIFA world, having achieved an excellent Global Series ranking in 2019/20 without the backing of any club or organisation.
Based in Mansfield, Nottinghamshire, RedLac has grown up loving the world of competitive gaming.
"I got into FIFA by playing a lot of Division Rivals, practicing against my mates, and I just really loved it," he explained.
"I found myself coming inside to play FIFA at any excuse – if it was raining, I'd be straight indoors! I just got better and better at it and it went from there."
Now representing east London, the promising teenager is hoping to take the next step up in his Esports journey.
"Playing for West Ham is that extra motivation with what they can offer me," RedLac explained. "They can give me good advantages and a little added bit of pressure to take into tournaments. 
"I want to use that pressure. Pressure makes diamonds – so I want to into a diamond!"
RedLac is keen to entertain while doing so.
"I like to play attacking FIFA," he declared. "I think it's the best way to play, the most attractive way, and it's better for viewers and better for me!
"I know I need to develop that mature side too, and be able to keep the ball when I need to and attack when I need to.
"My dream goal for FIFA 21 is to make multiple events, do well, account well for West Ham, build up my channels, and really connect with the amazing fanbase, as well as doing well competitively."
 
You can follow all three players' progress on the official @WestHamEsports accounts on Twitter and Instagram.