It remains the biggest victory in FA Youth Cup Final history, a triumph broadcast live on Sky Sports that captured the attention of the wider football public and forced Boleyn Ground staff to hastily open extra turnstiles as more than 20,000 West Ham United fans turned up in support of the latest array of talent to emerge from the famed Academy production line.
And 20 years on, the 6-0 second leg thrashing of Coventry City on Friday 14 May 1999 – completing a 9-0 aggregate win over the Sky Blues - still conjures up wonderful memories for anyone there to witness it.
Goals from lightning-quick right wing-back Adam Newton, defender Stevland Angus and striker Bertie Brayley had put the Hammers firmly in control up at Highfield Road in the first leg, before Tony Carr's magnificent young side turned on the style with a breathtaking display at Upton Park a week later.
Led by the mercurial midfield talents of a certain Joe Cole – already four months past his first team debut under Harry Redknapp at the age of 17 – the hosts ran riot, with double strikes from Brayley and Australian striker Richard Garcia, another from Newton and one from Michael Carrick rounding off an unforgettable night.
Club chiefs had initially opened only certain sections of the ground, expecting a crowd of no more than 10,000. However, as the match kicked off with the dedicated areas already full and thousands of supporters still queuing outside, it quickly became clear that further seating would be needed, leading to the surreal sight of fans being led along the touchline and into the old East Stand as the action carried on in front of them.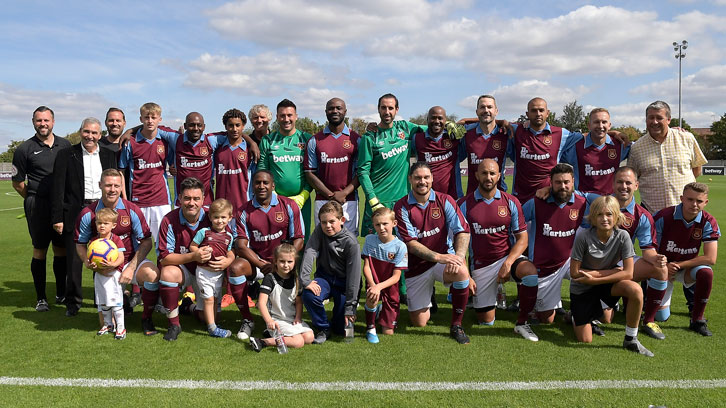 Five members of that team progressed to first team honours in the Claret and Blue, while Cole and Carrick reached the very pinnacle of the game, winning Champions League finals and playing in World Cup tournaments for England.
Beyond their playing achievements, however, is the unbreakable bond of a group of friends who started out together at the age of eleven and created a unique piece of history simply playing the game they all loved.
To mark the 20th anniversary earlier this year, the majority of the squad enjoyed a reunion at Chadwell Heath, where they and their families watched highlights of the famous victory, leading to the idea of staging a match against their counterparts from Coventry.
Thanks mainly to the efforts of Bertie Brayley – as persistent an organiser as he was a forward leading the line all those years ago! – the idea became reality and in early September, the two sides took to the field at our Rush Green training ground.
This time Coventry gained their revenge, winning a penalty shoot-out after a 2-2 draw that saw Brayley and Newton once again on the scoresheet for the Hammers. Twenty years on, however, taking part certainly meant more than the result.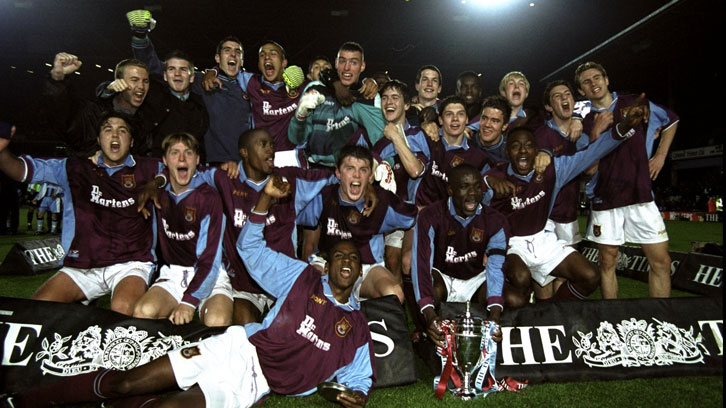 Cole, who made 187 senior appearances during two spells in the claret and blue, showed that class is always permanent with a typically stand-out performance, and explained how much the occasion meant to him.
"I've been really looking forward to it, just seeing the boys, the old tunes were playing in the dressing-room – it's been like getting in a time machine and going back 20 years!
"It's also good to see that everyone has done well for themselves. Some of the lads have had good football careers, some have got their own businesses, and they're all doing well in whatever field they are in now. And I think that is a lot to do with being in the Academy environment at West Ham. You're teaching players to play football, but it also gives you the grounding going into the world, which is just as important. 
"The fans really connected with our team at the time. All fans want local homegrown players in the team, it's so important to this club. It's part of the ethos of what West Ham is all about."
All fans want local homegrown players in the team, it's so important to this club. It's part of the ethos of what West Ham is all about

Joe Cole
Manager Tony Carr also returned to lead his boys once more in the reunion match, ably assisted by Wayne Brabrook – son of Peter, the late Hammers legend and integral part of the '99 youth team success – and couldn't disguise his pride.
"I said to them before the game: 'Let's try and create a little bit of the magic we had that night' – which 20 years later is always difficult!" laughed Tony. "They're all in fairly good shape still, though, and it's great that they've all made the effort to get together again. 
"What it shows is the camaraderie between the players, because it was a really successful year for us that year, and a great team."