Academy
1999 FA Youth Cup heroes enjoy emotional reunion
The Academy of Football was full of smiles, laughs, stories and banter as West Ham United's 1999 FA Youth Cup winners got together for an emotional 20th anniversary reunion.
Eleven members of the Hammers' all-conquering side, who also won the FA Premier Academy League Under-19 titles in 1999 and 2000, were joined by former Academy Manager Tony Carr and his backroom staff to celebrate their 9-0 thrashing of Coventry City in the final.
Captain Izzy Iriekpen and teammates Bertie Brayley, Michael Carrick, Terrell Forbes, Stevland Angus, Sam Taylor, Adam Newton, Ashley Cooper, Steven Clark, Louis Riddle and Ryan Briggs exchanged warm handshakes, embraces and tales from those famous nights two decades ago.
The players, many of whom were joined by their partners and children, also enjoyed catching up with Tony Carr, coach Paul Heffer, youth development officers Jimmy Hampson and Jimmy Tindall, kit manager Pete Williams, administrator Trevor Lewin and Wayne Brabrook, the son of late former West Ham winger and Assistant Academy Manager Peter Brabrook.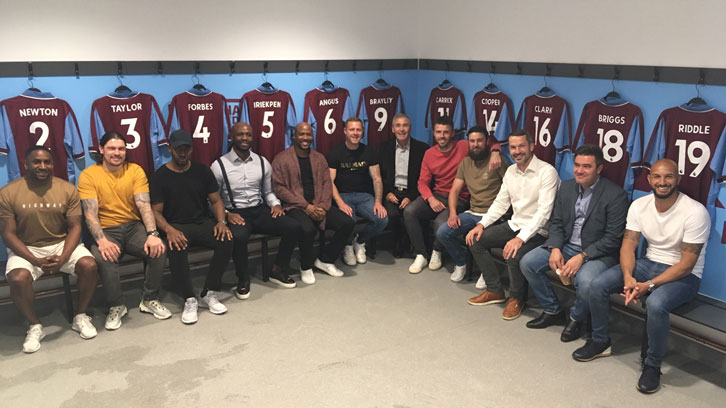 "Great memories!" smiled Carr. "That's the first time I've watched it back since that night and we played some great football and it was a great advertisement for youth football. The maturity the players showed all those years ago was fantastic.
"It was a good as any team we had. We had good players all through my time here, but that was a great advert for 'play forward and run forward' and we did that relentlessly throughout both legs. That was a feature for me. I really enjoyed watching it!"
"It's just great to see the lads," said Carrick, who drove down from his family home in Newcastle upon Tyne to attend. "We had such a tight bunch and I had some of the best times in my life playing for the youth team.
"Tony gave us some hard times, don't get me wrong, but it was tough love and part of our development, that side of things.
"The camaraderie and spirit among the boys, we were like best mates. Especially with me moving down here, these were the lads I saw and did everything with, I had not seen some of them since then, so it's special to be together again."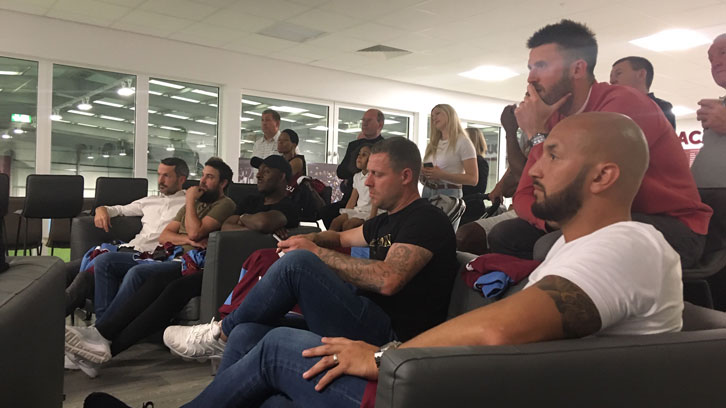 Carr kicked-off proceedings by recounting many highs of the young Hammers' run to the final, which saw them defeat Stockport County, Walsall, York City, Arsenal and Everton to set up a two-legged clash with Coventry.
The group then sat down to enjoy highlights of arguably the best youth team West Ham has ever had in action, with never-before-seen extended highlights of the final shown on a big screen.
With Carrick, Joe Cole and company in fine form, the Irons beat the Sky Blues 3-0 at Highfield Road before thrashing them 6-0 in front of 25,000-plus supporters at the Boleyn Ground.
Each goal was greeted with a large cheer, while Brayley was on the end of a ribbing after his first-leg penalty was saved by future England goalkeeper Chris Kirkland, before Iriekpen watched himself lift the FA Youth Cup amid jubilant scenes.
"To be honest, it was easy to captain the side with all that talent on the pitch," said the skipper, who said the squad had a special bond. "In every single position, we had no issues at all.
"We had Joe Cole and Michael Carrick, great players, and they just made it easy for us, plus everyone got along so well as well. Coming in every day was a dream.
"It was brilliant. At least six or seven of us lived in digs together in Romford and everyone got on, there were no arguments, and we all stay in touch to this day."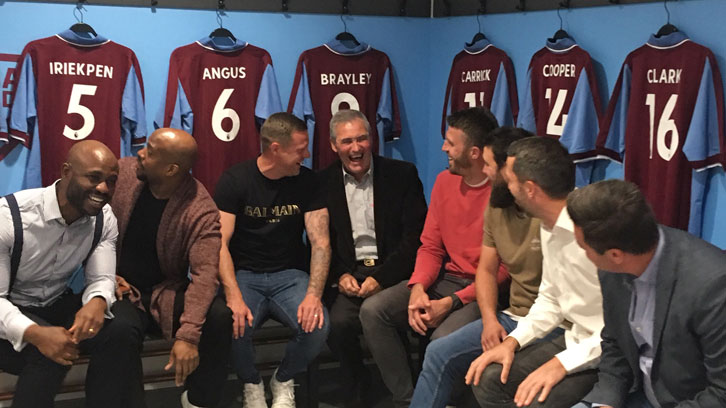 "It's always good to catch up with everyone involved, as we had been together since we were 12 years old, and recreate that special moment we had back then, so it's nice," agreed Newton, who scored in both legs of the final.
"Back then, we all had confidence, we all knew our strengths, we didn't have any weaknesses and all knew what we were about. We always played good, attacking football, always wanted to win and went forward looking to score, so it was good."
After video messages from Cole and Richard Garcia, it was then down to the newly-renovated indoor pitch at the Academy of Football for photographs and an impromptu kick-around, completing an unforgettable evening.