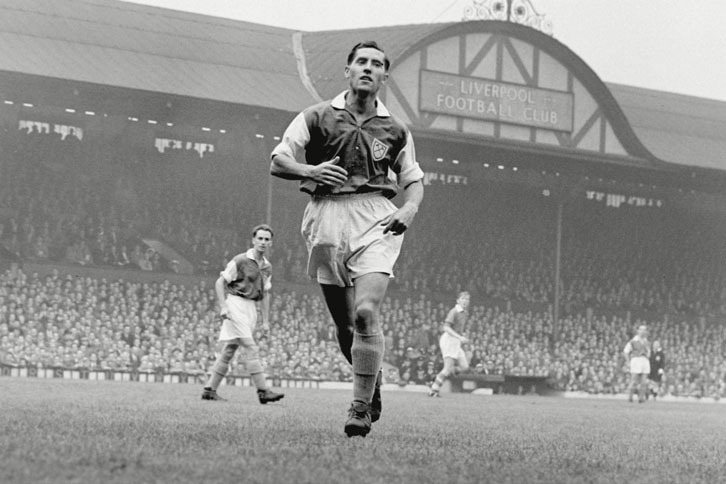 An alphabetic journey through 125 years of West Ham United history…

Oldest living Hammer
At 93 years and nearly nine months, Frank O'Farrell proudly boasts the title of the 'Oldest Living Hammer'!
Born in the suburb of Blackpool in the Irish city of Cork on 9 October 1927, the son of a steam train driver, O'Farrell played both Gaelic and association football as a boy, before following his father onto the railways by becoming a fireman at the age of 16.
However, O'Farrell's future would be on the football pitch rather than the footplate and, after impressing at left half for League of Ireland club Cork United, he followed former teammate Tommy Moroney to West Ham United in 1948, aged 20.
After making more than 50 reserve-team appearances, O'Farrell was handed a first-team debut in November 1950 in a Second Division fixture at Notts County.
He would soon become a regular and also join the group of visionary players, led by the influential Malcolm Allison, who would discuss tactics and playing styles at Cassettari's Café on Barking Road in the 1950s.
In all, the softly-spoken Irishman would make 213 first-team appearances across seven seasons, scoring eight goals, before being sold to First Division Preston North End in 1956.
After helping Preston challenge for the title in his first two seasons, O'Farrell retired from professional football through injury at the age of 33 in 1961.
The wing half's talents also saw him capped nine times by his country, scoring twice against Austria in Dublin in 1953.
After hanging up his boots, he then embarked on a managerial career that began at Southern League club Weymouth and included stops at Torquay United (three times!), Leicester City, Manchester United (where he replaced Sir Matt Busby in 1971), Cardiff City, the Iran national team and Al-Shaab in the United Arab Emirates.
While his last managerial post was nearly 40 years ago, O'Farrell remained in the game, scouring for Everton and Bolton Wanderers before running a nursing home in Devon, where he now lives with his wife Ann.
Oldest first-team player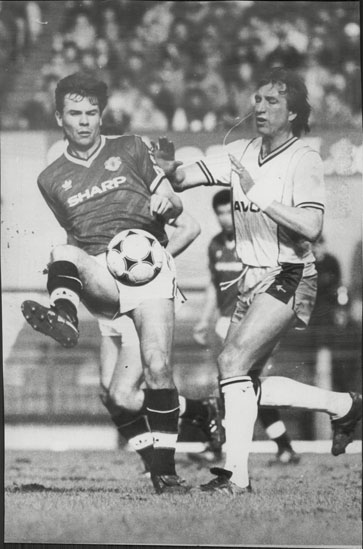 Three players have made first-team appearances for West Ham United past their 40th birthdays.
Billy Bonds holds the record, making his 799th and final appearance in Claret and Blue in a 2-1 First Division defeat at Southampton on 30 April 1988, aged 41 years and 226 days. He is pictured playing against Manchester United the previous month. In fact, Bonds made 48 appearances for the Hammers after turning 40 in September 1986.
The second player to feature in their fifth decade was 1940 Football League War Cup winner Charlie Bicknell, who was 41 years and 59 days old when he ran out to face Leicester City in a Second Division fixture at Filbert Street on 4 January 1947. Bicknell had scored his final West Ham goal a week earlier, in a 4-1 home win over Plymouth Argyle, making him the Club's oldest ever competitive goalscorer.
The third 40-plus Hammer was Teddy Sheringham, who was also the Club's oldest debutant, aged 38 years and 128 days, when he started the Championship goalless draw at Leicester on 7 August 2004.
Sheringham was 39 when he won the Hammer of the Year award in May 2005, and 40 years and 300 days old when he made his 87th and final appearance in an FA Cup fourth-round defeat by Watford at the Boleyn Ground on 27 January 2007.
A month earlier, he had become West Ham's and the competition's oldest ever Premier League scorer when he netted in a home defeat by Portsmouth, aged 40 years and 268 days.
Orient
West Ham United's nearest geographical neighbour when it comes to Premier League and EFL clubs, Orient's Brisbane Road stadium is situated less than two miles north of London Stadium, as the crow flies.
The two clubs have unsurprisingly developed many links down the years, with dozens of players representing both the Hammers and the O's.
Among those who have worn the Claret and Blue and red and white were FA Cup winners Pat Holland, Mervyn Day, Billy Jennings, Tommy Taylor and Alvin Martin, along with 1965 European Cup Winners' Cup final two-goal hero Alan Sealey, who began his career with Orient in 1960, and 1958 Second Division title winner Phil Woosnam.
Taylor, who won the FA Cup in 1975, was signed from Orient in 1970, having captained them to promotion to the Second Division, returned their as a player in 1979, and then managed the O's between 1996-2001.
Current West Ham first-team coach Kevin Nolan featured 14 times for the O's during the 2015/16 – the final professional appearances of his playing career.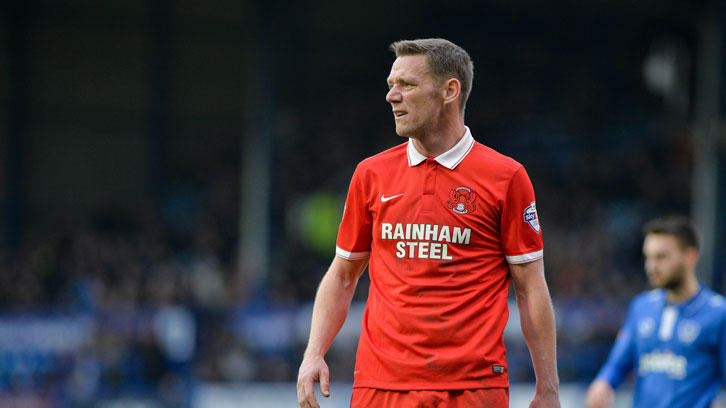 Manager-wise, Taylor is not the only former Hammer to take the reins at Brisbane Road, as Holland, Paul Brush, Peter Eustace, Dave Sexton, George Petchey and Jimmy Bloomfield have also played for West Ham and later managed Orient. 
The clubs have met 28 times in all competitions, but have not shared the same division since the 1980/81 season, when both were in the old Second Division – now the Championship.
Perhaps also unsurprisingly, West Ham have enjoyed the lion's share of success in those 28 meetings, winning 19 and losing just five, with four draws.
The East London derby, as it is known, was last contested in January 1987, when John Lyall's side were held 1-1 at Brisbane Road in the FA Cup third round, before winning the replay 4-1 at the Boleyn Ground.
More famously, the pair met in the same competition at the fourth-round stage in January 1964. Again, the initial tie ended 1-1 in Leyton, before West Ham won the replay 3-0 on home turf. Ron Greenwood's men, of course, would go on to lift the trophy for the first time at Wembley four months later.
And Orient were also beaten, 3-2 at Brisbane Road in the fourth round, as Lyall's side continued their successful quest to win the FA Cup for a third time in 1980.
Fast forward to the present day, and Academy prospect Tunji Akinola is currently on loan at Orient, while winger Dan Kemp joined the O's on a permanent basis earlier this month.
Own-goals
Due to the Club's records being destroyed by a German V-1 flying bomb landing on the Boleyn Ground in August 1944, accurate information about own-goals scored by West Ham United players before the Second World War is hard to come by.
Historian Steve Marsh has set about discovering the identities of those unfortunate Hammers but, for now, we have to make do with records dating back to the late 1950s.
One look at the list proves that it is not just the less talented players who put through their own net, with Bobby Moore, Martin Peters, Frank Lampard, Billy Bonds, Ray Stewart, Julian Dicks, Alvin Martin, Steve Potts, Rio Ferdinand, Winston Reid and Mark Noble among those to feature.
Moore scored two own-goals, for Burnley in a 2-2 top-flight draw at Turf Moore in April 1961 and in a 5-1 win at Sunderland in September 1967.
However, Reid holds the unwanted record, as he has put through his own net on three separate occasions.
The New Zealand defender scored an own goal in the 3-3 Premier League draw at West Bromwich Albion in February 2011, in the League Cup defeat by Sheffield United at the Boleyn Ground in August 2014, and completed his hat-trick in a 1-1 home Premier League draw with West Brom in November 2015. Sorry, Reidy!
The most-recent own-goal netted by a Hammer was Tomáš Souček's in the 2-0 Premier League defeat at Tottenham Hotspur in June last year.
The Irons have benefitted from two own-goals scored for them this season – Davinson Sanchez's in the 3-3 draw at Spurs in October and Andy Butler's in the 4-0 FA Cup fourth-round win over Doncaster Rovers here eight days ago.
Probably the most famous own-goal scored for the Hammers down the years was Jamie Carragher's in the 2006 FA Cup final against Liverpool in Cardiff.
Six years later, Steven Gerrard, who ruined our afternoon at the Millennium Stadium, did at least have the decency to score for the Hammers at the Boleyn Ground in December 2012!