David Moyes discussed Jesse Lingard's qualities, the need to maintain consistency, enjoy good fortune and his hopes for building a strong and successful West Ham United in his latest press conference.
Speaking to the media ahead of Saturday's Premier League fixture at Fulham, Moyes was praiseworthy of Lingard's two-goal debut at Aston Villa in midweek and challenged the new No11 to maintain that standard going forward.
The manager also talked about the way his team has improved over the past 12 months and challenged his players to continue doing so if they want to maintain their position in the top six until the end of the season.
The Scot also revealed Arthur Masuaku has taken a step forward in his recovery from knee surgery and praised the goalscoring of Czech midfielder Tomáš Souček.
Here is exactly what he had to say…!
We saw Jesse Lingard's character and enthusiasm shine through at Aston Villa and I think everybody knows that's been Jesse's style since he came onto the scene at Manchester United.
But he's a more mature boy now and is also some getting to the prime of his career and getting to a stage where he wants to play well and wants to be on the pitch.
We don't want to get carried away with one game, but we've got to say we were really pleased for Jesse and he did a great job for us as well.
He's a bubbly character. I've known Jesse from my time at Manchester United and he was always a good boy and a fit young player so getting some match practice for him is very important.
We don't want to put too much pressure on him, but he set a great standard for himself and for the team with his performance at Aston Villa in midweek.
We've had one game and the situation is here where Jesse will get a good chance to look at West Ham and see what he thinks of us and if he likes it and we'll have a good chance to look at Jesse with the supporters and we will decide what to do in five or six months' time.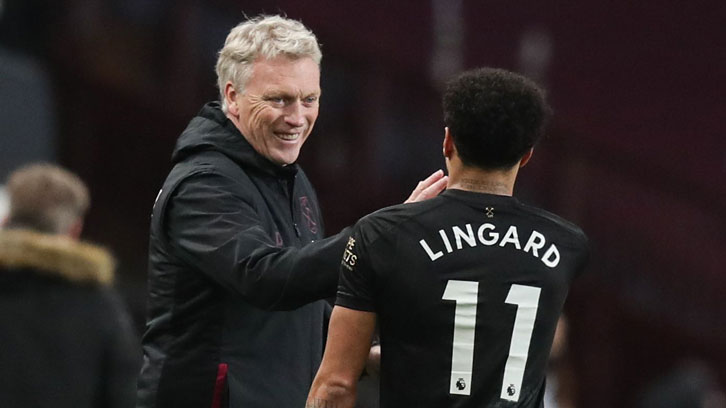 We need to maintain the same form, same consistency and not pick up too many injuries if we are to maintain our position near the top of the table – all those things play a part in how you go about getting your results and, obviously, you need a bit of good fortune as well on that path.
The position we're in is excellent, but I still think we can do more. I don't think the players have quite reached where they can get to.
We showed good form in midweek, but we've had games where our form was not so good, so there is room to improve and, if we can improve in the second half of the season, hopefully that will keep us near the top end of the league.
Fulham have been competitive this season but not got the results they would have wanted so far.
As I've said, some moments in football as a manager you need bits of good fortune.
They missed a penalty in the last minute at London Stadium in the reverse fixture which would have got them a point from the game. Sometimes on the journey you've got to pick up things and when you get that bit of luck you've got to take it. From our point of view, it worked.
Fulham have improved greatly since that period in the season, so we go there expecting a really tough game.
I've said it before and I'll say it again – I'm really pleased with our form because when we came back after lockdown, I think we did a really good job in staying up.
It's not even a year ago, that period we were in, so since we came back we've had a pretty consistent, stable period of results and, in the main, they've been getting better as we've gone along which shows things from the players.
The players have got a great deal of confidence and we're changing the mentality behind to push on. 
We're not happy to be a side that just finishes above relegation. We have to be a side that is pushing nearer the top and, to be fair, to be fair, they're all buying into it and enjoying this situation far more than the situation in recent seasons, so let's hope that continues and we can keep up our form from the first half of the season
It's a brilliant turnaround from a year ago. I can't hide that.
I just think the payers have done so well. The improvement in Micky Antonio, Aaron Cresswell and Angelo Ogbonna in that period, those players who have been at Club have really upped their level. 
Their professionalism recently, because of the amount of games, getting themselves ready, preparing, has been great because it's been quick turnarounds and that's something at West Ham we have probably not been great at, having everybody fit, ready and available but at the moment we have a group of players in really good condition and ready to go.
At the moment we're all fine injury-wise.
We've only got Arthur Masuaku who has started jogging for the first time on Thursday following his knee surgery, so it gives us a thought that Arthur is only possibly a month away from coming back.
Hopefully, we're trying to keep as many people fit as we can.
This is a really difficult period for us. The fixture list has not been easy for any of the clubs and we're no different.
We've a really important Premier League game and then an FA Cup tie in midweek as well, so it's another really big week for us. 
That said, I'm not thinking about the cup tie tomorrow, that's for sure, but I know it's on the horizon because of the week we've got.
I'll look to see about my team selection. I wouldn't call it rotating, but we made a couple of changes and we've tried to make sure all our players are ready to play so we might look a little bit differently.
Every game gives us its own level of difficulty, like Aston Villa in midweek, so we'll look at this game and see what we do for this one.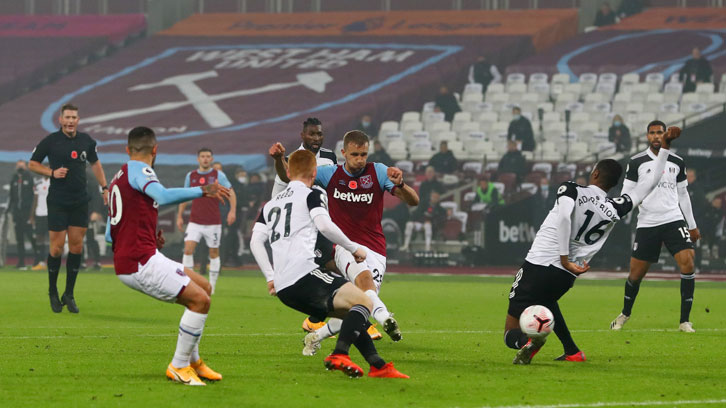 Tomáš Souček has now scored eight Premier League goals this season, but honestly I'm not surprised because if you look at his record for Slavia Prague in the Czech Republic and his goals in the Champions League, which is a good sort of guide, he scored at that level.
People might say the Czech League is a bit easier than the Premier League but when you've got a knack for a goal, especially as a midfield player, it's something you'll have wherever you go – the timing, how to get in the box and obviously he possesses the ability to score with his head as well, which is helpful.
Everybody likes a good goalscoring midfield player. I think it adds to your numbers throughout the season and we're thankful for it because he's been very consistent and made really good start to his career in the Premier League.
In many ways, I think I'm trying to copy the same model I had at Everton and have the same idea which was bringing in people who can take us away from the bottom.
At Everton we had a side who were happy to avoid relegation and by Easter time we were probably safe and knocked off, so I had to make sure that mentality changed and we changed that around.
I think there was a little similarity at West Ham, but the biggest thing about both clubs is there is great scope for growth.
What you need, which I was very fortunate to have at Everton at that time, was I had Sir Philip Carter and Bill Kenwright, people who were really, really supportive and gave me time when things weren't going so well.
Any manager needs a bit of time to build a club unless you're going to spend hundreds and of millions and if you're being fair we've tried to do that before and it's probably not worked here at West Ham.
I'm not the person who makes all the decisions at West Ham, but I can only give my experience and my opinion on what way I think looks best for this Club. It'll be the Club's choice what way they choose to go.