On a sparkling night at London's Grosvenor House hotel, the great and the good of West Ham United's magnificent season were honoured at the 2021/22 Player Awards.
With Declan Rice taking home the prestigious Betway Hammer of the Year award for the second time, Jarrod Bowen named Players' Player of the Year, Ben Johnson the inaugural recipient of the Mark Noble Young Hammer of the Year award, and more, there was plenty to celebrate for Hammers far and wide.
And while West Ham Gaming's squad is considerably smaller – Alfie 'AC RedLac' Calder undoubtedly the virtual Irons' own top performer this season! – that didn't stop us from celebrating some of our successes in EA SPORTS FIFA 22 over the last nine months.
Without any further ado, here are some of the awards our West Ham Gaming accounts dished out on social media prior to Monday evening's glittering ceremony…
 
Goal of the Season

A big one to start, given that these entries were all fan-submitted!
Two honourable mentions were put out by Sam and Sav…
 
Finally, it's time to announce our West Ham #FIFA22 Goal of the Season... 👀

... first, although not a winner, an Honourable Mention goes to @HammerSamss! 🔥 Golazo! https://t.co/wrCx1s0EET

— West Ham Gaming (@WHUGaming) May 9, 2022
An honourable mention as well to @b_c_savage for this top-class @Benrahma2 🦂⚒️ https://t.co/RL1ax8FtVi

— West Ham Gaming (@WHUGaming) May 9, 2022


… but in the end, it was Ashley Hill who took home the award for this quite sumptuous effort – what a goal this is!
 
And here we are with our West Ham #FIFA22 Goal of the Season! 🏆

What a move - what a goal! 👏

Congratulations, @Hillly93 - we'll be in touch about your prize! ⚒️ https://t.co/sSmk55rcxy

— West Ham Gaming (@WHUGaming) May 9, 2022
Best Standard Gold Card

Four Hammers were given overall ratings of 82 in FIFA at the start of the season: Rice, Tomáš Souček, Łukasz Fabiański, and…
… Alphonse Areola, whose high-ranking reflexes and diving in-game made him an extremely popular pick in early-game Ultimate Team this year!
 
Most Underrated Card

With few Hammers receiving high ratings at the start of the title – we can surely expect a vast number of upgrades in FIFA 23's early rankings, given our successes this season – it's arguable all of our team who could have received this award.
But Issa Diop's 'Road to the UEFA Europa League Knockouts' card, awarded to the French defender in early October, was a dominant presence in-game, initially rated at 83 before the Hammers' comfortable qualification from Group H saw his tally taken up to 85.
It's got everything you could need from an Ultimate Team centre-back, and for not too many coins either.

 
Our next award goes to the most underrated #WHUFC card this year: our 🇫🇷⛰️ @IssaDiop97! 🏆 pic.twitter.com/3Ye1EfgZbK

— West Ham Gaming (@WHUGaming) May 9, 2022
Most Deserved Special Card

An easy pick: Mark Noble's 'Captains' card, awarded early last month, recognises an influential figure on and off the pitch in the history of West Ham United Football Club.
Noble's FUT Captains card was part of a celebration of heroes who wore the armband for their Club and country – and few have been as heroic in Claret & Blue as the 34-year-old Canning Town-born skipper.
Fulfilling the criteria of the 'Gullit Gang' – with ratings of 80+ in all six of the midfielder's base stats – this playmaker can truly do it all on the virtual pitch.
 
Our next award is for the most deserved special #FUT22 card and that goes to our captain and leader: Mark Noble! 🏆⚒️ pic.twitter.com/AnoBzwfUVw

— West Ham Gaming (@WHUGaming) May 9, 2022
Upgrade of the Year

Michail Antonio's form over the last two seasons has certainly warranted a higher base rating than his initial 79 in FIFA 22; it took until March's 'Fantasy FUT' promotion for the forward's 'Beast Mode' to truly be unlocked in the game.
A dynamic item which shifted from an initial 88 to 90 courtesy of his contributions to the Hammers' recent Premier League matches, Antonio's 'Fantasy FUT' card is unreal: 95 pace, 92 shooting, 90 dribbling, and 90 physicality…
Much like his real-life presence: unstoppable.
 
Next up we have our 📈 the year! Of course it is #FUT Fantasy @Michailantonio! 🏆⚒️ pic.twitter.com/tHdd3OhUy0

— West Ham Gaming (@WHUGaming) May 9, 2022
Most Fun Card of the Year

And, finally, to the item we've most enjoyed unleashing in our Ultimate Teams this season: Rice's 'FUT Birthday' card, awarded in early March, is simply the perfect CDM (Central Defensive Midfielder)!
The 'FUT Birthday' promotion celebrated the anniversary of FIFA's Ultimate Team mode by awarding upgrades to some of football's most popular players.
And blessed with a trademark sense of humour and an influential playing style, Rice certainly fulfilled that criterion; another member of the 'Gullit Gang',  'FUT Birthday' Rice is quick and capable of pulling off just about anything on the pitch!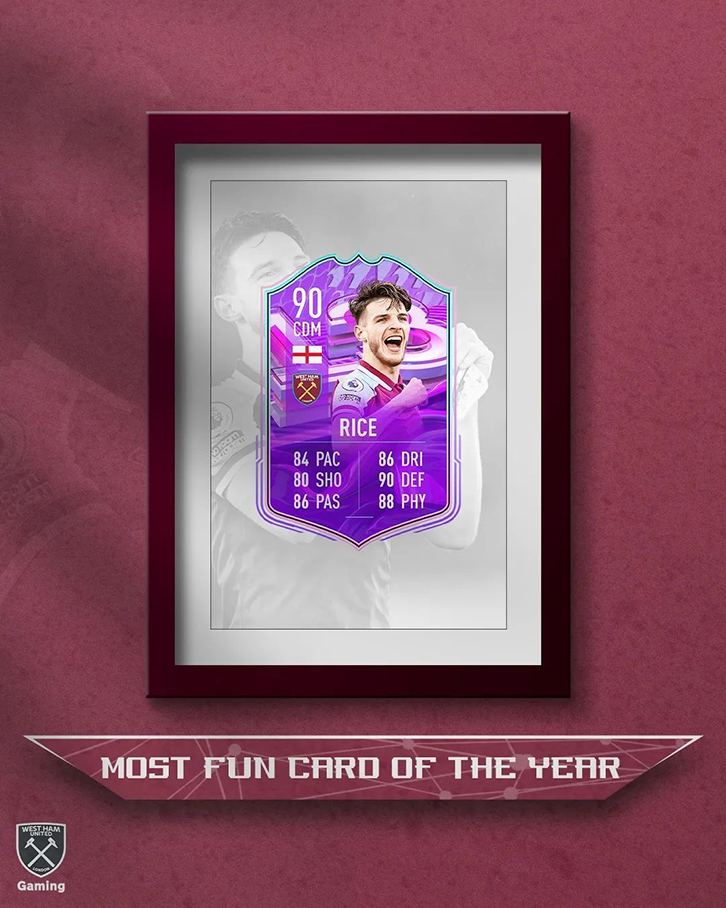 For more exciting FIFA 22 and gaming content this season, follow the official @WestHamGaming accounts on Twitter, Instagram and Twitch.