There's something remarkable about the fact that the European football histories of West Ham United and Eintracht Frankfurt are set to intertwine once more.
As West Ham United manager David Moyes mentioned in his own pre-match press conference on Wednesday afternoon, the two UEFA Europa League semi-final opponents share a great number of similarities – not least their love of a big occasion.
The Eagles – Die Adler – might have been in a European semi-final more recently than the Irons, reaching the last four of this competition three seasons ago before being beaten by Chelsea at Stamford Bridge on penalties (after a 2-2 draw on aggregate after extra-time).
But in a similar manner to how they both reached the same stage of the 1975/76 European Cup Winners' Cup – West Ham winning out on that occasion 4-3 on aggregate, in the Irons' last continental semi-final – both teams' runs have been characterised by resilience, graft and belief.
Now, 47-year-old Frankfurt manager Oliver Glasner – once of Austrian sides SV Ried and LASK, and German club VfL Wolfsburg – has called upon his players to draw upon those experiences come Thursday, when a 57,000-strong Claret & Blue Army will be doing their utmost to roar the Hammers onto victory against his side.
And 25-year-old Switzerland international Djibril Sow – a midfielder formerly of Borussia Mönchengladbach and Swiss side Young Boys – is also anticipating quite the occasion at London Stadium, as the duo revealed at their pre-match press conference in Stratford…
 
Oliver Glasner

Oliver, how have Eintracht Frankfurt prepared for the semi-finals?
Over the last two days, we've looked at West Ham, and the training session today and yesterday we also tried out some tactical manoeuvres and made sure everybody was fit.
We've got one case of sickness, but apart from that everyone is available. Kristijan Jakić and Evan Ndicka are unfortunately suspended.
We're very much looking forward to the semi-final. We're in good shape and we're looking forward to match against West Ham. We have a lot of respect for West Ham, but we're going into the game with a lot of confidence.
 
How does it feel to be playing an English team, given their recent domination of Europe?
Well the most important point is that it's the semi-finals of the Europa League, so we will play against any opponent. Of course, from the Premier League, we've got two teams from it in the Champions League semi-finals. 
West Ham United have now established themselves in the top third of the Premier League in the last few years, which means they are doing good work. 
We know we've got Liverpool. Manchester City – and Chelsea also won the Champions League last season – so the Premier League is really top of the European leagues, so it's wonderful that we can measure ourselves against an English team. 
We are now in the top four teams in the Europa League, and like West Ham we have earned our spot here, so it will be a fantastic duel.
 
What are you expecting from West Ham this tie?
West Ham United are a team who play kind of similar to the way we play. They're a very compact team and they've kept six clean sheets in the Europa League. Chelsea also found it very difficult to break West Ham down in their last league match.
They are very strong physically, they can accelerate the game, they can play vertical passes, and they are one of the most dangerous teams in the Premier League, so that'll be a challenge for us, but we want to take on that challenge. 
We know it'll be a difficult match, but the last few matches in the Europa League weren't easy either. We have plenty of respect. We've analysed West Ham very carefully and now need to translate what we have learned into action on the pitch.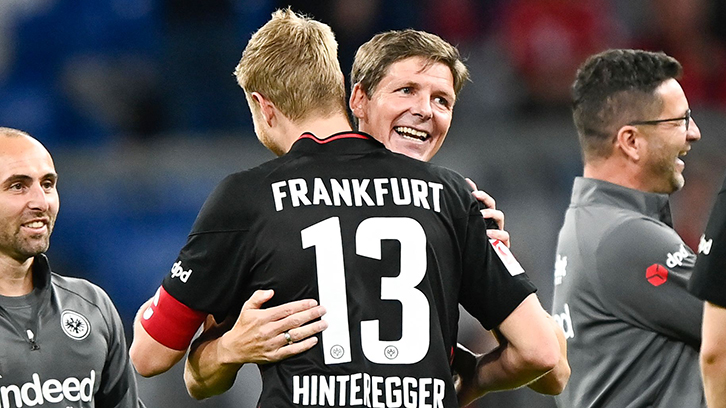 How big an occasion is this for your players?
The biggest motivation is that we're in the semi-final of a European competition. Unless you play for the major clubs, that's something extraordinary for Frankfurt – we were in the semi-finals three years ago but before that hadn't been there in a long time – and extraordinary for a coach, a player and for a club. We can feel how special a game it is.
Our 3,000 supporters tomorrow will make a lot of noise, and so will the 57,000 West Ham fans, who will also make a lot of noise and a wonderful atmosphere for a semi-final. 
This is the most important match of my career because it's a semi-final, and we have the chance to reach the final – I hope we'll have an even bigger match in a few weeks' time.
 
What have you learned from watching West Ham?
They changed their personnel in attack against Chelsea, but the defence might look exactly the same. Tomáš Souček played the whole 90 minutes and we can expect Declan Rice, who also played 30 minutes in that game. 
West Ham quite often play with a back four if the opponent has the same system, but they can also switch to three at the back, something they've done all season, so we've prepared for both systems. 
They are a very dangerous team, very physical, and tomorrow they will be at home in their own stadium and they'll try to push us back and play with a very intensive tempo.
At the end of the day, games are decided in the penalty areas, so we need to defend ours very well. West Ham manage to push a lot of players forward and they have wingers and strikers who get forward. Souček comes from deep and can also score goals.
They're also a team which defends its own area very well, so we'll need to work hard to maybe get to the ball a little bit before the defender. That's something we saw in the Chelsea match – one chance was enough to win the game, so we need to be efficient as well.
Dead-ball situations will be decisive. We are dangerous off set-pieces, but West Ham are as well. 
We are a team that gets people quickly forward into the channels. Who can make the most of the space and close the gaps better? Both teams will have similar challenges and the team which manages them better will win in the end.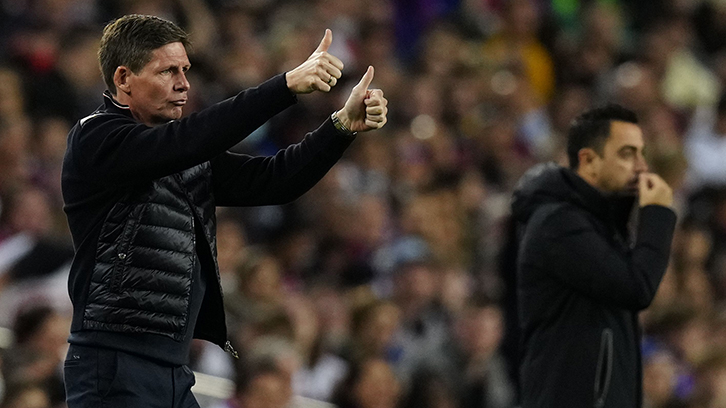 You've had a strong run of results in Europe to reach this position…
Our first match against Fenerbahce [a 1-1 home draw in September] shows how the team has evolved. We had a big transformation in the summer, the whole club really changed a lot, and that was also a new beginning symbolic of our journey during the Europa League. 
We were lucky to win 1-0 against Antwerp, then we worked hard over the following weeks. People showed great determination and very often we scored goals in the last minute [away at Antwerp, Olympiakos and Real Betis]. That shows how determined we are and the belief we have in ourselves and our way of football. 
Winning at Barcelona is a beautiful memory, and will be forever in my life, but in the last few days I haven't thought about it anymore, because now we need to look ahead. 
In the Europa League, we've played five times away from home and won four of those, so we've got a lot of confidence, and tomorrow we'll play as we have in the past and really play to win. We've beaten the leading club in Greece, drawn at Turkey's second-placed team, and won at top teams in Spain, so that makes us confident. 
The approach might be slightly different, and generally we will also need an even better performance, because West Ham will give us different challenges.
West Ham are a difficult opponent, but we are also a difficult opponent for West Ham and every other team. We will play the same way as we always do tomorrow: use our strengths, exploit them as much as possible, and aim to beat West Ham.
 
Djibril Sow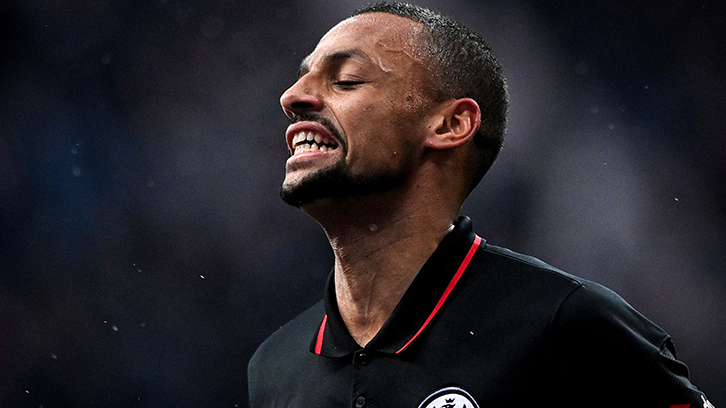 Djibril, how are Eintracht Frankfurt approaching this semi-final?
We're all looking forward to the match tomorrow. Of course, we enjoyed the victory in Barcelona. I had some physical problems recently, so I'm very glad I can play tomorrow.
English football offers a lot of intensity, more compared to Spanish teams we've played against, so we have to be ready for the physical battle.
We analyse our opponents before the match, so we are prepared for longer balls as well, and that we might not have as much time on the ball, so yes, we have to prepare ourselves for that.
We are also a team that plays with high intensity. We are strong in our duels and we'll have enjoy the match tomorrow.
 
Have you discussed Eintracht Frankfurt's semi-final defeat on penalties away at Chelsea in 2018/19?
We didn't really talk too much about Chelsea. We're looking forward to the semi-final tomorrow, not looking to the past too much. 
I wasn't part of the game at Stamford Bridge, but even the players who were there didn't say too much about it, and we've been focused on the match tomorrow. 
We've got a fantastic, positive attitude, and we know that our team can achieve something incredible and that's really our focus now.
 
How do you reflect on your run to the semi-finals this season?
You start your career hoping for these matches. You can feel the excitement, so we don't need to provide additional motivation for anyone in the squad. 
We all know that we have a fantastic chance here to achieve something incredible and that's something reflected in the team. The mood is very positive and the whole city is also looking forward to this match.
We've had belief right from the start. I didn't play in Barcelona, but was in the changing rooms and looked at the players in the eyes and I knew we were going to win this because I could see everyone was 100 per cent focused.
The belief was there, and the same I could see this week. We've got so much belief and focus that we can really achieve great things.