Symmetry is rife in football.
Call it coincidence or call it fate, the day on which West Ham United secured their first berth in a major European semi-final in 46 years – with a 4-1 win on aggregate over Olympique Lyonnais – was also the anniversary of the second leg of said 1976 semi-final.
The opposition back then? This year's UEFA Europa League semi-final opponents, Eintracht Frankfurt.
On that occasion, the Irons triumphed in a European Cup Winners' Cup tie for the ages, buoyed by reputedly one of the greatest atmospheres ever created by a West Ham home crowd, who drove their side on to a 3-1 win on the night – and a 4-3 win on aggregate – against their German opposition.
The night Sir Trevor Brooking and Keith Robson danced through the East End mud to score will forever be known as one of the greatest nights in Boleyn Ground history.
And so, ahead of our memorable last meeting with Eintracht Frankfurt, the legendary duo sat down with Ken Dyer of the Evening Standard to reflect on the magnitude of the occasion…
 
The last time that West Ham got to the semi-final of a European club competition was 46 years ago – and it was against Eintracht Frankfurt. Tell us what you remember about the first leg?
 
Sir Trevor Brooking: Well, the first leg is always going to be one of those where you want to give yourself a chance in the second leg. 
They were a really good side. We scored early, I mean, Graham Paddon with a 30-yard screamer in the ninth or tenth minute. The away goal was a must to a certain extent, but they were still a good team and they ended up winning the game 2-1. 
There was enough in that game that I just felt, at home, with our little stadium and the noise that happened on the evening, we would have a great chance. Robbo reminded me that it was pouring with rain in the first leg as well. The second one it just didn't stop. There was some doubt, I think, whether the second leg was going to be played at one point.
 
Keith Robson: In the first leg, like Trevor said, we went 1-0 up and then we lost 2-1. But like you said there were a lot of things going for us then, and we could see where their faults were and everything. 
At the end of day, we could have come away from there with a draw really, because I think we had two or three chances late on.
 
Sir Trevor Brooking: We all felt afterwards it was going to be tough for them at our stadium because night games were awesome there. If you saw them looking around [at Boleyn Ground], I think they were a bit shocked.
I remember them coming out to warm up [at Boleyn Ground] and looking around thinking 'what have we got here?' You could see straightaway that they didn't fancy it much, one or two of them…
 
Keith Robson: No, you could see that straightaway, because it had been raining all day and the supporters were queuing up well before the kick-off. The atmosphere was just incredible, to tell the truth.
 
Sir Trevor Brooking: The 'Chicken Run' [stand at Boleyn Ground]… one step and you are you having a chat with the front row! 
That night, I mean, it would have been intimidating. Even at corner kicks, a couple of steps was all that was allowed… that the actual atmosphere was electric is an understatement.
 
Keith Robson: That's the best game I've ever played in, without a shadow of a doubt. The supporters were so up for it. It was just a fantastic atmosphere. It was more like a goal's head-start, in truth.
 
Sir Trevor Brooking: In those days, when the fans were singing 'Bubbles', they used to sway. It was absolutely... almost the whole crowd on that side were moving in unison singing 'Bubbles'. 
You'd never, ever replicate such an atmosphere. And of course, because we were doing well, and you know, the game went our way eventually, the script was something unusual…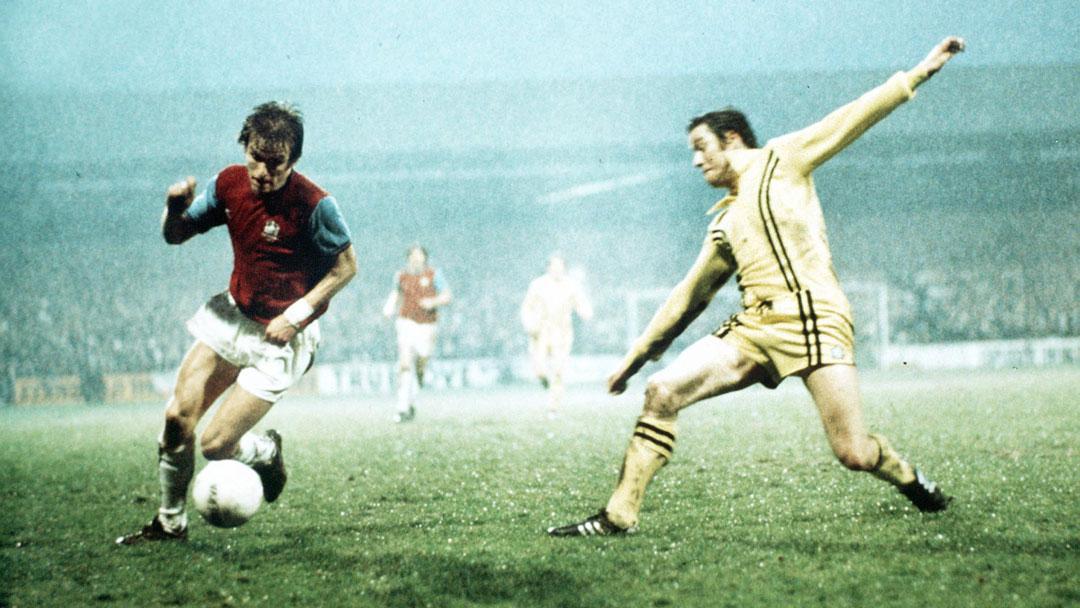 So 2-1 down from the first leg, 0-0 at half-time, and then it all changed in the second half?
 
Keith Robson: The first half was incredible. They had two chances but we definitely had about 90 per cent of the game, and we could not score. 
We looked overall the best team by miles in the first half. The second half turned it around. The crowd started jumping behind us and they were bouncing, just waiting for us to score. 
Then, all of a sudden, Frank Lampard cleared it down the touchline to me, and then Paddon brought it back inside and Frank crossed the ball to the far post. And lo and behold, my favourite player headed one straight in the top corner. And I thought: 'that can't be Trevor'!
 
Sir Trevor Brooking: A lot of people thought that about the [1980 FA] Cup final as well! I save my headers for the key moments!
 
Keith Robson: And then that was it. That put us one up, and then the crowd were really buzzing. 
The second goal, Trevor cleared it out wide, and he saw me in the middle and hit a ball in, but he didn't allow for the sticky mud that night. I overran it and the ball went behind me, but I turned around and smashed it straight in the top corner. 
So now we're 2-1 up, and we're going through on away goals. Then, all of a sudden, we start again, and Tommy Taylor hit absolutely stunning ball out of defence for Trevor to go through. The defender was coming across and Trevor just shuffled and bent it round the goalkeeper, which put us 3-0 up. 
Then, all of a sudden, what happens? They get one back. Our two centre-halves go for one ball and it bounced in between them and went to one of their lads. He smashed it in. 
We've got five minutes left to hold out. And the boys were all shattered through running that much, because we were just non-stop attacking, and then all of a sudden, what happens? They shoot and hit the post with the last kick of the game! 
The second goal, with the away goals rule, would have put them straight through…
 
You've got to give this West Ham squad a lot of credit, don't you? They've had a fair bit of travelling, they haven't got the biggest squad in the Premier League by any means, and they've had injuries, yet they're still knocking on the door… 
 
Sir Trevor Brooking: Last year was a fantastic year because they got into Europe. I think, sitting here, the best thing about David Moyes' two years has been the quality of football.
This year, to score the number of goals we have, the quality of football… we pass the ball really, really well… and if you look at the number of players we've used, it's incredible to be where we are.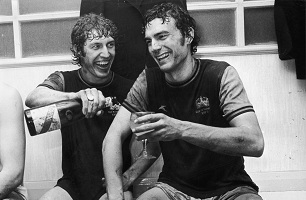 This year, of course, the final's in Seville, where we've already played this season – would it be incredible to go back there for the final?
 
Keith Robson: I think Eintracht will have something to say about that, though. I think they'll be up for it. And like Trevor said, they're a good side, so we've got a big task in front of us.
 
Sir Trevor Brooking: I would always want to play the second leg at home but as you say, it worked [at Lyon]. In the first 25 minutes, though, we were on the rack a bit. They hit the post, and they missed another chance… once we scored, then the whole mood changed really. The second goal then gave us that cushion. 
In the second half, Lyon were obviously geared up to try and get a goal early on. And once we got the third, we really coped with that fantastically. Having watched the first leg where, alright, we had ten men for over half the game, I never saw us winning 3-0, so I can't sit here and say what will happen in the next two games. 
If you look at the results, though, Eintracht have been great away from home. They haven't lost away, and they counter-attack really well, so this first game is crucial, because if we win that then we have a great chance, because their home form hasn't been so good. 
I think once you get to this stage, you've got to understand the games are very tough, but our side have coped with a lot of things and that's why everyone still lives in hope that this could be the year.
 
Could the supporters be the 12th man on Thursday, like they were against Sevilla and Lyon?
 
Sir Trevor Brooking: I've got to say, I thought the second leg, in extra-time against Sevilla, was the best atmosphere at London Stadium I've heard and seen, and I'm sure it's going to be like that for the first leg coming up.
As we are where we are at this stage, it would be just wonderful for all the fans if we could go the final step. But whatever happens, it's been a magnificent two seasons with Moyes, and well done to him. Let's hope there's a little bit of icing on the cake still to come.
 
Keith Robson: At the end of the day, like Trevor said, these last two seasons have been absolutely fantastic here. It's nice to come to see us playing football the way it should be played. 
I'm hoping we can take the first leg. If we can come away with maybe a 2-0 win, I think we've got everything looking up for us going back to their place.
 
Sir Trevor Brooking: Over the two legs, I would fancy us. 
I'm a little bit concerned central defensively. I can't ever remember central defenders getting injured in the numbers that have happened this year, so let's hope that isn't the reason, because I do think over two legs, if we play like we have, we could get through. 
More than anything, it would be a wonderful occasion, 46 years later, to go to the final in Seville, and anyone and everyone would want to be there.