David Moyes says Nayef Aguerd is in contention to make his competitive West Ham United debut in Thursday's UEFA Europa Conference League Group B tie with Silkeborg IF.
The Morocco international centre-back has not played since injuring his ankle during the Hammers' pre-season fixture at Rangers in Scotland on 19 July.
However, after working hard on his recovery and rehabilitation, initially with his national association and latterly with the Hammers' medical staff, Aguerd has returned to full training at Rush Green and Moyes revealed in his pre-match press conference that he could feature against the Danes as part of his build-up to making his Premier League bow and representing his country at the 2022 FIFA World Cup finals next month.
We think he's a really stylish footballer and we hope he'll help us going forward
"At the moment, Nayef is not in contention for Sunday [at Manchester United], but I'm hoping to have him in the squad tomorrow (Thursday)," the manager explained. "Hopefully I'm getting him back one way or the other.
"What will he bring? At the moment I can't expect and I don't want to put too much on him because he needs time, but I think that he's a really good footballer, he plays the game very well, he's a good reader of the game, he's quick enough and he's good in the air. We see a lot of really good aspects about him.
"But because he's not played any Premier League games, and because he's had no games, it's really difficult for us to give an overall judgment, so I don't think he's ready to go into the Premier League yet, but I think he could be ready to play in a few of these games."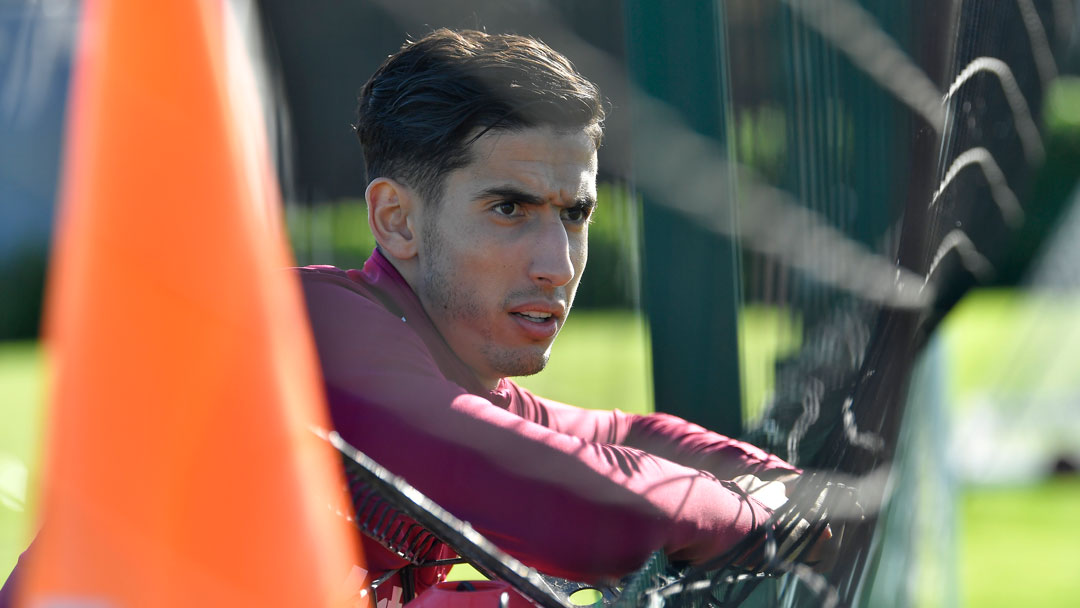 Moyes would normally have given the 26-year-old his first taste of action on his return in a Premier League 2 rather than first team match, but the Scot said the way the fixture list has panned out, Thursday's UECL tie will give the defender his first opportunity to play.
"If the Under-21s had been at home at the weekend – they're away to Brighton – I think I'd have probably played him there, but I wanted to see him," he continued. "We're always trying to get get the boys back, he's keen, he's a really good lad, a great character, he's settled in really well and is well-liked within the group and we think he's a really stylish footballer and we hope he'll help us going forward.
"But if you're looking for him to look brilliant in his first game, you shouldn't be expecting that, but we're hoping we can build him up and get him ready in the coming weeks and he'll go to play for Morocco in the World Cup and I'm hoping that, when he returns from the World Cup, he'll be much more ready and we have to start getting him used to the Premier League"