Tomáš Souček was delighted with his role in helping West Ham United take a point from Wednesday's Premier League clash with Tottenham Hotspur.
The Czech midfielder struck in the second half to secure a 1-1 draw, after Thilo Kehrer had unfortunately turned into his own net to give Spurs the lead at London Stadium.
"It was a big point for us," Souček told West Ham TV. "It was hard in the first half but, from the first minute we were on the pitch in the second half, we were a different team. This is how we want to show ourselves every time.
"In the last 20 minutes, we maybe even deserved to win because we had two or three big chances. Even in the 94th minute we could have won the game. Tottenham is a very hard game though, so we have to take the point, but it's also a derby so we want to always win as well."
Tottenham is a very hard game, so we have to take the point, but it's also a derby so we want to always win as well.
The 27-year-old cleverly latched onto Michail Antonio's flicked pass inside the area to square the game in Wednesday's London derby, and Souček was thrilled to grab the goal for his side, which capped an impressive second half showing for the hosts.
"That second half, for us, was so good. I'm so happy that we are back showing what we're about. We lost the first three games but after that, we've won our Europa Conference League games, and now from two Premier League games we have four points.
"It's a special goal. It's a derby and it's different. I'm so happy to score in the derby. And I also have to say about the assist from Michail. I knew he would try to pass to me, because we have that connection between us, so he wants to pass those balls to me. I have the goal thanks to him"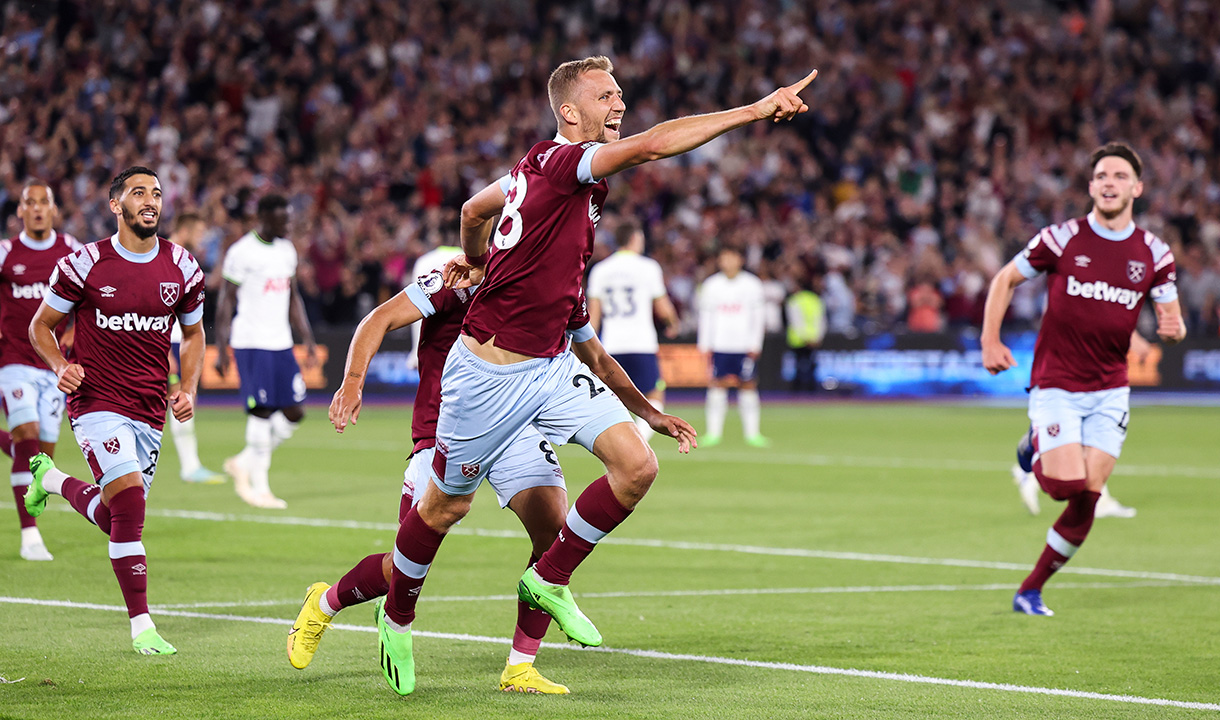 Souček also made special mention of Club record signing Lucas Paquetá, who made his debut for the Hammers from the bench and showed his quality in his 25-minute appearance.
The Czech Republic international also reserved praise for the West Ham United fans, who created an incredible atmosphere at London Stadium.
He continued: "[Lucas Paquetá] came on and the fans applauded him from the first touch. He showed his quality.
"He hasn't trained with us so it was strange, but he showed us when he was at Lyon how good he is. I just hope he gets many minutes on the pitch and will be a very good signing for us. I wish him good luck.
"The fans really helped us. We were losing 1-0 and they supported us through. We had pressure on Tottenham and sometimes they kicked the ball off the pitch because of the fans. The fans were special and we know we need them."
The Irons face a quick turnaround with another London derby on Saturday, as David Moyes' Irons travel to face Chelsea at Stamford Bridge.
"We want to carry on now," Souček added. "We have Chelsea now and not one game in the Premier League is easy. They're all so difficult but we have to give our maximum in every one. 
"It's so quick between the games. It's only one or two days but that's why we play this game. We love to play. We have to be ready. We have to get our rest. We have a great medical team who can help us get ready for the Chelsea game."