Comedian, actress and writer Rosie Jones is somebody that knows first-hand what it's like to feel like she can't access certain sports. 
Jones has ataxic cerebral palsy, which has often restricted her from feeling like she can get involved with sport, particularly football. But, after a visit to West Ham United Women in December 2021 as part of Sky Sports' 'I'm Game', everything changed for her. 
She visited the team's Chadwell Heath training ground along with Sky Sports presenter Mark McAdam and had the opportunity to meet the first-team squad and watch training and was even given her own West Ham United staff kit!
She returned in December 2022 to help the Hammers celebrate International Day For Persons with Disabilities (IDPD), where she featured in a piece alongside former player, Claudia Walker. 
Jones previously believed that sport would not be a place where she would feel accepted, but after visiting West Ham United, she realised that was far from the case. 
She told whufc.com: "For a very long time, I thought that sport wasn't for me because I didn't feel as though I could be made welcome in that space. My visit [to West Ham United Women] changed that! I've met the team several times now, and I am just in love with the community spirt and the fact that they value everyone. 
"My visit showed me that football isn't closed off to someone just because they have a disability. I felt so welcomed by everyone when I came to the training ground. 
"I'm so proud to be a supporter of the women's team and I really can't wait to visit again."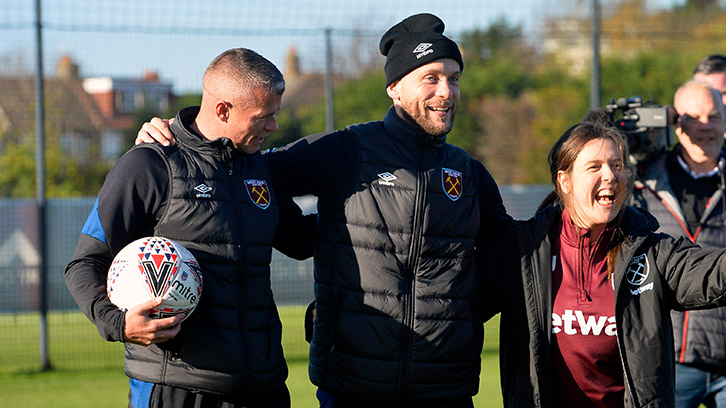 As well as supporting Disabled Access Day, which is being celebrated on Thursday 16 March, the Women's team recently supported Level Playing Field's 'Unite for Access' campaign at their home match against Aston Villa on Sunday 12 March. 
Jones believes that raising awareness for the need for sporting venues to be inclusive to all will open up even more avenues for supporters to get involved in sport. 
"It is so important to have awareness days like Disabled Access Day and Unite for Access," she explained. 
"Those with disabilities need to see what those in sport are doing to support us and off the back of that, they can see how brilliant it is to be involved in sport and they can hopefully be inspired. 
"The world is slowly changing, and sport in particular is at the forefront of that. Stadiums across the UK are becoming more accessible, and there's definitely been a change in attitude about how disabled supporters are treated."
I hope that with the help of campaigns like Disabled Access Day and Unite for Access, we can keep pushing down those barriers and help those with disabilities to access sport
Jones is very active on social media, boasting over 200,000 followers on Twitter alone, and she believe that it is not just campaigns like the two mentioned previously that can make a difference – individuals also have a responsibility to continue driving change. 
"Looking back to when I was younger, there was nobody around that was a positive representation of people with disabilities within the media," she recalled. "There was nobody that was pushing down boundaries or showing us that we were welcoming in different spaces.
"So, for me, being visible and a proud member of the disabled community is incredibly important. I hope that I can make feel less alone, but also, I hope that with the help of campaigns like Disabled Access Day and Unite for Access, we can keep pushing down those barriers and help those with disabilities to access sport."