Lead coach Mark Robson was delighted by the attitude his players showed as West Ham United U21s battled to a 1-0 victory over Tottenham Hotspur U21s on Friday evening at Rush Green Stadium.
The Hammers took the lead when an Ollie Scarles free-kick found the top corner in first-half stoppage time - his first goal at PL2 level - but had to thank a resolute defensive display to secure all three points.
In particular, Krisztián Hegyi produced a moment of magic after the interval to deny the visitors when the No1 sprung to his left to deter a well-struck penalty from Tottenham Hotspur's Jamie Donley.
The visitors pressed forward in the closing moments but the young Hammers stood tall. After also beating Wolverhampton Wanderers on Monday, a consecutive Premier League 2 triumph recorded in a London derby on Friday evening saw the lead coach beaming with pride at the full-time whistle. The character, attitude and quality of the U21s got them over line in east London, and the boss, as expected, was delighted!
It has been two different types of wins in the last two Premier League 2 matches.
We played really well against Wolves [on Monday]- in terms of being in possession.
Today, we have come up against a really good team, who were really good in possession, but I thought we defended unbelievably well.
I'm really pleased. It was a really dogged performance from the boys. We have been better on the ball at times this season. But out of possession, they were excellent against Tottenham Hotspur.
I have to mention Krisztián Hegyi. He was really good – again!
He's made a couple of really good saves. Then, he has saved a penalty, which I thought was hit really well. He's had a really good season. [The penalty] was a great save. I mean, he's at full stretch, it's been hit really well.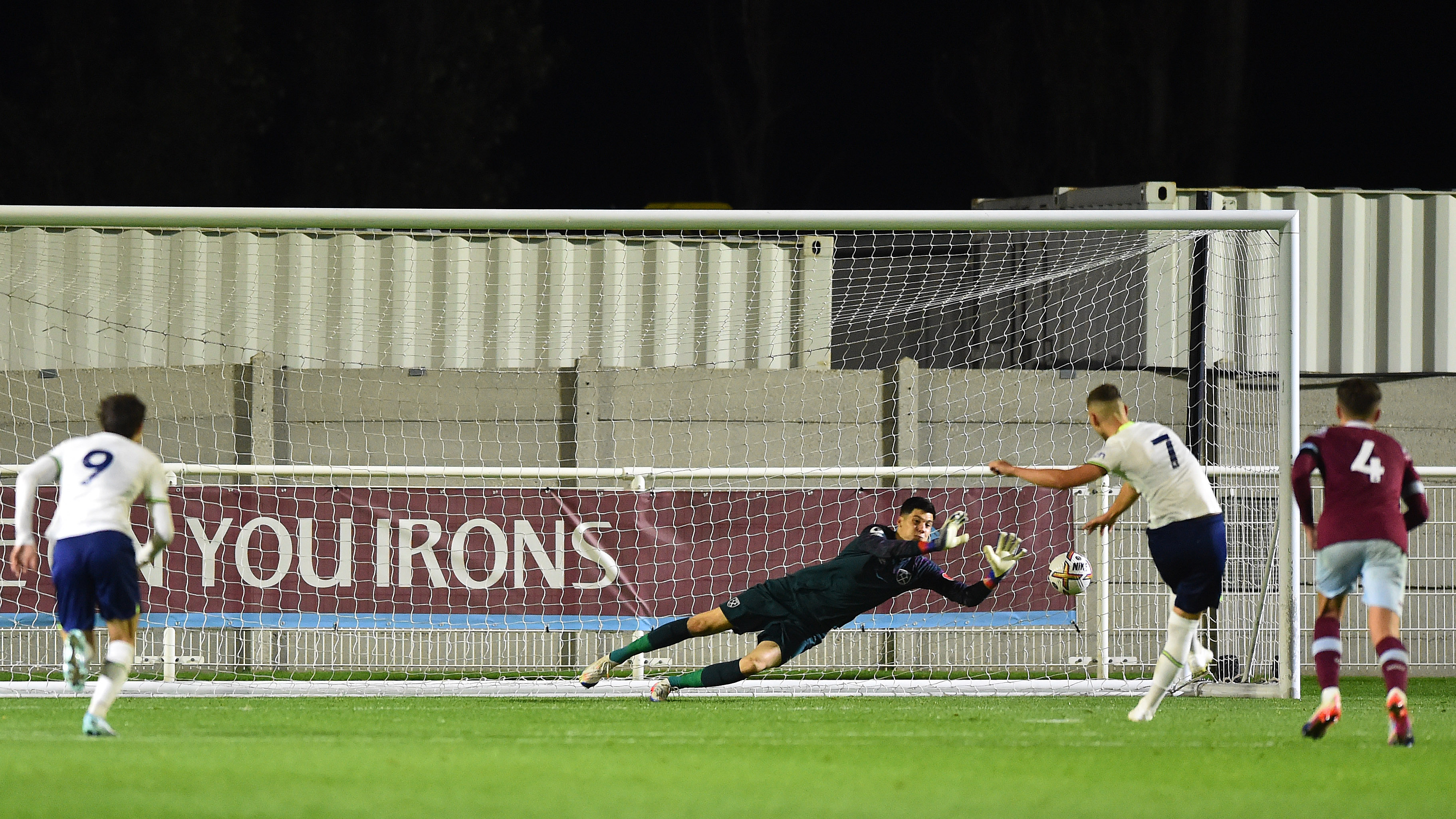 There were some great defensive performances tonight.
You could see the players putting bodies on the line. And that's a great trait to have as defenders. Kaelan kept winning loads of headers – as did Will.
There were a lot of blocks and stops - it was not good for the heart, but they showed real character. It's a good group. They are very together. The performances have been fantastic, but it has been tough up to this point because of the results. I thought tonight they showed great character, which is something I am very proud of.
Ollie's free-kick was top-class.
He does them in training. There's one or two of them that are very good. It was straight in the top corner, pace and dip as well. It is a fantastic strike – a bit of class that has won us the game.
It's been a good couple of weeks for the development squad.
It has been a good ten days for us. With the lads going away with the first team in Romania, winning at Wolves – where everyone is on a high. To get through these last seven-eight days in the way we have, we are really pleased.